What should our first course of action be in a time of crisis?
About this event
CRISIS COMMUNICATION & MANAGEMENT
When we are part of a community, a crisis faced by one, is felt by many. The desire for information in a time of uncertainty to connect the dots that have been broken for us is only natural. However, therein lies the struggle of balancing the tension between internal privacy and external support.
In this workshop, we ask: What should our first course of action be in a time of crisis? How do we look out and take care of every member in our community with the utmost sensitivity, empathy and grace?

ABOUT THE SPEAKER
Shiao-Yin started work as a creative director before co-founding The Thought Collective in 2002 with Tong Yee and Elizabeth Kon. Today, she works as a cultural change strategist, systems thinker, process facilitator, dialogue designer, executive coach, public speaker and trainer. She loves helping organisations and their stakeholders work together with compassion and respect through complex issues.
Outside the Collective, she served as a two-time Nominated Member of Parliament in Singapore. Her 2018 parliamentary speech "The Power of a People" was published as a book by Epigram Books as part of their Rational Conversations series, collecting writings by prominent Singaporeans. She also helps various committees and boards shape their approach on cultural transformation, human development and strategic conversations.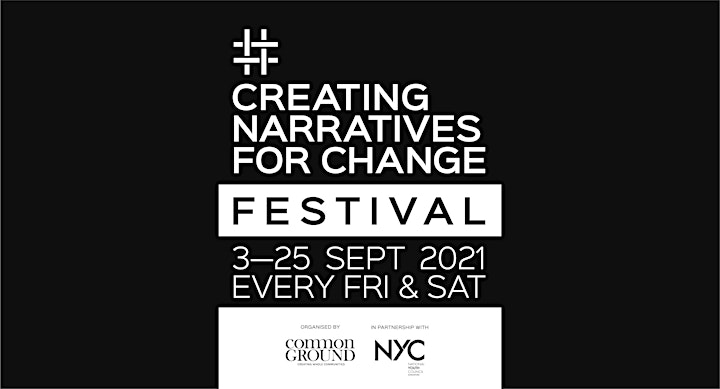 ABOUT THE FESTIVAL
The Creating Narratives for Change Festival is a hub for community builders and changemakers to gather and learn from one another. Join in on the festivities as we share stories from the sector, learn new digital storytelling tips & tricks, and hear from our lineup of changemaking self-starters!
View the full programme lineup: here.

TICKETING INFO
Don't miss out on all the festivities this September! To purchase festival packages, head over to the links below.
To view the full festival ticketing info, click: here.
We would like to thank our partner, National Youth Council, for their generosity and support to this programme for youths 35 years old and under.


Date and time
Location
Refund policy