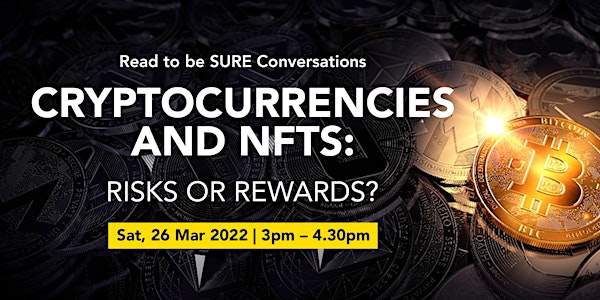 Cryptocurrencies and NFTS: Risks or Rewards? | Read to be SURE
Cryptocurrencies and NFTS: Risks or Rewards?
About this event
Registrations for this event are full. You can view the livestream on NLB's YouTube page via the following link: https://youtu.be/DB0G34qlr1I
This is a hybrid event. The programme will be live-streamed via ZOOM from the National Library Building.
An alternative satellite venue screening of the event will be held at Sengkang Public Library on the same day. Please register here.
_____________________________________________
With the surge in popularity and investments in cryptocurrencies and NFTs over the past year, it gave rise to their fair share of opportunities and risks, with reports of massive returns as well as scams. In this Read to be SURE Conversations event, our guests will share about the different perspectives on this topic.
Read to be SURE (RTBS) is part of NLB's Libraries and Archives Blueprint 2025 (LAB25), a five-year journey of our next phase of transformation. RTBS aims to educate and inform the public on trending topics through a combination of curated reading content and accompanying programmes. By exploring multiple perspectives on these topics, readers and participants will benefit from a balanced and credible knowledge base.
Speakers:
·         Chia Hock Lai - Co-founder, Global Fintech Institute, and Co-chair Blockchain Association SG
·         Valerie Chai - Director, Hyrule Advisory Pte Ltd
·         Russell Yee – Assistant Vice President, OCBC Bank
Moderator:
·         Benjamin Gaw – Director, Corporate and Mergers & Acquisitions, Drew & Napier
About the Speakers and Moderator
Chia Hock Lai is the co-founder of the Global Fintech Institute, CEO of Switchnovate and Senior Blockchain Advisor of Tembusu Partners. He has two decades of experience in the financial and technology industries, having worked in Singapore's GovTech and NTUC Income. An alumnus of NUS and NTU, he is the co-chairman of the Blockchain Association Singapore, and former & founding president of Singapore Fintech Association. He is a council member of and strategic advisor to numerous tech start-ups and organizations such as Bondevalue, RootAnt Global, RegTank, Morpheus Labs and IEEE Blockchain and Distributed Ledger Standard Committee. In addition, he is also an Institute of Banking and Finance (IBF) Fellow for digital transformation and a Fintech Fellow at the the Singapore University of Social Science (SUSS).
-----
Valerie Chai is currently the director and lead consultant with Hyrule Advisory. She is responsible for fundraising deal structure and advisory as well as information technology ecosystem design for her clients. She has more than 10 years of experience in providing corporate finance and digital transformation training. Her current consulting projects consists of transformation to Web 3.0, such as machine learning, crypto social tokens and NFTs. She graduated as a scholar with First Class Honours, Dean List, C.H. Wee Gold Medal from Nanyang Business School, she moved on to complete her post-graduate with High Honours for Advanced Valuation in New York University Stern Business School. She is also certified in Machine learning for Business Application in Massachusetts Institute of Technology.
-----
Russell Yee is a compliance officer who takes a keen interest in the financial and fintech sector, particularly in the cryptocurrency space. He recognises the potential that crypto has to disrupt the traditional financial businesses and has taught himself the ins and outs of crypto by dabbling in the space since 2017. He views crypto from both the wealth management and regulatory compliance lens, and adopts a pragmatic and risk-based approach when evaluating the latest crypto trends.
-----
Benjamin Gaw is a Director in the Corporate and Mergers & Acquisitions Practice Groups in Drew & Napier. In relation to technology and corporate intellectual property matters and fintech and blockchain matters, Benjamin regularly advises on legal issues in the commercialisation and exploitation of intellectual property rights, such as research and development agreements, IP licensing and cross-licensing agreements, IP assignments and also franchises and franchising businesses. He also advises on start-ups and early stage investments in technology companies. He also regularly advises on issues relating to the Payment Systems Act, blockchain and cryptocurrencies and other fintech matters.