Learn the hows and whys of lacto-fermentation in this dialogue between a food scientist and a chef!
About this event
About the Programme/Event
Learn the hows and whys of lacto-fermentation in this dialogue between a food scientist and a chef! Pick up pro-tips as they share how they experimented with fermentation techniques to create interesting flavour profiles and extend the shelf life of foods. You might even get to see their cultured collections!
About the Speakers
Tan Ding Jie has been championing the Singaporean identity and heritage through his work in fermentation, food science, and culinary innovation. DJ explored food and cooking when he found out that he could apply scientific principles in the kitchen, all while pursuing his degree in chemistry in the UK. He conducted fermentation workshops in hawker centres, currently curates an online fermentation community, and consults for F&B establishments such as Restaurant Labyrinth, Gibson, and Salted and Hung. DJ also founded Starter Culture, a food biotechnology company which leverages fermentation technology to create novel food products, diversify current sources of proteins and nutrition, and upcycle food waste. Starter Culture seeks to also educate consumers and producers alike on the art, science, and history of fermentation, thus reshaping the conversation on food sustainability as well as Asian culinary history.
IG: @glutamatedimp
Facebook: glutamatedimp/DJ Tan
A former banker, Chef-Owner Petrina Loh has come a long way after leaving her well-heeled private banking job of 8 years to fully pursue her passion and love for food and wine. Since she graduated from the prestigious California Culinary Academy which runs the Le Cordon Bleu program, Chef Petrina has accumulated a bagful of experiences from various Michelin starred restaurants in the US. Morsels was awarded Restaurant of the Year at World Gourmet Summit 2017, and Petrina received the Chef's Choice award (Western Cuisine). The restaurant also received a one star at Wine & Dine's Top Restaurants in 2017. At Morsels, she works with sweet, sour, salty, bitter, umami, a touch of seasons, utilizing the ancient art of fermentation, curing, aging and an understanding of traditional Chinese medicine. Her penchant for fermentation led to creations such as a jam blend of fermented tomatoes and kimchi, a three-month-old Manchego gratin and some alfalfa. She also cures Korean mekajiki (swordfish) belly with Ford's Gin, rooibos, kampot red pepper, coriander seed, and Sichuan peppercorns – one of her favourite spices. Petrina then serves this with mustard-pickled shimeji mushrooms and sea cucumber that's been marinated in ponzu, grain vinegar, and black tea.
IG: @pe3na 
@morselsinsingapore 
Facebook:  Morselsinsingapore 
Title Tie-up
This programme is inspired by Salt, Fat, Acid, Heat: Salt, Fat, Acid, Heat: Mastering  the Elements of Good Cooking , a Read! Fest featured title. Borrow the title here.
For other programmes related to this title, visit go.gov.sg/salt
For the full listing of Read! Fest programmes, visit go.gov.sg/readfest21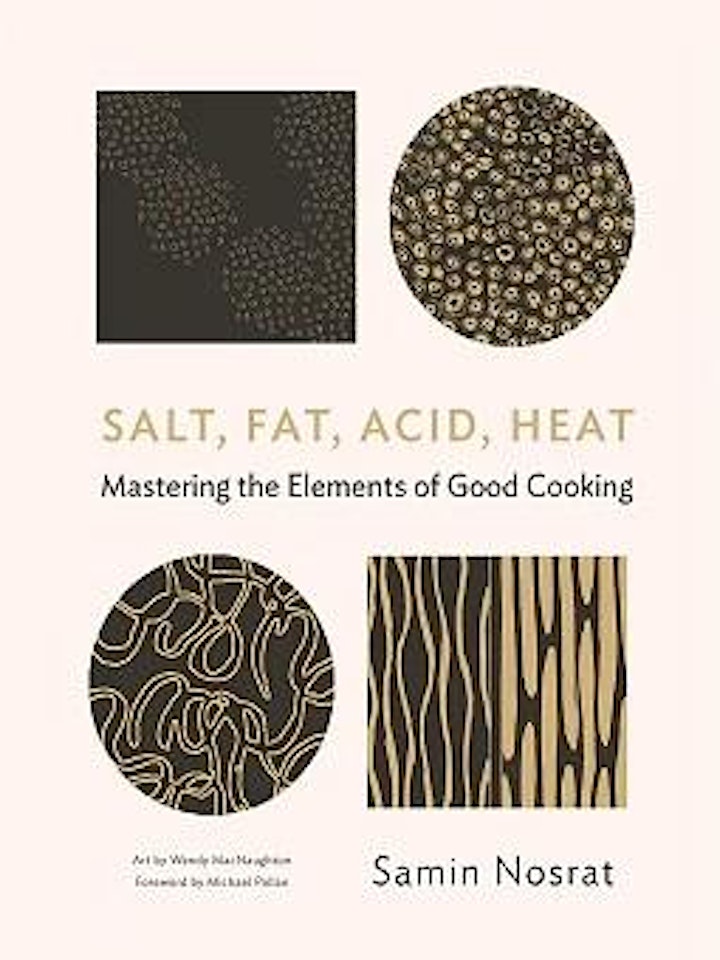 About Read! Fest 2021
Read! Fest 2021 invites you on a forward-looking journey of self-discovery. With the theme of Reboot, take a moment to re-examine and refresh your lenses on day-to-day aspects that shape our lives.
Anchored by 12 key books and topics, Read! Fest will host over 60 programmes – from talks by world-renowned authors to workshops and experiences – each curated to immerse you in a world of thoughtful ideas for our time.
From myths and minimalism to work and womanhood, stretch out to explore new worlds and perspectives. Where will you find yourself?
For more info, visit go.gov.sg/nrm-readfest21.
Online Programme/Event Administrative Information
This public programme livestream is conducted via National Reading Movement Facebook.
Do ensure you have a strong internet connection. Using your mobile data is not recommended
The National Library Board, Singapore (NLB) reserves the right in its absolute discretion to disqualify or refuse admission to any registrant without any reason and notice
Organiser of Cultured Flavours and Fermentation| Read! Fest
The National Library Board (NLB) manages a network of 27 public libraries, the National Library and the National Archives of Singapore. NLB promotes reading, learning and information literacy by providing a trusted, accessible and globally-connected library and information service through the National Library and a comprehensive network of Public Libraries.