Description
Who could forget the sights and smell of familiar foods which we grew up with in our old neighbourhoods?
In conjunction with Singapore Heritage Festival 2017, follow My Community on a special cycling edition of their heritage tour around Queenstown to learn the history of Singapore's first satellite town. The tour will also rediscover some of Singapore's favourite hawker stalls such as Sin Kee Chicken Rice, Xin Lu Fish Ball Noodles which were 'lost' after moving out of their old locations.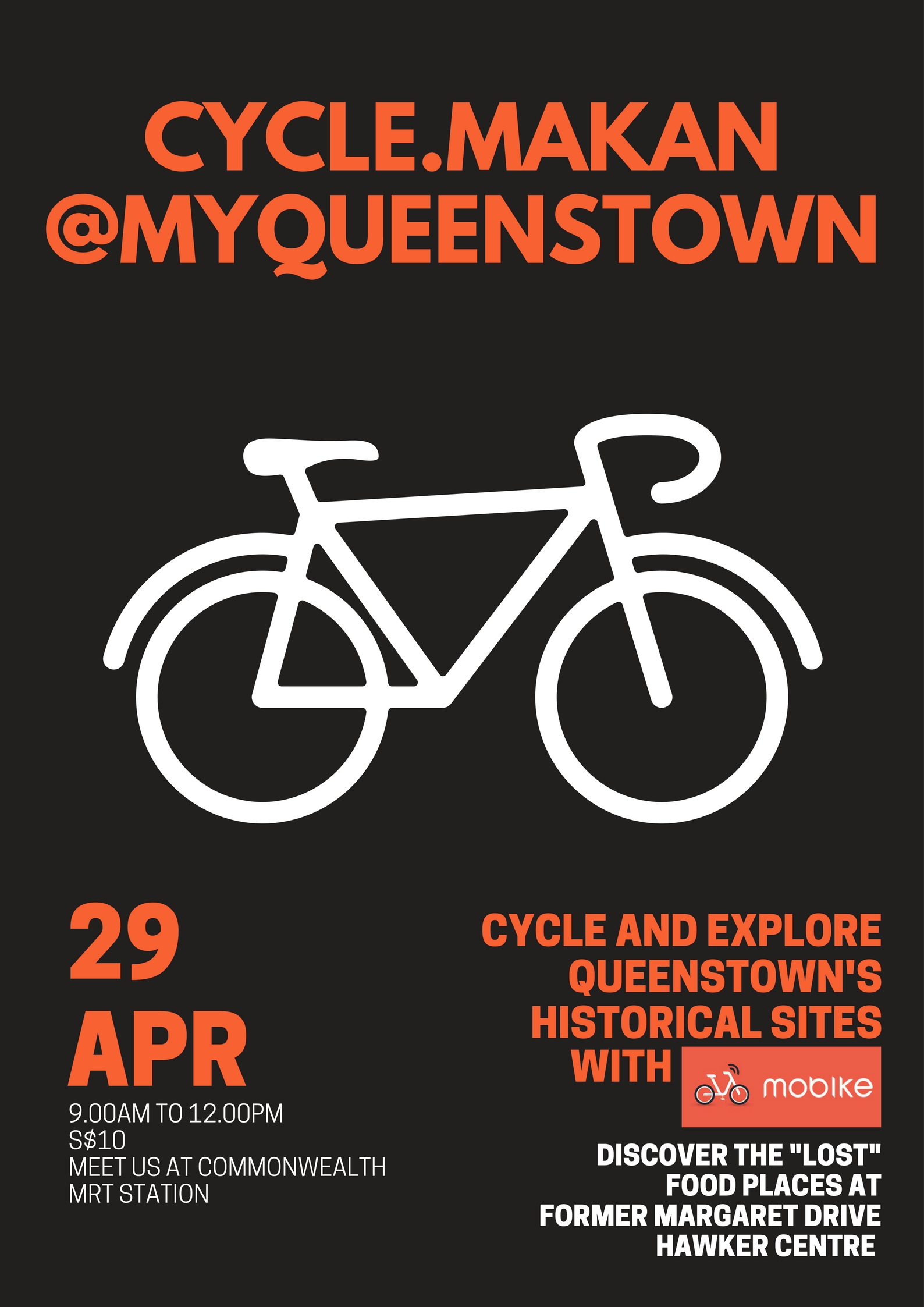 Also, thanks to our bike sharing partner Mobike, participants can enjoy the convenience of picking up and leaving the bike wherever you need to go. Just join us in your cycling outfit and you're set!
Do's and Don'ts
Participants should be competent in cycling i.e. negotiating bends, pavements and tight spaces



Duration

Approximate Duration:3 hours (9 am to 12pm)
Please arrive at Commonwealth MRT Station 15 minutes before 9am. The trail guides will be wearing YELLOW T-shirts with our distinctive CROWN logo.
What to bring?
Mobike will be providing the bicycles but participants are required to bring along your safety gear i.e. suitable helmets, knee pads
Please download the "Mobike" application in the App Store or Google Play Store. You are required to pay a refundable deposit of $49 on the application to unlock the bike.
Wear comfortable clothes and shoes suitable for thick vegetation and cycling.
Bring along insect repellent, EZ-Link card and a bottle of water.
Bring sufficient amount of money to enjoy food formerly at Margaret Drive Food Centre. There will be a brunch break at Mei Ling Food Centre and Alexandra Village Hawker Centre.
Asthmatic patients are encouraged to bring their inhaler
Weather Check!
Guided tours will be cancelled in the event of heavy rain. We will email or SMS you to inform an hour before the trail
Guided tours will also be cancelled if the Pollution Standard Index (PSI) exceeds 100. We will email or SMS you to inform an hour before the trail
Guided tours will continue in the event of light rain. Participants are required to bring their umbrellas.
Terms and Conditions
Any involvement and/or participation in Cycle For Makan @ My Queenstown is voluntary, and participants are acting under your own free will.
There is a risk of danger, bodily harm, injury, emotional stress, or death as a result of your participation.
There is the potential for risks and dangers that may not be obvious or reasonably foreseeable at this time.
Paricipants do not have any medical ailments, physical limitations, or mental disabilities that will affect my ability to participate in Cycle For Makan
My Community undertakes no direct legal or financial responsibility for your personal safety or well being when you are participating in Cycle For Makan

Participants forever release My Community from any and all claims and causes of action that you or your representatives now have or may have in the future for personal injury, property damage or wrongful death occurring to you, arising out of participation in Cycle For Makan @ My Queenstown

You are 100% liable for all medical expenses incurred as a result of any injury or property damage during your participation in Cycle for Makan @ My Queenstown
In the event that any one or more of the provisions of this agreement shall be held to be invalid, illegal, unenforceable or in conflict with the law according to the jurisdiction of the state of Singapore the remaining portions will not be invalidated, and shall remain in full force and effect.
This is a legally binding contract, but it is not meant to pronounce any claims or defenses that are legally prohibited.
For updates:
Join us at www.facebook.com/myqueenstown