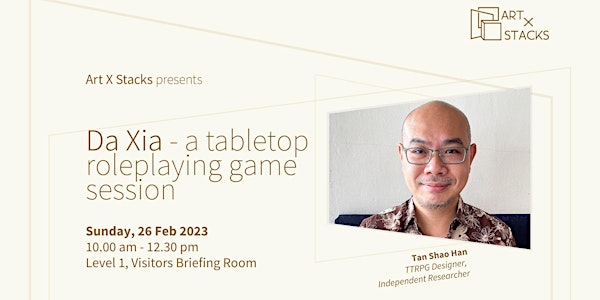 Da Xia - a tabletop roleplaying game session | Art X Stacks
Art X Stacks: Da Xia - a tabletop roleplaying game session
By GoLibrary | National Library Board, Singapore
Date and time
Sunday, February 26 · 10am - 12:30pm +08
Location
National Library - Visitors Briefing Room (L1) 100 Victoria Street Singapore, 188064 Singapore
About this event
Da Xia is a tabletop roleplaying game (TTRPG) for up to five players, inspired by Chinese wuxia fiction and historical research. Set during the Japanese Occupation, players assume the roles of folk heroes and romantic wanderers who solve mysteries and fight injustices during this fraught and uncertain period in Singapore's history. Join Da Xia game designer Shao Han on roleplaying game session where you will be guided to create stories and explore new vistas, imagining and remembering our wartime past together.
This is the third, repeat session, of the outreach programme to test the above tabletop game for 5 players.
NOTE: We seek your cooperation to do an early cancellation in Eventbrite if you are unable to attend the session that you have signed up for. This will allow us to include patrons in the waiting list.
Additional Information:
• Inspired by historical research as well as wuxia influences; the product of historical research and literary research into Nanyang/ wuxia literature, drawing upon the collections of the National Library and National Archives of Singapore.
• This game uses the Forged in the Dark system, a popular tabletop roleplaying game system created and licensed by Evil Hat Productions for the Blades in the Dark game (https://bladesinthedark.com/greetings-scoundrel).
• This game is a mix of collaborative storytelling and improvisational drama, with rules and other materials to guide the play. Shao Han will be there to guide and help facilitate; no prior experience with Blades in the Dark is necessary, although it will be helpful! If you have any prior roleplaying game experience, you will have the most fun from this!
• Due to mature themes about war and injustice, this session is recommended for adults who are at least 18 years of age. This game is not suitable for the young due to themes of war, violence, and crimes. We regret we will have to turn away children who have signed up for this game (through their parents or other proxies).
• Historical knowledge of Singapore's past in the Japanese Occupation is not necessary, but will improve your experience of the game. Similarly, knowledge of wuxia tropes is helpful, but hardly mandatory, to enjoy this game. This game will be held and facilitated in English.
About Tan Shao Han
Shao Han is a TTRPG (tabletop roleplaying game) designer, writer, independent researcher, and cultural consultant who has written and consulted for award-winning game companies such as Paizo, Hasbro, and Evil Hat. His research and game design are inspired by subaltern Asian histories, particularly in how individuals and communities live everyday lives during times of upheaval and oppression. These influences and perspectives are present in Shao Han's upcoming TTRPG "Da Xia/ 大侠", a work-in-progress created as part of the National Library's Creative Residency programme.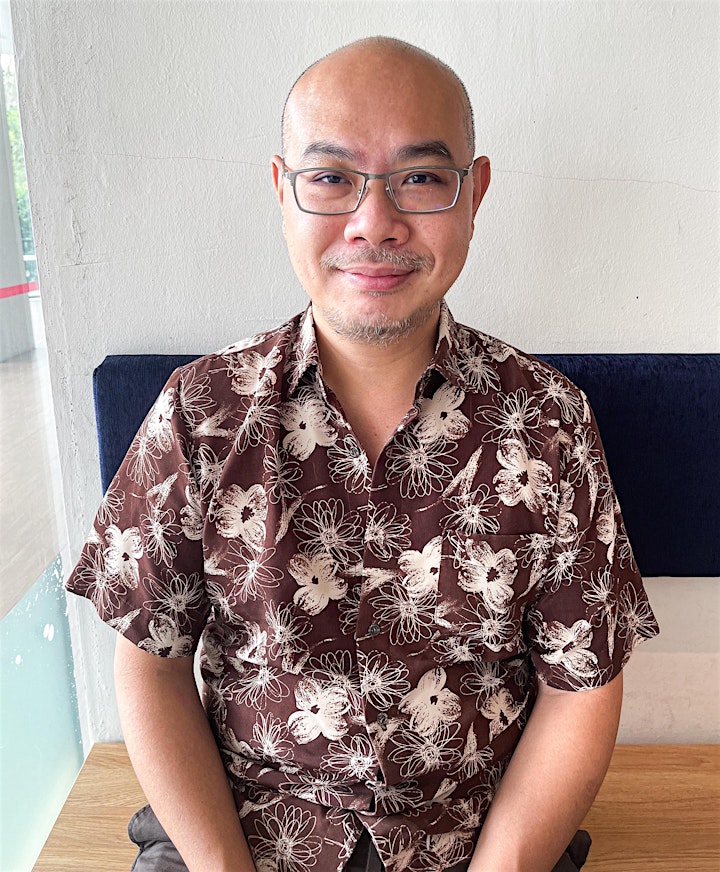 About the organizer
The National Library Board (NLB) manages a network of 28 libraries, the National Library and the National Archives of Singapore. NLB promotes reading, learning and information literacy by providing a trusted, accessible and globally-connected library and information service through the National Library and a comprehensive network of libraries.