Description
Join us for Dandiya Night 2019 with Indian Raw Star Finalist & Dandiya Diva Dipti Freedom Sharma & DJ Kevin On 27th Sep 2019 at Singapore Swimming Club.

Date 27th Sep 2019 (07:30PM - 11:45PM) => http://tiny.cc/dandiya27sep
Date 28th Sep 2019 (07:30PM - 11:45PM) => http://tiny.cc/dandiya28sep
Date 04th Oct 2019 (07:30PM - 11:45PM) => http://tiny.cc/dandiya04oct
Date 05th Oct 2019 (07:30PM - 11:45PM) => http://tiny.cc/dandiya05oct
Pls Note : We have 1 price for all, No Group promo or differential pricing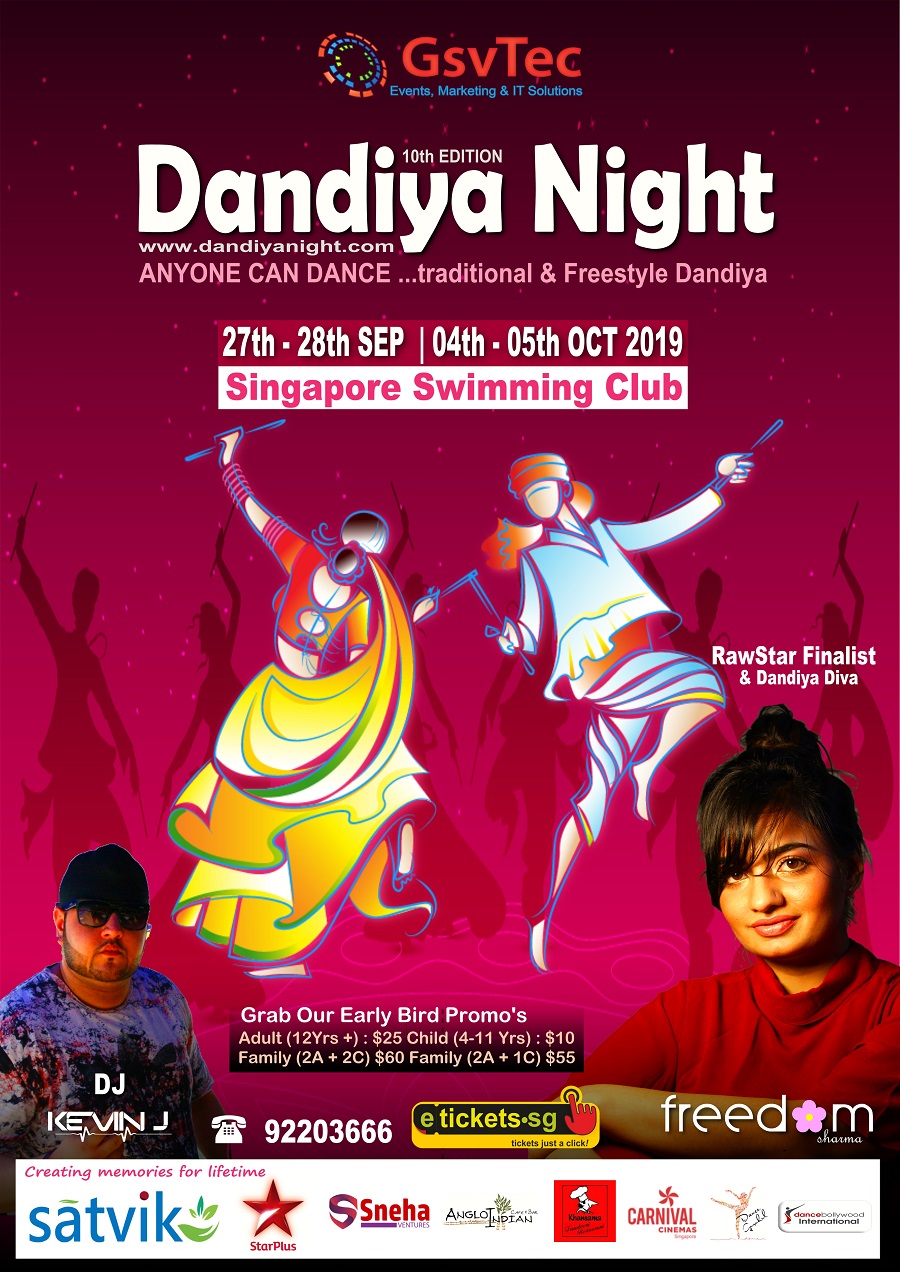 a mix of Traditional Gujrati & Bollywood Dandiya event.Join us for Dandiya Night 2019 with Raw Star Finalist & Dandiya Diva Freedom Sharma & DJ Kevin On 27th-28th Sep & 4th-5th Oct 2018 (7:30 pm onwards) at Singapore Swimming Club.a mix of Traditional Gujrati & Bollywood Dandiya event.
a event for all ages, Get Early Bird Tickets From www.etickets.sg Or Call 92203666.
Early Bird Promo
Adult (12Yrs +) $25 Child (4-11Yrs) $10 Family (2A + 2 C) $60 Family (2A + 1C) $55
www.dandiyanight.com
www.facebook.com/dandiyanite
#dandiyanight
Organised By Gsvtec . Dandiya Night Features Exclusive Garba & Dandiya Raas & Foot Tapping Music On Gujrati & Bollywood Beats, Delicious Street Food & Beverages.A Festival Of Dance On Navratri.A Event For Everyone , Anyone Can Dance Even If You Know The Traditional Way Or Not We Have Both Options For Free Style And Traditional Mix.Delicious Street Food like Chat's Vada Paw Pawbhaji Samosa and more
Pls Note Food Is Not Included In The Ticket Needs To Be Purchased Separately

Imp Dates: Sharad Navratri 2019 Dates, Days And Goddess Information
2019 Shardiya Navratri Calendar
Sharad Navratri DayDate (Weekday)Goddess Worshipped
Navratri Day 1Sep 29, 2019 (Sunday)Ghatsthapana, Shailputri Puja
Navratri Day 2 (Dwitiya)Sep 30, 2019 (Monday)Brahmacharini Pujavratri Day 3 (Tritiya)Oct 1, 2019 (Tuesday)Sindoor Tritiya, Chandraghanta Puja
Navratri Day 4 (Chaturthi)Oct 2, 2019 (Wednesday)Kushmanda Puja
Navratri Day 5 (Panchami)Oct 3, 2019 (Thursday)Skandamata Puja
Navratri Day 6 (Shashthi)Oct 4, 2019 (Friday)Saraswati Awahan, Katyayani Puja
Navratri Day 7 (Saptami)Oct 5, 2019 (Saturday)Saraswati Puja, Kalaratri Puja
Navratri Day 8 (Ashtami)Oct 6, 2019 (Sunday)Durga Mahaashtami, Maha Navami
Navratri Day 9 (Navami)Oct 7, 2019 (Monday)Ayudha Puja, Navami Homa, Navratri Parana
Navratri Day 10 (Dashami)Oct 8, 2019 (Tuesday)Durga Visarjan, Vijayadashami
Terms & Conditions:(Pls Read All Terms Carefully,Ticket Once Bought Is Not Refundable /Not Negotiable)
• Outside Food & Drinks (Incl Water) Not Allowed Inside Venue.
• DSLR Not allowed as we will have event photographers we will upload them all post event for free on facebook page & event website.The Photograph's & video's maybe used for marketing purposes.
• Admission Is Subject To Tickets Produced At The Entrance.
• Children 4 To 11 Years Must Purchase Child Ticket For Admission
• Children Above 12 Yrs Need To Purchase Adult Ticket For Admission.
• Organisers Can Change The Seating Category & Price Depending On The Need Of Event & Venue• Tickets Once Sold Are Non Refundable And Non Negotiable.
• All Participants Take Complete Responsibility of Them Self and Their Dependants .Organisers Do Not Take Responsibility for Any Claims for Any Incident Caused Directly or Indirectly during the Event.
• Organiser Reserves The Right To Refuse Admission To Any Person Whose Conduct Is Inappropriate And Poses A Threat To Security Of The Event.
• Artist & Performers are add ons to the DJ Music in the event ,in any unavoidable reasons the artist or performer is not able to make it to the event no refund part or full will apply.
• Organiser Reserves The Right To Change The Venue, Cancel Or Postpone The Event Due To Unforeseen Circumstances If Required.
• Ticket Holder Voluntarily Assumes All Risk & Danger Incidental To The Event Whether Occurring Prior To, During Or Subsequent To The Actual Event, Including Any Death, Personal Injury, Loss, Damage Or Liability. Organizer Does Not Take Responsibility For Any Claims.
• Organisers Are Not Responsible For Any Kind Of Direct Or Indirect Claims On Account Of The Event .As A Event Participant You Undertake Any Such Risk Of Any Unforeseen Incident That May Happen During The Event. You Are Responsible For Your Family And Yourself.
• Expected To Be A Full House Event, Entry Queue Can Be 10-20 Mins, Limited Prams Space, Pls Be Light N Easy.