Description

1 October 2015 (Thu) - 17 Phillip Street, #08-00 Grand Building, S (048695)
Watch this video: https://youtu.be/0pzto7uDdGM
'Day Trading' and The Risk
Attempts to profit by making rapid trades intraday, often closes out all trades before the market close and does not hold any open positions overnight. Some day traders use leverage to magnify the returns generated from small stock price movements. Day trading is often glamorized as an easy path to riches.
However, this is rarely the case. Day traders typically suffer severe financial losses in their first months of trading, and many never graduate to profit-making status.
There's a lot of talk about day trading for a living and making money just off of intraday price fluctuations in the markets. But is this really an effective, and profitable way to trade?

The answer to this question quite simply is YES! Due to recent changes in the markets, such as increased intraday volatility, online trading and low commission, day trading has become one of the popular choice.
Picking a Day-Trading Trainer
One of the first things new traders look at when picking a day-trading school is the cost of the courses and mentorship. While cost is an important factor, it shouldn't be the only factor. Most day traders will lose much of their account very quickly if they jump into day trading without guidance or research.
For instance, If day trading the stock market, that potentially means losing a large chunk of your capital. For instance, spending $1,500 to get solid training and mentorship may actually be cheaper over the long run than attempting to day trade all on your own.
The key to success in Day Trading learning from the Successful Day Trader with Real Track Records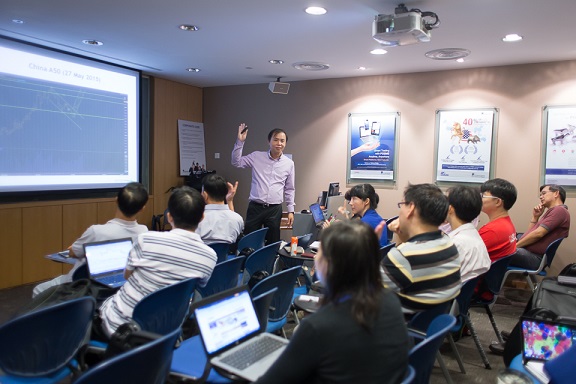 Robin Ho is a top tier trader and remisier with PhillipCapital, and is one of Phillip's most active and successful trader. Having been through the peaks and troughs of the volatile markets, he has since established a highly successful professional trading track record. As a highly regarded professional trader , he was appointed by Singapore Exchange Academy as their Professional Trainer in 2012. Robin is a well sought-after speaker who shares his in-depth trading knowledge with traders and investors at numerous investment seminars. He is highly rated by participants who have attended his programs. He is particularly well-known for his ability to translate complex and difficult trading and investment concepts into plain language, the usage of real life experiences, easy to understand illustrations and case studies to help the candidate to achieve success. He adopts a highly interactive approach in his workshops which makes learning fun and memorable.
Robin has taught and mentored thousands of professional traders. He has developed his own proprietary trading system that focuses on Price Action, which he believes is the answer to the volatile market today. He believes that many traders fail today because they have been employing long-term and traditional indicators to short-term trading, and to achieve trading mastery, traders must understand market behavior and develop a trading strategy that fits the trader's profile. Learn how to manage your trading risks as he shares his trading strategies and how to apply them practically.
Robin's story from a novice trader who came back twice from near bankruptcy to a Top Tier Trader and Remisier in PhillipCapital was featured on MyPaper on 17 Jan 2008. As a Top Tier Remisier in PhillipCapital, Robin was featured again on Zaobao Newspaper on 13 Feb 2011 for his view on SGX' plan to scrap lunch break and implement all day trading. On 28 September 2012, Robin was featured on The Borneo Post while he was conducting education seminars across East Malaysia on the invitation of OSK Investment Bank.
Robin spent 23 years in the Navy as a Naval Officer from 1979 to 2002. He was trained in Submarine and Surface Warfare and held the appointment of a Commanding Officer of a Warship during his tour of duty. Robin joined Kim Eng Securities in 2002 and left Kim Eng Securities to join PhillipCapital in 2004. From 2004 to 2007, he taught hundreds of remisiers and professional traders through CyberQuote, the educational arm of PhillipCapital. From 2008 to 2012, Robin trained thousands of traders through investment seminars and courses.
IMPORTANT NOTES FOR SEMINARS
Please note that under the Singapore Personal Data Protection Act (PDPA) 2012, CyberQuote Pte Ltd respect the privacy of all our customers and visitors, and are committed to safeguarding the personal information you provided to us.
For the event registrations, you will be requested to provide your personal particulars, which include but are not limited to the following:
a) Full Name
b) Contact details, including telephone number/s and/ or email addresses
Please note that CyberQuote Pte Ltd will send out "Email Confirmation" and Short Message Service (SMS) Reminder to all registrants for all CyberQuote Pte Ltd events.
Should you wish to withdraw your consent from receiving events information, please contact us at CQCourse@cyberquote.com.sg. All personal data held by CyberQuote Pte Ltd will be kept confidential, will not use and disclose to third parties.
Organizer of Day Trading Strategies- Stocks & Indices by Robin Ho
CyberQuote Pte Ltd
With more than 16 years' track record in the financial industry, CyberQuote ("CQ") has built a reputable name among financial players as a quality training institution. CQ specialises in financial and trading education for both professionals and novices, delivering knowledge through theory and practical teaching by experienced practitioners.
Through leading edge financial seminars and courses, CyberQuote is able to maximise your success and meet your immediate investment and trading needs.