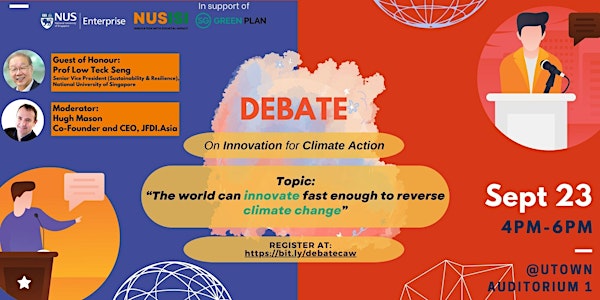 Debate on Innovation for Climate Action
Debate Proposition: The world can innovate fast enough to reverse the effects of Climate Change.
When and where
Location
UTown Auditorium 1, NUS 1 Create Way, Level 1 Town Plaza Singapore, 138602 Singapore
About this event
Event Flow
Registration: 4 PM
Opening address: 4:30 PM
Debate: 4:50 PM
Refreshments: 5:45 PM
Innovation, particularly by disruptive new ventures, is touted to be critical to our climate response efforts. Start-ups around the world are implementing advanced technologies in fields such as renewable energy and low-emissions farming. Recognizing the critical role of innovation for climate response, impact entrepreneurship and impact investing are on the rise globally.
The question is raised whether we are innovating fast enough, at large enough scale or in the right ways? The climate crisis is a complex, multi-dimensional issue. A significant response requires action in diverse spheres. Is the ecosystem supporting impact entrepreneurship and disruptive sustainability innovations evolving quickly enough? Can founders and innovators adapt fast enough across different spheres to help achieve global climate goals?
To probe into this multi-faceted issue, this Oxford-style debate will feature educators, policy makers and entrepreneurs in the sustainability field debating the proposition: "The world can innovate fast enough to reverse the effects of climate change."
Audience members are also invited to contribute questions and arguments from the floor. Save the date and join us for this unique event! Early registrants will receive an exclusively curated gift bag comprising products from sustainability-concious start-ups in the NUS Enterprise community.
About Guest of Honour:
Professor Low Teck Seng is Senior Vice President (Sustainability and Resillience) at the National University of Singapore. He returned to NUS after serving as as Chief Executive Officer of the National Research Foundation, Singapore. He was previously the Managing Director of A*STAR (2010 – 2012), the founding principal of Republic Polytechnic (2002 – 2008), as well as the Dean of the Faculty of Engineering in the National University of Singapore (1998 – 2000).
Prof Low was awarded the National Science and Technology Medal in 2004, the highest honor bestowed on an individual who has made distinguished, sustained, and exceptional contributions, and played a strategic role in the development of Singapore through the promotion and management of R&D. In 2007, he was awarded the Public Administration Medal (Gold) by the President of Singapore for his outstanding contributions to the development of technical education and the management of science and technology for the nation. In 2016, he was conferred the Order of the Legion of Honour with the grade of Knight (Chevalier) by the French Government in Paris. Prof Low is a Fellow of the Singapore Academy of Engineers, Fellow of the IEEE, and an International Fellow of the Royal Academy of Engineers, UK.
About the Moderator
Hugh Mason is a serial entrepreneur. He mentors and invests in marketing, media and technology businesses. Brainfruit: Turning Creativity into Cash – From East to West, the book Hugh co-authored with Dr Mark Chong of Singapore Management University, was published by McGraw Hill in October 2011.
Hugh's core talents lie in generating ideas and making them happen, translating strategy into economic growth, and business facilitation/storytelling for diverse audiences. He adds most value around the strategic- and people-issues that often seem to hold back teams from achieving the success they deserve. Hugh uses Transactional Analysis to support that aspect of his work.
Hugh relocated to Singapore full time with his young family in January 2009. He now works with a wide variety of marketing, media, and technology enterprises to help their owners create, build and realise value.
Proposition
Professor Seeram Ramakrishna
Prof. Seeram Ramakrishna is one of the World's most influential scientific minds (Listed in Thomson Reuters). He is ranked among the top 32 material scientists in the World (As per www.research.com). Currently, he is the co-director of the NUS Nanoscience and Nanotechnology Initiative (NUSNNI). He heads the Centre for Nanofibers and Nanotechnology. He is also the Chair of the Circular Economy Task Force.
He is a doctorate from the prestigious Cambridge University visited our campus and delivered a distinguished lecture on Science and Technology for the transition to a circular economy. Later, he had a detailed conversation with our Deans & Directors on challenges and trends in Global Education.
Echo is an experienced entrepreneur with a demonstrated history of working in the non-profit sector and 8 years of experience in research institute and think tanks. Skilled in Social Entrepreneurship, Cross-Sector Partnerships, Financial Modelling, and Policy Analysis. She holds MScs in Economics and Anthropology, and a joint Doctor of Philosophy (PhD, Valedictorian) in Social Enterprise, Public Policy, and Political Science from NUS and KCL
Opposition
Tay Kae Fong is co-founder of Greenway Revolution, a Singapore-based environment technology startup focused on solutions that drive the circular economy. Their first key product, the Osema Drive, is a nano-pyrolysis process that converts waste tires and plastic to refuse-derived fuels like diesel oil.
In addition, Kae Fong is the founder of Binomial Consulting and has helped businesses ranging from local SMEs to multinationals transform through innovation, strategy, and branding.
Outside of work, he actively supports entrepreneurs by mentoring for several programmes including TBFI, Y-Lab, and *Scape Creative Fellowship. Kae Fong is also the immediate past president of the Jane Goodall Institute Singapore, a non-profit that aims to help people live in harmony with nature and animals.
Professor Johan Sulaeman
Johan Sulaeman is the Director of the Sustainable and Green Finance Institute (SGFIN) at NUS. He is also a Dean's Chair and an Associate Professor in the Department of Finance at the NUS Business School. He recently served as the founding Academic Director of the NUS MSc (Finance) Programme and as the Research Director of the Centre for Asset Management Research & Investments (CAMRI).  He also serves as one of the Scientists at AIDF (Asian Institute of Digital Finance) at NUS.  He teaches in various educational programmes and courses, and has been involved in designing and delivering executive education programmes for large companies and financial institutions in the region, including on topics related to sustainability.  His current research focuses on the effects of geographic factors on various economic outcomes, including corporate social and environmental performance. His research has appeared in top economics and business journals, and been covered in various international publications, including The Wall Street Journal and The New York Times. He also contributes opinion pieces to the Straits Times and Channel News Asia.