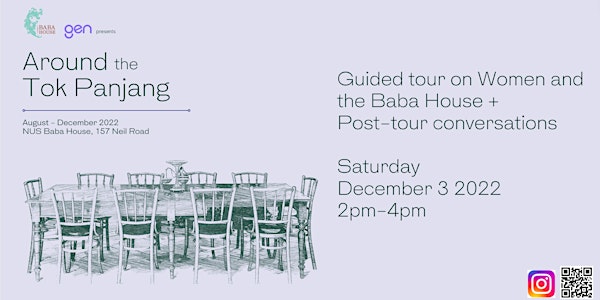 [December] Guided Tour on Women and the Baba House
Join us for a two-hour programme as we seek to open up conversations surrounding gendered norms and practices in the Straits Chinese culture
When and where
Location
NUS Baba House 157 Neil Road Singapore, 088883 Singapore
Refund Policy
Contact the organizer to request a refund.
Eventbrite's fee is nonrefundable.
About this event
[Final Tour of the Season!]
This is a two-part programme consisting of a guided tour as well as a post-tour conversation.
Around the Tok Panjang is a series of programmes organised by the NUS Baba House in collaboration with GEN, which will run from August to December 2022. The Tok Panjang (long table in Baba Malay) is an important feature in the Straits Chinese home. It has become a symbol of celebrations and more importantly, conversations in the Straits Chinese household. Join us for a two-hour programme as we seek to open up conversations surrounding gendered norms and practices in the Straits Chinese culture. The programme consists of a guided tour on Women and the Baba house, followed by a participatory discussion facilitated by NUS students designed around the tour content, using GEN's Generally Speaking Cards.
Around the Tok Panjang: A Guided Tour on Women and the Baba House
Dominant discourses in popular culture often place Nonyas as authoritative and feisty matriarchs. Yet, some narratives speak of a strict patriarchal belief system deeply anchored in Chinese traditions that suggests the relegation of women to the domestic sphere. How do we make sense of these two seemingly contradictory positions?
Making use of the provenance, spaces, and artefacts of the Baba House, as well as contextualising gender relations within the wider historical contexts, we seek to open up conversations surrounding gendered norms and practices in the Straits Chinese culture. Rather than framing the Nonyas exclusively as powerless subjects shaped by the Patriarchal system, or on the extreme end of the spectrum -as forerunners in the emancipation of women- this one hour tour focuses on how Peranakan women exercise their agencies across different contexts and historical periods.
Around the Tok Panjang: Post-Tour Conversations
Organised in collaboration with The Idea Co, driver of brands behind TEDxSingapore and Gen, and facilitated by NUS student volunteers, the post-tour conversation provides an interactive and dialogic aspect to the tour. Here, participants will be able to articulate their thoughts and voices through the gameplay session using the Generally Speaking Card deck, as well as their written comments on the community wall. Discussions will pivot around the participants' experiences and responses to the tour content, as well as the spaces, objects, and artefacts they encounter in the Baba House.
Please note that this is a two-part event. Participants will need to participate in both the tour and post-tour conversations. The age advisory is 17 years and above.
Registration opens 1:45pm . Tour will begin promptly at 2:00pm
-
Ticketing Details:
A $10 fee (excluding GST and Eventbrite processing fees) is applicable. GST Registration No: 200604346E
Certain individuals can enjoy free entry - please see the list below if you are eligible. For free entry, please key in "CONC" under promo code when purchasing your ticket. You will need to present a valid proof of identity at the door, such as an identity card, Driving License, NUS Staff Card, Student Card or an ICOM or Museum Roundtable Card to enjoy free entry. Entrants with no valid proof of identity may be turned away.
Entry is free only for all:
Singaporean Citizens and Permanent Residents
Students holding a valid student pass
ICOM and Museum Roundtable members.