Description
CREST@Jamiyah Nursing Home proudly presents our first-ever dementia symposium. Join us as we raise awareness and understand dementia in the elderly, and promote mental wellness in the community.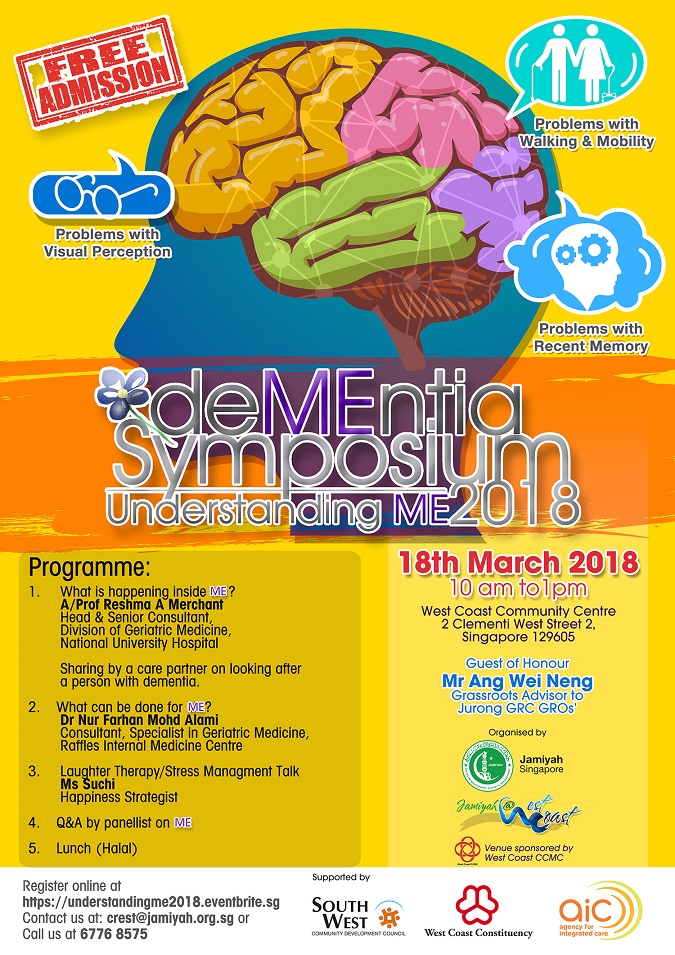 Topics Included:
1. What is happening inside ME?
A/Prof Reshma A Merchant
Head & Senior Consultant, Division of General Medicine, Dermatology and Geriatric Medicine, National University Hospital

To educate audience on signs and symptoms of dementia, as well as sharing on the challenges and journey of a care partner.
---
2. Where can I get help for ME?
Dr Nur Farhan Mohd Alami
Consultant, Specialist in Geriatric Medicine
Raffles Internal Medicine Centre
To inform audience on the resources and treatment available for coping with dementia.
---
3. Laughter Therapy / Stress Management Talk
Ms Suchi
Happiness Strategist
To share with audience about certain techniques that help to calm their mind and encourage mental wellness.
---
4. Q&A by panelist on ME
To address mental health-related concerns from audience.
---
Date: 18 March 2018
Time: 10.00am - 1.00pm
Location: West Coast Community Centre, 2 Clementi West Street 2, Singapore 129605
---