About this Event
[THIS IS A PAID EVENT. PAYMENT INFORMATION DOWN BELOW]
[AS PART OF PMP CERTIFICATION, 8 PDUs WILL BE ISSUED FOR YOUR FULL ATTENDANCE]
Industry 4.0 requires a paradigm shift (the way we think, work and perform) to develop whole-brain managers, whole-brain leaders, and whole-brain technopreneurs. Going successfully into the future requires the competence to integrate, implement, innovate, and improve continuously, and this applies to people, process and planet (AI Technology). The result will be faster, better, and smarter performance. Design thinking skills are -holistic, systems, critical, and iterative lateral and disruptive thinking.
This one day seminar gives an insight into the 6 stages of development to surf Industry 4.0:
Awareness:What is design thinking for management, leadership, technopreneurship?
Alignment: Why is design thinking mission critical to every manager, leader and technopreneur?
Action: How do we cultivate design thinking for individuals, teams, and the organization?
Adoption: Who are the authentic design managers, leaders and technopreneurs?
Assurance: When should we develop a pipeline of design thinkers for a multiplying effect?
Anticipation: Where does design thinking reap the most benefits?
Seminar Details
Date: 6 December 2019
Time: 9am - 6pm
Venue: Suntec Singapore Convention & Exhibition Centre, Room 332
Fee: $99.00 (Inc. GST) per pax
PDUs: 8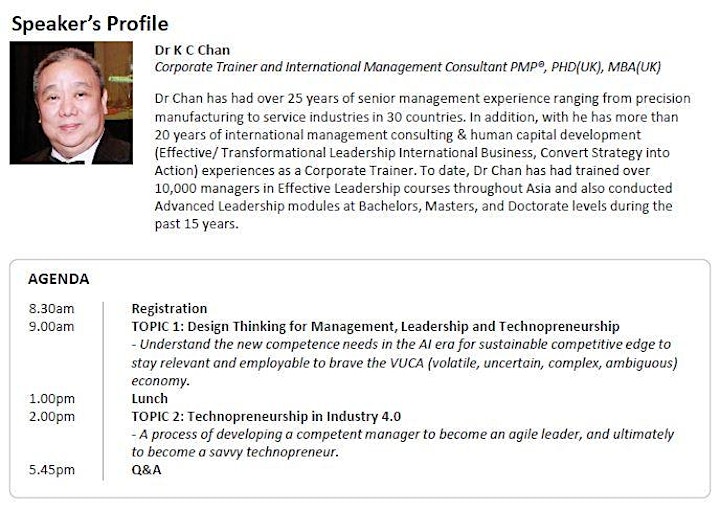 Payment information
This is a paid event
Once you have registered for the event, we will email the payment details to you.
Once payment have been made, you will receive a confirmation email within 24 hours.
Invoice will be issued after the event.