Designing Resilience in Asia Symposium 2016
Description
NOTE: REGISTRANTS MUST ATTEND DAY 1 SYMPOSIUM TO GAIN ENTRY TO DAY 3, WHICH INCLUDES SHIGERU BAN'S KEYNOTE SPEECH. PHOTO ID REQUIRED UPON ENTRY.


"RESILIENCE IS THE CAPABILITY TO PREPARE FOR, RESPOND TO, AND RECOVER FROM SIGNIFICANT MULTI-HAZARD THREATS, SUCH AS CLIMATE CHANGE OR NATURAL DISASTERS, WITH MINIMUM DAMAGE TO PUBLIC SAFETY AND HEALTH, THE ECONOMY, AND SECURITY."
—T. WILBANKS (2007)
About DRIA 2016
Designing Resilience in Asia is an international design competition and symposium to shed light on how Asian countries can be resilient towards natural disasters with regards to Architecture. Split over 3 days, will be an exhibition and open jury panel featuring solutions from 11 universities on tackling the flooding issue in Valenzuela, Philippines, as well as Keynotes from renowned experts. Through the stories of each speaker, the conference hopes to inspire and spark new conversations between architects, designers and leaders. The conference is open to participants from businesses, the architecture and engineering community, and start-ups. Please register to attend.
Entry into Shigeru Ban's keynote speech
- Limited tickets are available for Shigeru Ban's Keynote Speech on 29 June.
- Attendance to Day 1 of the symposium (27 June) is COMPULSORY to enter the Keynote Speech by Shigeru Ban on Day 3.
- Your ticket will be revoked if you do not attend Day 1 of the symposium.
- Registrants will be put on waiting list once tickets are given out; waiting list registrants may view a live screening of Shigeru Ban's keynote at the Fusionopolis Lounge.
- Waiting List attendees will only be invited into the Shigeru Ban keynote if there are extra spaces.
Ticketing Details:
- This is a free event that requires online registration.
- Registration will begin at 8:30am at the Genexis Lounge.
- To enter the conference venues, you are required to produce your Eventbrite QR code ticket via the Eventbrite app, mobile phone/tablet browser or a print out of your web ticket.
- ONE (1) ticket per registrant.

Day 1 & Day 3: Keynote Speakers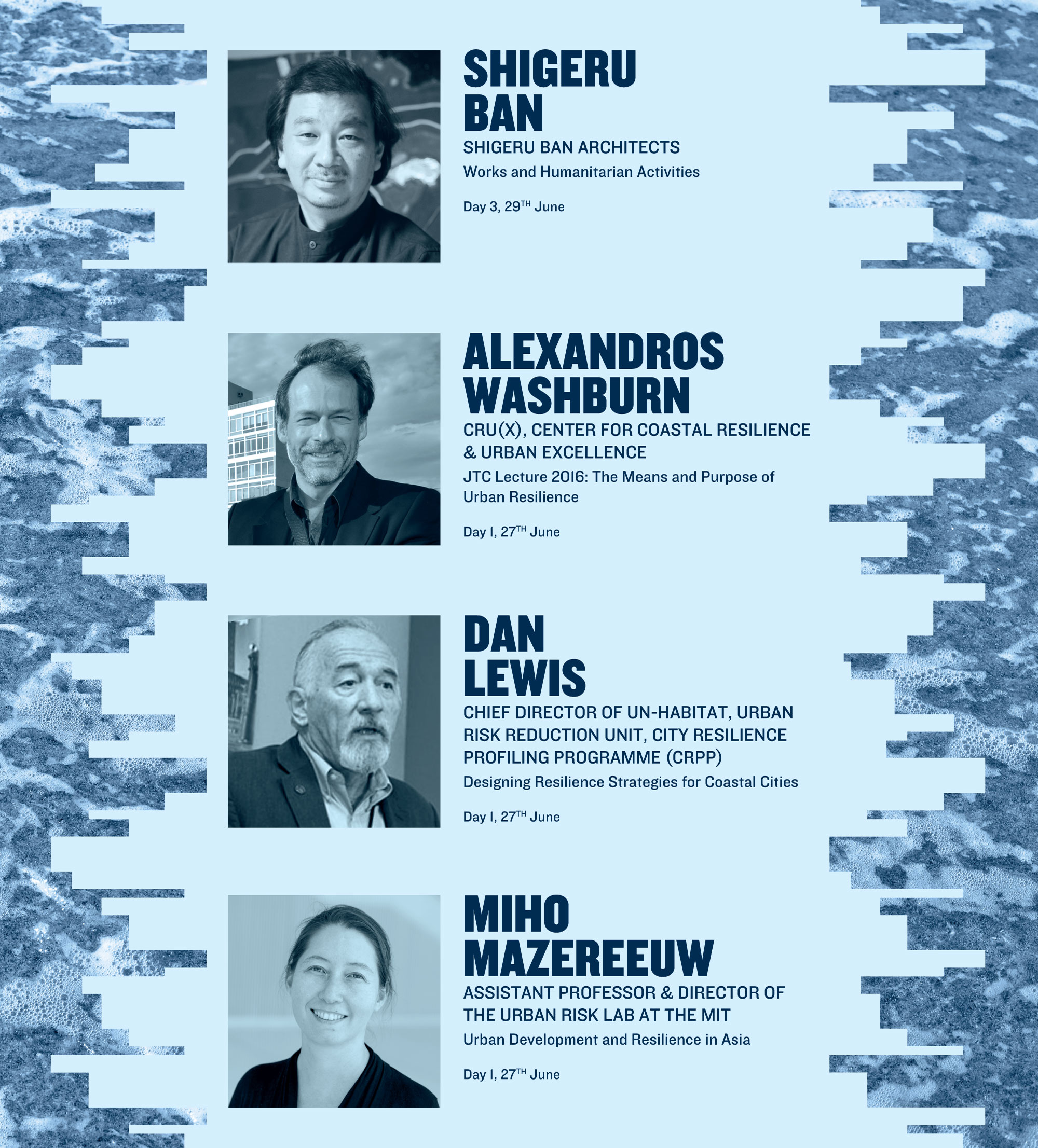 FULL SCHEDULE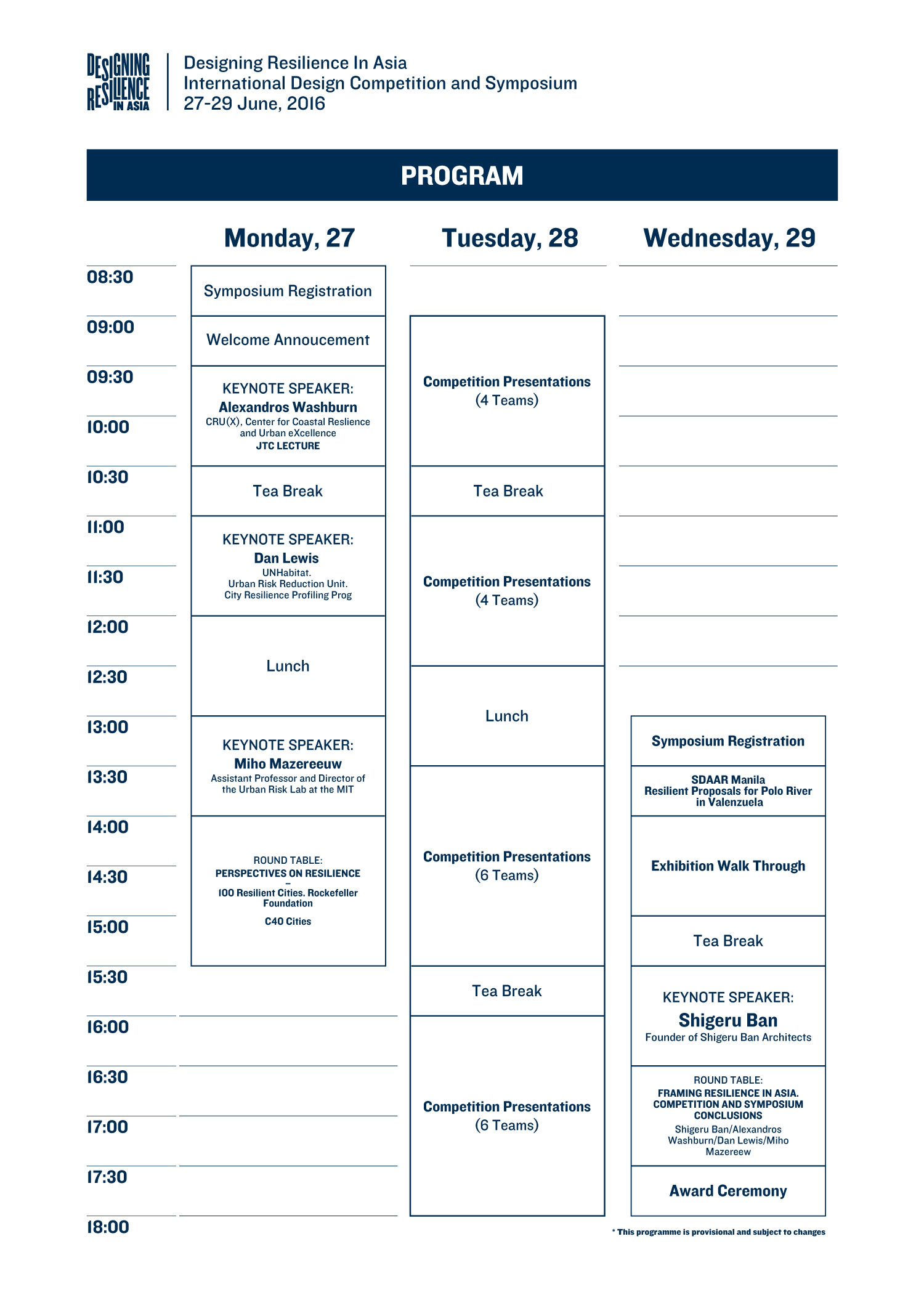 Note about CPD points
CPD points for professionals will only be given for attendees who are present on BOTH Days 1 and 3 of the symposium.
General Enquiries
Please send your enquiries to info@designingresilience.com.
Note: Photography and videography will be taken during the event. National University of Singapore may use some or all of these images in print and social media.
REMINDER: REGISTRANTS MUST ATTEND DAY 1 SYMPOSIUM TO GAIN ENTRY TO DAY 3, WHICH INCLUDES SHIGERU BAN'S KEYNOTE SPEECH.