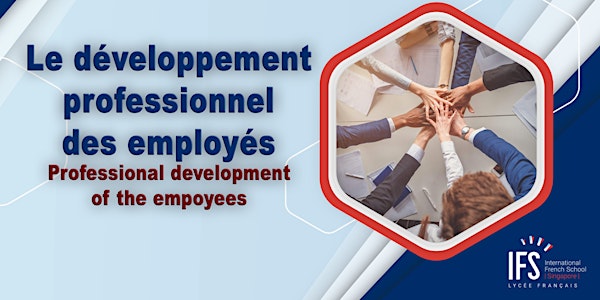 Développement professionnel des employés (focus group parents)
Temps de discussion sur le projet d'établissement / Focus group on the school project.
Date and time
Thursday, October 6, 2022 · 7 - 8:30pm +08
Location
International French School (IFS) 2900 Ang Mo Kio avenue 3 Pour tous parents Salle J224, 569928 Singapore
About this event
Description sur la thématique abordée
"Le développement professionnel est un processus général par lequel l'acquisition, l'élargissement, l'affinement et le maintien des connaissances utiles à la mobilisation des compétences et des qualifications mènent à la professionnalisation. Il englobe les tâches consistant à clarifier les objectifs professionnels, à contribuer à la construction de l'identité professionnelle, à accroître la conscience de soi et la confiance en soi ainsi qu'à affiner le raisonnement, la réflexion et le jugement professionnel. Il comprend également une dimension sociale et contextuelle visant l'amélioration des divers aspects du fonctionnement professionnel et l'élargissement de l'autonomie professionnelle" (Drouin, Trépanier, Kenny & Daigle, 2021, p.27).
In English
"Professional development is a general process by which the acquisition, expansion, refinement, and maintenance of knowledge relevant to the mobilization of competencies and skills lead to professionalization. It encompasses the tasks of clarifying professional goals, contributing to the construction of professional identity, increasing self-awareness and self-confidence, and refining professional reasoning, reflection and judgment. It also includes a social and contextual dimension aimed at improving various aspects of professional functioning and expanding professional autonomy" (Drouin, Trépanier, Kenny & Daigle, 2021, p.27).
Ci-dessous, documents pour découvrir le sujet avant votre rencontre.
Below, documents to discover the topic before your meeting.