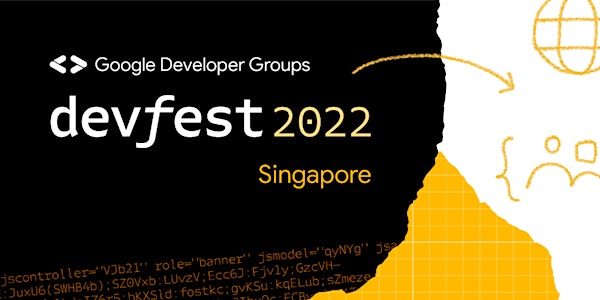 DevFest Singapore 2022
After a two-year hiatus, one of the biggest developers' festivals, DevFest Singapore, is coming back on November 26!
When and where
Location
Google Developers Space, Singapore 80 Pasir Panjang Road #Level 3 Singapore, 117372 Singapore
About this event
Event Website: https://sites.google.com/view/devfest-singapore-2022
Learn, build, and connect as a community
DevFest is a global community-driven tech conference, hosted by the Google Developer Groups (GDG) community. Each DevFest event is crafted by its GDG organizers to fit the learning needs and interests of their local developer community, with a strong focus on knowledge exchange, networking, and learning about Google developer technologies.
DevFest 2022 marks the 11th year of DevFest and represents the beginning of the second decade of the GDG community. Through DevFest, you can continue to explore how Google's suite of developer tools can expand the impact of local tech professionals and developers like you around the world.
Whether you're passionate about finding new opportunities, elevating your knowledge on the latest Google developer tools, or exploring how to use Google technologies to generate social and economic impact, DevFest offers an amazing platform for developers to connect locally, learn, and build on Google's tools.
DevFest Singapore 2022
DevFest Singapore 2022 is a non-profit local tech conference hosted by GDG Singapore, in partnering with GDG Cloud Singapore, and Women Techmakers Singapore.
We bring together experts across different technologies for sessions and showcases, allowing you to be empowered with new knowledge and skills.
This event is a culmination of community and passion where developers come to learn, share, enjoy and delve into the spirit of the DevFest season.
This DevFest 2022 season, GDG Singapore is partnering with Google Developers Student Clubs to bring Career Fair to DevFest Singapore 2022. More information will be shared soon.
Different event passes available for DevFest Singapore 2022. Kindly select ONLY ONE event pass that best suits you!
- DevFest Developer Pass (i.e. Developers, Working Professionals)
- DevFest University Pass (i.e. GDSCs, Students from JCs, Polytechnics, Universities)
- DevFest Special Pass (Only for GDEs, Speakers, Partners, Volunteers)
Do note that this is a PHYSICAL event that will be held at Google Developer Space, Singapore.
Stay tuned! See you on November 26!