Disposal Toughbook Laptops iPAD Mobile Computer Recycling Van Pick-Up Singa...
Description
Usable Things to Clear?
eCycle Do-Yi specialised in removal, disposal unwanted workstation computer laptop collection for corporation.
|| Wanted: Rugged Extreme / Toughbook / Auxiliary Robustic Powerbook / Apple Macbook Air / e-Pads incl. power adaptors / Workable LED Display Monitor - Television ||
Our collector will transport, removal the end-of-lease/retired e-appliances, recannibalise to bring a lease of eLive.
List disposal inventory list of items for collection appointment, email to: doyi_enterprise@yahoo.com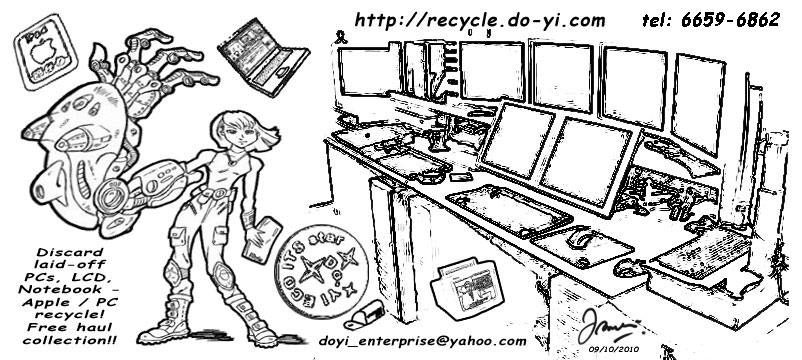 ECO-ITS campaign, Do-Yi Enterprise:
The collector will assist to salvage serviceable mobile computers at the site service removal (e-waste) by appointment.
We provide pick-up transport helpfulness; strategically take the case of move apart decommissioned supercomputers; with compliments above client interest, naturally office task workers find more breathing space, non-hazardous in order to stay productive.
Haul away unwanted (Workable) Laptops Computer et.al. (Recycling) for Companies
A) Get organised all discard laptop or other listed equipment at your work area.
Submit a copy of the written-off items; asset inventory list so it is clear to verify discard items as stated. Our collector will email the collection appointment to pick-up at your designated address place.
B) Free collection provided that all system components are intact; and laptops preferbly give-in the power adapters.
Very often, ditch the tech store (Re-organise your store wardrobe; clear stock) where commonly find mixed of e-appliances; these are almost timely written off laptops/notebooks/tablets/smartphones/camera/tech equipment, that we find possible means to recover and make up through a cycle in consider to value chain activities. Be appreciative, good stuff we treasure, on the other hand, we then compliment to offset service transportation toll fee, parking and logistic handling as well as personalise valued service hauler.
C) During at the site service collection, two copies of 'recycle jobs done CFM' sheet in print of the disposal details (cite-it-right asset description given by the client), that will present to the site administrator, for company stamp and signature. We will then release a copy to accounts for reference.
We handled all take-in equipment with care, and assured the media in drive will be wiped without destruction (waste minimisation), and possible to give it a lease of life cater to less privilege user.
D) On service appointment, please compile send the disposal inventory list (Product Brand/Model/Serial/Qtn.) email to: doyi_enterprise@yahoo.com / Phone: 6659 6862 to schedule on site service appointment.
Thank you.
Cordially,
Secretariat Admin
ECO-ITS star (Collection)