Why do you need a Divorce Coaching?
About this event
With a coach, You would have gotten support in making all the important decisions, and you would not have wasted valuable time or financial resources trying to piece together a team and a plan. A coach would have helped You to navigate the emotional rollercoaster and kept you on track when the stress threatened to derail.
Why go thru a divorce coaching?
Just as lawyers and financial experts have very important and specific roles in the divorce process, a divorce coach has the job of supporting and guiding her clients through the challenging maze of emotions. She ensures that self-care is prioritized so her clients can make decisions from a place of clarity. She relies on her personal and professional experience, training, and connections to create structure, safety and space. This is critical because each divorce is unique, and each client's needs are different. The coach's job doesn't usually end when the divorce papers are signed. She is often invited to facilitate her client's smooth transition to a successful single life. She is an advocate and a thinking partner for the entire divorce journey.
We are having special package at $180 for 1 hour but it may go up to 2 hours (2nd hour is complimentary) for first time consultation.
Pls book by appointment only.
Hotline : WhatsApp 96881798 or email - julia@styleandbeautyexperts.com
About Style & Life Coach Julia Shantal
Julia is a leadership consultant, a mentor to many entrepreneurs and also a Style & Life Coach. She had gone thru a divorce 4 years ago and had gone thru a life journey of losing everything, her dad, but yet able to rebuild her own business for more than 11 years.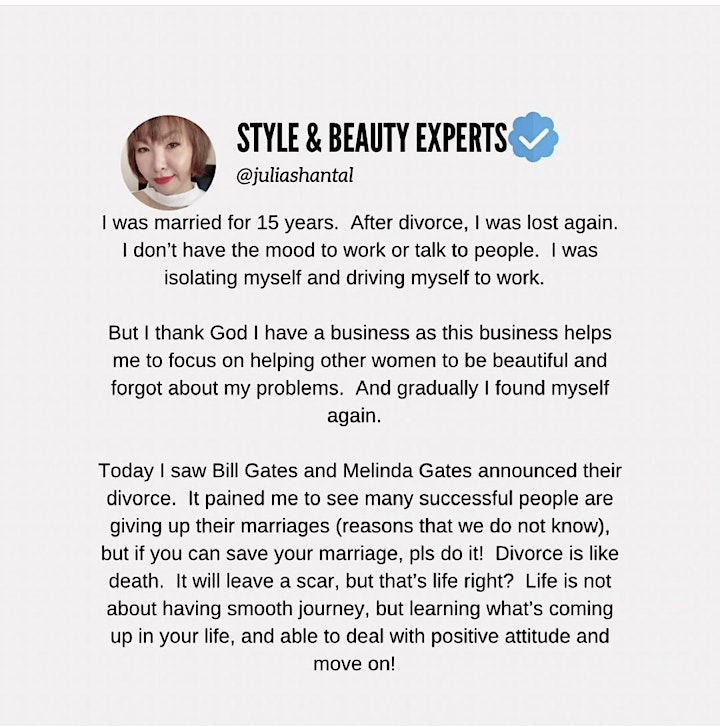 Organiser of Divorce Coaching