Description
Do You Have What It Takes To Be A Successful Entrepreneur?

Starting a business is not difficult. But growing a business into a successful one that creates Wealth, Personal Satisfaction and a Sense of Achievement is another thing altogether.
How about if you are already an entrepreneur? Have you started the business only to find that you have so many things to worry about and the business is not doing well? Or perhaps you are seeking for more ways to grow your business. Perhaps all you need is just one thing to change your fortunes. Perhaps, what you need is a coach....

...and not just any coach but someone who has "Earned The Right" to be your coach.

And this may be the last chance to tap into the experience and wisdom of a home-grown local Successful Entrepreneur who is willing and committed to help mentor you provided you have the desire to be a successful entrepreneur!

---
Boyd Au started his company in the electronics industry back in the 80's. Before long his business was successful and among his clients were major companies such as IBM, Hewlett Packard, Creative Technology, Seagate, SIemens Nixdorf, Apple and many more.

Then in 2001 he brought his company public-listed in the Singapore Stock Exchange. His products were sold in more than 30 countries around the world and his brand won the Superbrands Award 3 years consecutively from 2004 to 2006.

In 2006, his company achieved sales revenue of close to S$80million. Finally in 2007, he sold off his entire stake in the company.


---
After selling his public-listed company, Boyd had set his sights on new goals and a new life mission...
"My Mission Is To Help Entrepreneurs Be Successful Through My Training,
Coaching And Mentoring"
Boyd Au has amassed more than 30 years of successful business experiences and wisdom. Having been blessed with success in his business, his calling these days is to share those experiences, to teach his business knowledge and to impart his entrepreneurship wisdom to others in order to help them succeed. His life-goal now is to leave a legacy of grooming others to be successful entrepreneurs.

But wait! He is not a superhuman! He cannot be helping every aspiring entrepreneurs or business owners that come into his path. Therefore he is reserving his time for those who want it most. He wants to groom only those who are committed.
---
One of the many mentees that benefited from his training and mentoring programme...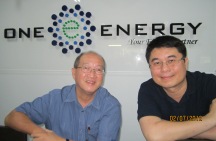 "My first time running a business and I achieved total turnover of S$2.5million in just over 1 year! I attended Boyd's program which helped me identify the right business and run it profitably."
Heng YJ, from Army Officer to
CEO of ONE Energy
---
FREE SEMINAR
"Do You Want To Succeed In Business?"
We will be conducting a seminar to share with you about Boyd Au's Genesis Entrepreneurship Training programme and how it can help you to become a Successful Entrepreneur.

Attend this seminar if you…
have the hunger to succeed,
have a strong desire to become a Successful Entrepreneur,
have not started any business but want to know how to start a business on the right track,
are currently a business owner looking for new ideas and strategies to grow your business,

willing to be trained, be coached and mentored for success
Now, if any of those stated above represents you, we invite you to attend one of our preview seminars. It is free and you will learn something about business that you will not find in books.
In this seminar you will learn...
Why some business fails?

What are the key areas in business that you must absolutely get right to increase your chances of success?
The secret to how some entrepreneurs create massive wealth
Real-life business experiences and tips from Boyd Au himself!
To attend one of these seminars, please scroll up to see the next available date and register for it. We do not organise many of such seminars and seats are limited. Don't Miss Out on this unique opportunity to learn from a founder of a public-listed company. How often do you get a chance to meet face-to-face with a chairman of a public-listed company teaching you how to do business the right way. Register Now.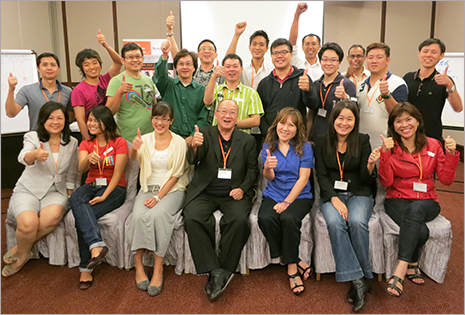 Scroll Now To The Top Of This Page And Register For The Next Available Date Of Our Seminar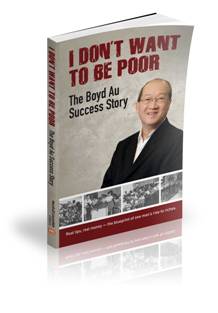 "I have faced most of the challenges you can imagine in business - from growing it locally to expanding globally; went through an ardous two years preparing for an IPO, listed the company successfully against all odds and most importantly, was able to exit comfortably." -
excerpts from Straits Times No 1 Bestseller "I Don't Want To Be Poor -The Boyd Au Success Story"
** By clicking "Complete Registration" on the registration form and registering for this seminar, I agree to allow the organiser to contact me on my phone number pertaining only to matters regarding to this seminar.