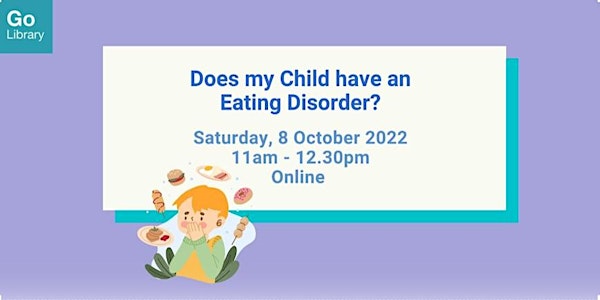 Does my Child have an Eating Disorder? | Online
In this wellness programme by NYP, learn how to recognise eating disorders in children and youths, and seek help for them.
About this event
This workshop is designed to give learners an understanding of the common eating disorders in children & adolescents and recognising its symptoms. It covers treatment, prevention and management techniques as well as activities that promote healthy eating habits. Learners will be equipped with the relevant resources to provide appropriate support, where needed. 
This programme is suitable for parents of children and teens.
About the Speaker
Ms Nithiya Gunasagaran is a Mental Health nursing lecturer at NYP School of Health and Social Sciences. She holds a Specialist Diploma in Teaching and Learning (Higher Education) from the National Institute of Education Singapore (NIE-NTU), a Degree in Nursing from the Latrobe University, an Advanced Diploma in Mental Health Nursing and a Diploma in Nursing from the Nanyang Polytechnic (NYP). She has 4 years of teaching experience at an Institute of Higher Learning at the tertiary level. Ms Nithiya has 8 years of experience nursing patients with Eating Disorders through the delivery of holistic individualised care and the provision of a supportive and therapeutic relationship. She also engages in educating and supporting the parents/ caregivers of patients with Eating Disorders.