Description
As the fourth most populous country in the world, Indonesia's large domestic market offers a wide range of business and investment opportunities for Singapore companies.
In the year of 2018, the total investment by Singaporeans in Indonesia has increased by 9.1%, or USD 9.2 billion, and this again puts Singapore as one of the biggest source of investments in Indonesia.
The age of digitalisation has broken down boundaries between countries and made the world we live in more accessible. Needless to say, this also opens up new markets and opportunities overseas. Diverse Origins (DO) is taking a more outward approach in encouraging startups and SMEs from different countries to come together to seek out and optimise these opportunities together.
We hope to see more active participation in our community activities in our quest to help everyone be prepared for the foreign front in their overseas expansion efforts. Do drop us a line if you have anything to share or suggest at info@diverseorigins.com
Seminar Highlights

1. Uncover the business opportunities in Indonesia, and what to look out for when doing business in Indonesia
2. Uncover business opportunities in Indonesia's coffee industry
Agenda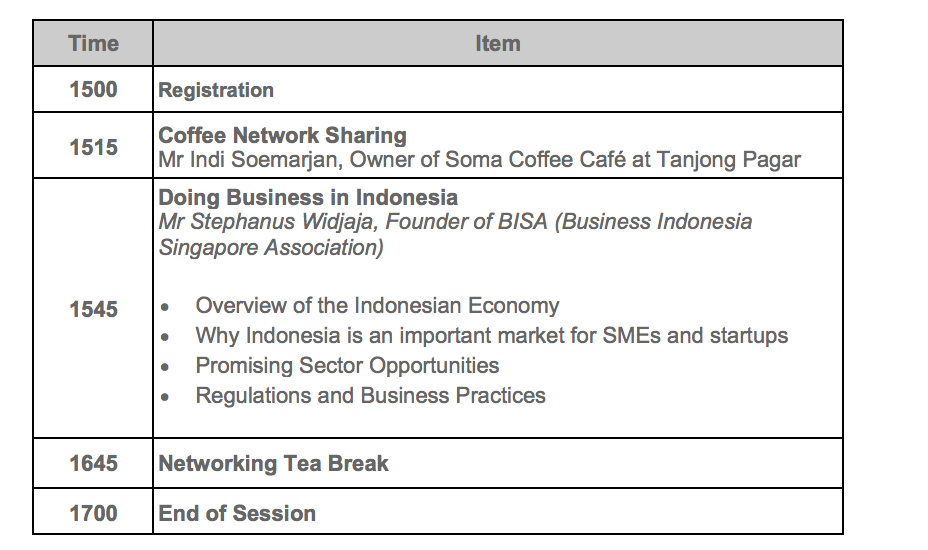 Who Should Attend:
CXOs, CIOs, Business Owners of SMEs and key decision makers with interests to expand to Indonesia.
Important Note:
Prior registration is required.
An email will be sent to you to confirm your participation at this briefing.
We reserve the right to turn away participants who did not pre-register.
For enquiries, feel free to drop us an email at info@diverseorigins.com or WhatsApp us +65 8531 5609
About Us
Pls feel free visit our website at www.diverseorigins.com & facebook page (@diverseorigins) & give us a LIKE.