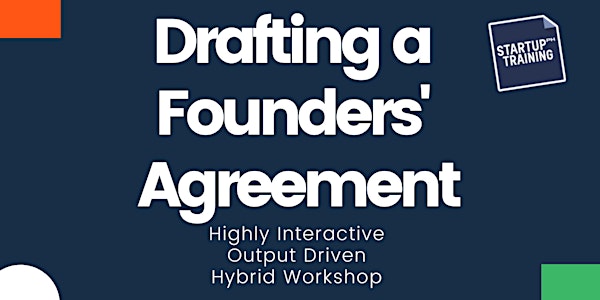 Drafting a Founders' Agreement
Founders' Agreements don't need to be complicated. They can be simple and clear and save you from one of the major reasons businesses fail.
Refund Policy
Refunds up to 7 days before event
About this event
IF YOU ARE A FOUNDER WHO
Is thinking or currently looking for cofounders
Has found cofounders is about to start their startup with no Founders' Agreement.
Has already started but doesn't have a Founders' Agreement yet.
Has some kind of a Founders' Agreement but not sure if you did it right
WHAT IS IT
An interactive, output-driven live online workshop where we share best practices and guide you in drafting your own Founders' Agreement using a template
WHAT WE'LL DISCUSS
The bare minimum needed for an agreement
The journey of an agreement from handshakes to legally binding contracts
Best practices and stories
When to do it and how to talk to cofounders about it
Founder roles & responsibilities
Financials - Compensation, allowances, expenses, etc.
Equity - shares, vesting, leaving, sweat equity, investments, etc.
WHAT YOU'LL DO / GET
Your first Founders' Agreement draft
A Founders' Agreement Template
Links to useful web tools and references in making your Founders' Agreement
Raw video recording via Google Drive and edited instructional videos of the session via Thinkific online course (to follow)
BONUS SESSION!
Draft your own Founders' Agreement book and Carlo for a 1 hour call to get feedback!
INDIVIDUAL TICKET PRICE
Php 1,490 - Until Aug 21
Php 1,900 - Aug 22 to Sep 11
Php 2,490 - Sep 11 to 17
GROUP PRICING
Message us to get 75% off on the 3rd ticket!
PAYMENT OPTIONS
Via Credit or Debit card using PayPal
Choose "Pay Via Check" for the following payment options. (Don't forget to send a screenshot of the payment made to jona@startupphtraining.com )
Via BPI - Carlo P. Valencia - SA # 2609238286
Paymaya or GCash - 09399203466

Pay Via Invoice is also available
ABOUT THE SPEAKER
As founder of Startup PH Training (SPHT), Carlo helps founders and corporate innovators test their ideas in days and weeks instead of months and years.
He was also the CEO-Founder of Klaseko, a startup that automated enrollments for schools. Though the startup has now died, he remains friends with his cofounders and credits the agreements made as a key factor in maintaining those relationships.
Since 2014, he has run hundreds of workshops for thousands of people across the country. He has taught technopreneurship in CIIT and is a mentor in QBO Innovation Hub.
Prior to his entrepreneurial and educator's journey, he spent almost a decade in HSBC with 7 years in various non-teaching roles under the HR Learning & Development team.