Event Information
Refund policy
Contact the organiser to request a refund.
Eventbrite's fee is nonrefundable.
D.R.E.A.M. Power Parenting Conference is BACK! 19 June 2021 Saturday 2-6pm
About this event
THE FIRST 100 who register will receive A SPECIALLY CURATED E-BOOK COLLECTION that will you help you become a POWER PARENT!
FREE GIFTS will be given by speakers throughout the conference.
SO CLICK NOW! Tickets LIMITED!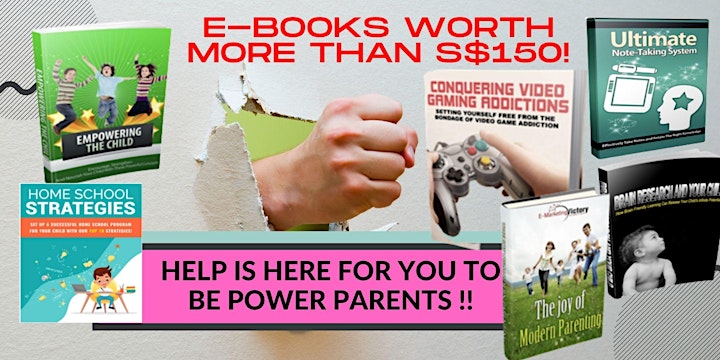 If you want to be a Powerful Parent, what will you want to learn?
Topics include:
How parents having a good sleeping habit can impact children's school performance
How to Enhance Your Child's Focus with T.I.M.E. System
5 Things to Unlock Your Child's Learning Potential
3 Tips to Learn Faster in any Subject
Unleash your Child's Creativity through Coding
How to Play Easy and Fun Chinese Activities at Home
From Novice to Novelist: 5 Effective Strategies to Become a Powerful Story Teller
3 Money Smart Activities you can Do with your Kids
Positive Parenting from inside out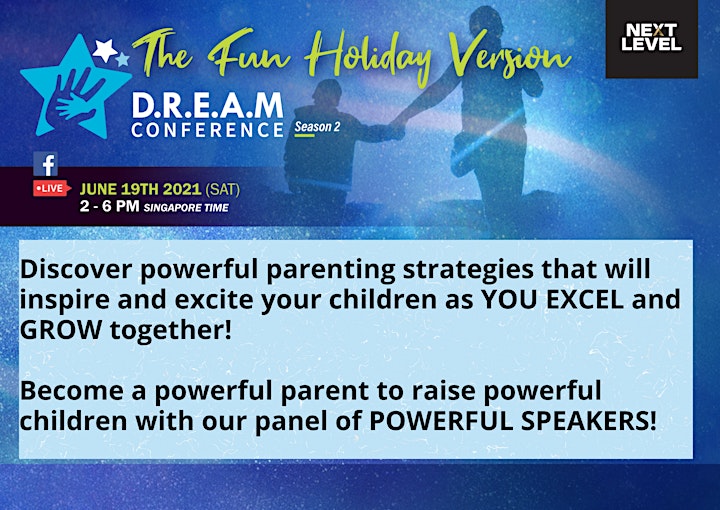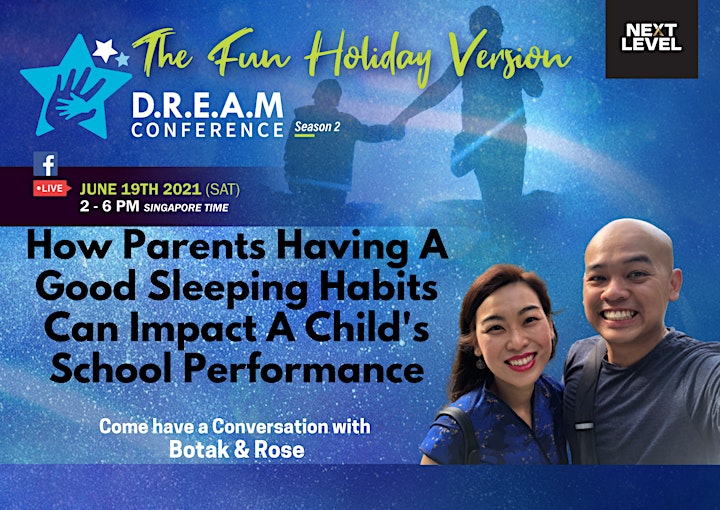 Lucas aka Botak has more than a decade experience in tarot card reading and he is a Certified Oracle Practitioner and Angel Tart Reader.
He is specialized in relationship issues related to soulmate and twin flame. Helping client to identify their relationship blueprint and recognize the trend of how they respond to any relationship problem.
He is also trained in assessment tool for coaching which is based on model of cognitive thinking style – The Inventory for Work Attitude & Motivation (iWAM).
Rossana aka Rose's love for people and the social sector started since 2002.
She was previously the Regional Coach Manager of Singapore' largest training firm, Adam Khoo Learning Technologies Group, She has close to 15 years of coaching, training, and counselling.
She has also been in both mental health care and social care sector for the past 10 years. Rossana holds a Master, Post-Graduate Diploma and Bachelor in Counselling. She also has a Diploma in Coaching – Business & Workplace.
Find us on Facebook: https://www.facebook.com/BotakRose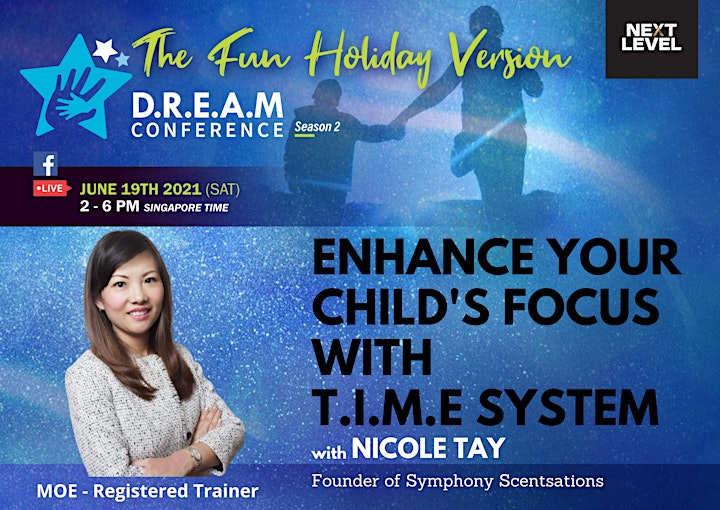 Nicole is the founder of Symphony Scentsations. Symphony Scentsations conducts a series of DIY Workshop, such as creating your own Personalised Perfume, Jewellery Making and Soap Making using therapeutic-grade Essential Oils.
In 2015, she decided to focus her energy in advocating natural healthy lifestyle through talks and classes. She advocates education by conducting her own DIY classes, empowering people with the knowledge of using natural solutions. She is also an MOE Registered Trainer and conducts elective modules in local school.
They said Happy Children = Happy Parents!! On a regular day, Nicole teaches Natural Solutions for daily usage. For this unique conference, Nicole will share her T.I.M.E. system to keep everyone FOCUS, SAFE & SANE!Find Nicole on her Facebook: https://www.facebook.com/5figureMum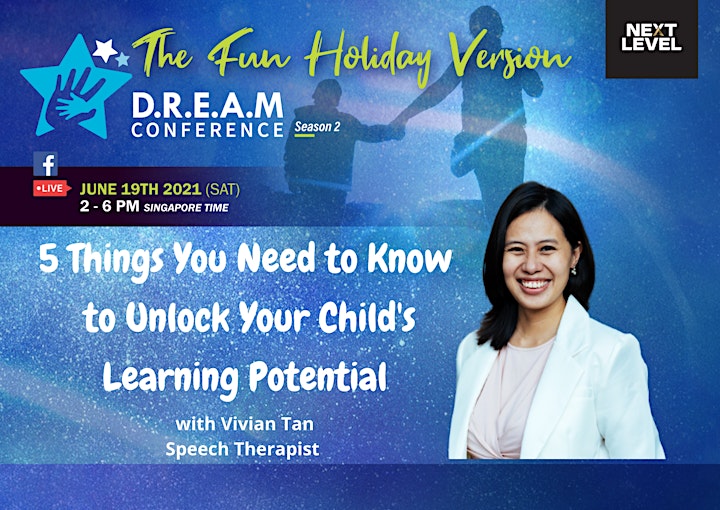 Vivian is a fully certified Speech Language Therapist. She has experience working with children from 0-18 years helping them with a variety of communication and feeding disorders. She is a strong advocate of child-centred practice and collaborative work with caregivers to provide holistic care.
Vivian firmly believes in empowering parents and caregivers as the key to making Real Change to a child's learning.
Find her on Facebook: www.facebook.com/thespeechballoon/
or Instagram: https://www.instagram.com/the.speechballoon/
Jasline Lock, Singapore First Tactical Parenting Strategist
I graduated from Nanyang Technological University in 2000, became a Chartered Accountant and worked in the Corporate for 17 years. I raised raised 2 High Achievers while working full time.
Now an international Speaker, Online Course Creator, Parenting and Study Coach
Parents are the key to unleashing the potential of their children.
My Mission is to help parents be happy parents to happy kids with proven strategies.
Facebook page: https://www.facebook.com/jaslinelock
YouTube: https://bit.ly/jassubscribe
LinkedIn: www.linkedin.com/in/jaslinelock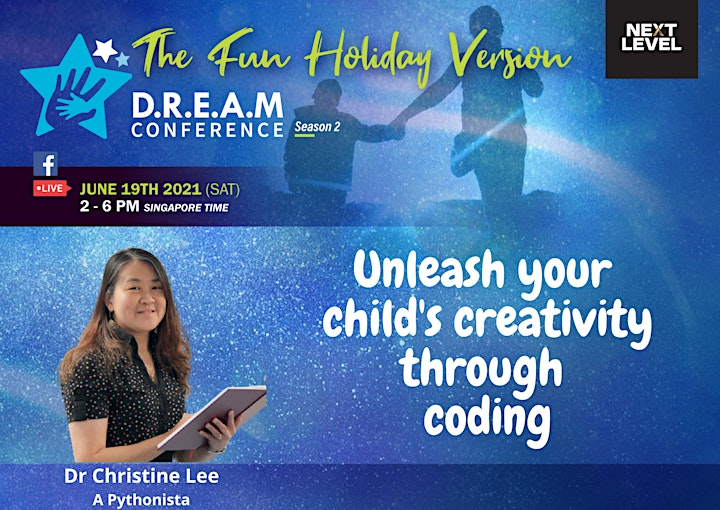 Dr Christine Lee - Professional Certified Trainer
Christine is passionate about teaching coding to kids to develop their problem-solving skills, creativity, and logical thinking. With coding skills, there will be more innovation for a better world.
Facebook Page: https://www.facebook.com/drchristinesklee
LinkedIn: https://www.linkedin.com/in/drcabokia/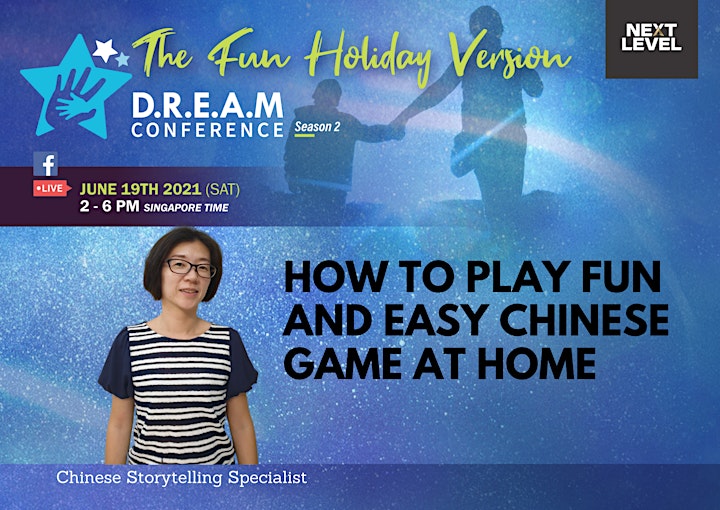 大家好 !
我是兒童繪本遊戲師Cindy!
我喜歡說故事給孩子聽也喜歡和孩子玩遊戲, 喜歡看到孩子聽故事認真的眼神也喜歡看到孩子天真的笑容!
故事是孩子認識世界的第一步 !
繪本故事可以讓孩子學習美感 獲得知識 了解同理心 開啟想像力與創造力
但是發現越來越多孩子有專注力不集中的問題,所以大量進修課程後我獨創R.E.A.D系統幫助孩子從讀繪本中玩出專注力!
今天就來分享影響專注力的因素與在家如何和孩子玩可以邊學邊玩還能提升專注力!
Find Cindy on her Facebook: https://www.facebook.com/Cindystorystelling/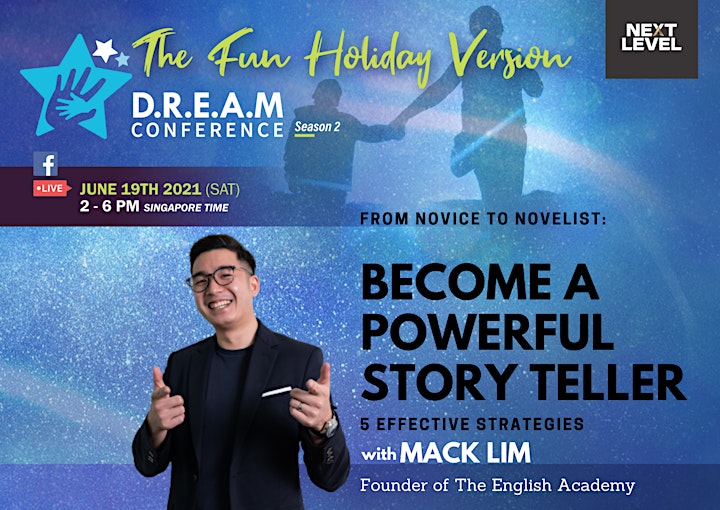 Mack Lim - English Strategist
As a professional English Strategist, Mack aspires to bring out the best in his students so that they can be future-ready and enhance their English abilities as an essential life skill. Through English learning, Mack empowers his students to have more opportunities in life.
Find him on Facebook: www.facebook.com/TEAwithMack/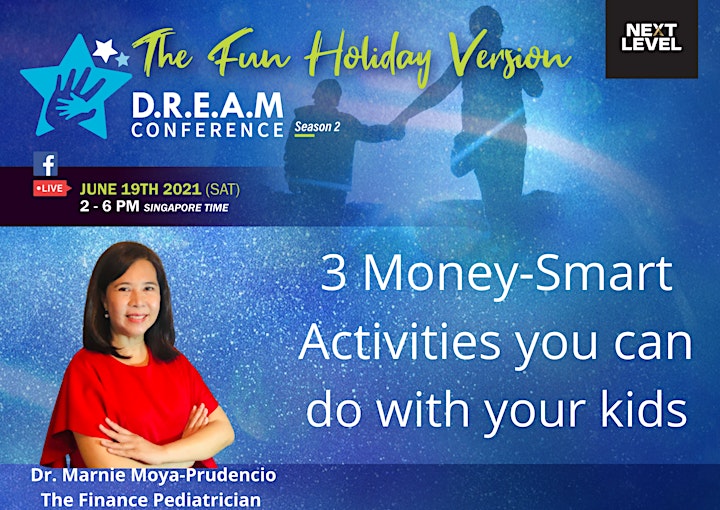 Dr Marnie is a Neurodevelopmental Pediatrician and she have been in practice for 18 years. She see children with developmental disabilities and counsel their families.
She is also an advocate on teaching financial education to children and have been a moderator for the Cashflow 101 Workshop for 9 years.
She is a speaker, author and online course creator of the Money-Smart Parents and Kids Online Program.
Find me on Facebook: https://www.facebook.com/drmarniemoyaprudencio
Hasnah A.Rahman, more affectionately known as Miss Has, Founder, Master Trainer, and parent-child empowerment coach at Positive Focus Pte Ltd. I help children and adults focus on staying positive, and build the resilience to thrive in a VUCA World.
"Mummy, can you teach my friends what you have taught me?", suggested my 6-year-old son. My journey started as a struggling single mother who had to turn my fear into fuel.
My quest to help my child overcome his learning challenges when he was 5 led me to explore a plethora of therapies, techniques, and empowering educational pedagogies. These include Applied Positive Psychology, Mindfulness, Neuro-Linguistic Programming, Reiki, Music & Drama, Hypnotherapy, Yoga therapy, Kids Yoga, Life coaching, Enrichment education brain-based teaching methodologies.
I saw first-hand how they drastically improved my son's life and thus began my now 25-year journey to enrich the lives of thousands of children, families, educators, and helping professionals.
As a trainer, I am certified in Advanced Training and Assessment (ACTA) by W.D.A. (Singapore Workforce Development Agency), Cambridge International Diploma for Teachers and Trainers (CIDTT), is the only accredited consultant trainer for the Goulding Process Of Sleep Talk-The Proven Parent Solution in Singapore and teacher trainer for the Certificate of Professional Practice – Phonics and Early Literacy and reading comprehension, accredited by London Teacher Training College, U.K. I am also a member of the International Association of Counselors and Therapists.
Today, I am grateful to see my son confident and resilient. In May 2021 he graduated with a double degree in law and liberal arts at Yale-NUS College and N.U.S. Law in Singapore.
Beyond my technical expertise, I have consulted for and starred on Okto's CLUB M.A.G.I.C., Singapore's first preschool T.V. program.
In the age of the pandemic, I experienced the positive power of professional networking and Givers Gain - The core principle of BNI chapters worldwide and became the founding president of BNI Venus - the first and only Women's Entrepreneur Chapter in Singapore, launched in October 2020.
My struggles as a single mother allowed me to find my purpose and make my mess, my message. I aim to make a better world. One child, one family, one institution, one woman entrepreneur at a time.
SIGN UP NOW!
Location
Refund policy
Contact the organiser to request a refund.
Eventbrite's fee is nonrefundable.