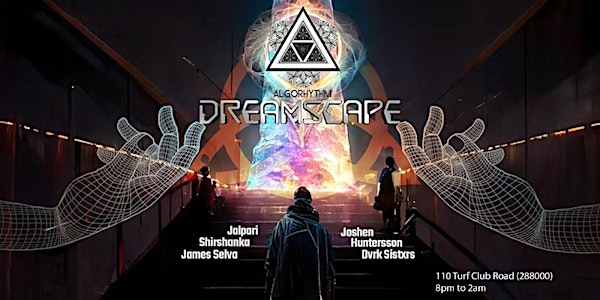 Dreamscape
The Portal Is Open
When and where
Location
110 Turf Club Rd 110 Turf Club Road Singapore, 288000 Singapore
Refund Policy
Contact the organizer to request a refund.
Eventbrite's fee is nonrefundable.
About this event
"There is a door within the self. When this door is opened, a unity is revealed that encompasses all beings and transcends all boundaries. Mystics in every religious system in every culture and in every age have reported this to be the highest truth. Those who have had such an experience agree that the state is elusive and usually recalled only in fragments. However those who have achieved even a moment of this visionary understanding consider it of incalculable value."
Greetings Earthlings,
Dreamscape is back! We've been busy setting up a portal to the galactic dance temple and are finally ready to open our doors once again, to a festival of transcendental tunes, tantalizing visuals, and flowering connections.
On the interspace itinerary is a progression of pulsating beats and riveting rhythms ranging from Melodic Tech, Techno, Psytech, and Psytrance from our space pilots of selectors, to keep those funky feet grooving.
What to Expect :
An exploration of string theory with neon and UV designs amplified by the stunning lasers and visuals by Mi5chief Makers.
Funktion-One Sound courtesy of Rebel Decibel Soundsystems.
Live Interactive neon painting facilitated by creator of the "Playnting" artistic process Khaitama (https://instagram.com/khaitamafr) who will also be exhibiting and performing a live painting
UV Face and Body Paint by master Make-Up maestro Andrea Joan Dominique from 10pm - 12am (https://instagram.com/andreajoandom)
A crazy bunch of friendly party animals, wacky shenanigans and lots of love & good vibes. Yes…we haven't forgotten the fruit this time.
Artists:
James Selva
James' experiences with a wide array of sounds have allowed him to play with an open mind. He likes to bring the individual listener on a journey, marrying a myriad of genres to achieve a little dancefloor delirium.
Having played at festivals such as Wonderfruit and Garden Beats, as well as local establishments/pop-ups such as Ce La Vie, KRATE, Kilo Lounge, Blackout, Manifest, Rumours & Tanjong Beach Club among others, he relishes creating new experiences with every set.
So strap on your most comfortable pair of dancing shoes, grab yourself a Picante de la Casa, and allow James Selva to guide you on an aural encounter beyond the senses.
Jalpari
A woman who wears many hats, one of the OGs of Algorhythm events, and having recently played across SG at Manifest parties & Headquarters, Jalpari is quite the shapeshifter. Homegrown like a spicy Pav Bhaji, with an ever evolving sound, let Jalpari enlighten you with her distinct flavour of deep and melodic techno.
Shirshanka
A true dancer at heart, and another one of the OGs, Shirshanka regularly destroys dancefloors at Headquarters and The Glass Hut with his eclectic selection of techno and his new exploration into Psy-Tech, an exciting new sub-genre that is making waves all across the community. No one brings the energy quite like he does. Get ready.
Joshen
One of Trance Republic's residents and a veteran in the trance music space, Joshen has expanded his sonic résumé to include progressive psytrance tunes. A specialist in the 138 range, expect Joshen to surprise you with his technical skills and seamless progressions.
Huntersson
Huntersson's eclectic collection of music spans decades, across multiple continents and underground music cultures. At Dreamscape, allow the master of sound to take you on a journey, as he digs through his ever-expanding library of old and new psytrance gems.
DVRK SISTXRS ( Ayano & Bella )
As the DVRK SISTXRS - Psytrance selectors Ayano and Bella will be bringing us back to the source, with driving Full-On selections and Dark synths. Strap in your seatbelts, they just might bring that casual 2-step into a good ol stomp!
Details
Location: 110 Turf Club Road (S288000)
Time : 8pm - 2am
Tickets :
Early Bird - $25
First Release - $30
Second Release - $35
***Partying with Purpose***
Our hearts go out to the people of Pakistan and Sri Lanka currently suffering from a mix of humanitarian and natural disasters, Algorhythm stands firmly on partying with purpose, thus 20% of proceeds will be split between "The Citizen's Foundation" flood relief efforts in Pakistan and "Red Cross" in providing aid for basic food staples and medical supplies in Sri Lanka.
***IMPORTANT***
As a part of our ethos we are committed to the welfare and safety of all attendees in accordance with Singapore laws and the advisories regarding COVID-19 safety measures. Attendee participation in this is absolutely mandatory. Please look after each other to make Dreamscape a safe and expressive place for everyone.