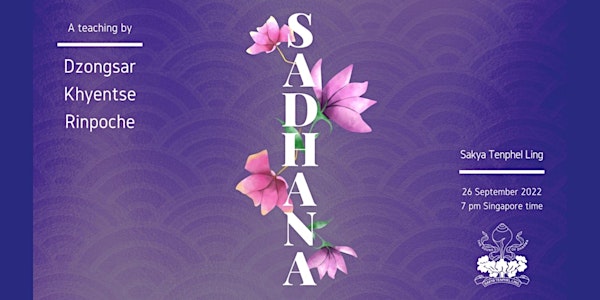 Dzongsar Khyentse Rinpoche at Sakya Tenphel Ling Singapore
Sadhana by Dzongsar Khyentse Rinpoche at Sakya Tenphel Ling Singapore
When and where
Location
5 Pasir Ris Drive 4 5 Pasir Ris Drive 4 Singapore, 519455 Singapore
About this event
Dear Dharma friends, we are delighted to announce Dzongsar Khyentse Rinpoche's upcoming teaching at Sakya Tenphel Ling Singapore, on 26th September 2022 at 7pm, local time, jointly organized by Sakya Tenphel Ling and Siddhartha's Intent (Singapore). We will also be livestreaming this event via Sakya Tenphel Ling & Siddhartha's Intent Zoom, Facebook Live and YouTube accounts.  
FOR STL MEMBERS, PLEASE USE YOUR REGISTERED NAME FOR THIS EVENT SO THAT WE ARE ABLE TO VERIFY YOUR MEMBERSHIP.
About this event
DATE & TIME
26th September 2022 (Monday), 7pm (+8.00 GMT, Singapore/ KL Time)
VENUE
5 Pasir Ris Drive 4, Singapore 519455
MEDIUM OF TEACHING
Please take note that this event will be held primarily in English. There will be onsite Mandarin translation.
TICKETING DETAILS
Tickets sales will commence on 21st September 2022, 8pm (+8.00 GMT, Singapore/ KL Time) and end at 24th September 2022, 12am (+8.00 GMT, Singapore/ KL Time)..
Tickets are only for those attending the events in person, in Singapore, and we ask friends to be mindful in purchasing tickets if you will actually be attending.
No walk-ins are allowed on-site for this event.
ATTENDANCE POLICY
Before you book your tickets, please make sure that you will be able to attend the session on-site. Should you be unable to do so, you may consider tuning in to our live/ audio streaming instead.
Mask are optional in this event but you are highly encouraged to wear it.
Please be prepared to show proof of vaccination upon prior to entering the premises.
ADMISSION FEE
SGD $10
REFUND POLICY
There is no refund policy. Tickets are non-transferable.  
MONASTICS SANGHA MEMBERS
For Sangha members, please contact us at teachings@sakyatenphelling.org
BE PUNCTUAL
Gates will be opened at 6pm. Please be seated 15 minutes before the start of the program, gates will be closed 20 minutes before. You may wish to arrive at least 30 minutes before the event for registration.
FREE SEATING
This event is free seating. Ordinary and Associate Members of Sakya Tenphel Ling will be given priority seating in the Main Hall.
Seats are allocated on a first-come-first-served basis. One ticket admits one person.
LIVE/AUDIO LIVESTREAM LINKS
Livestream with simultaneous translations will be available on both Sakya Tenphel Ling's & Siddharta's Intent Zoom, YoutTube and Facebook Live accounts.
For any updates, refer to Sakya Tenphel Ling's Facebook Page or website. For all other enquiries, contact us at teachings@sakyatenphelling.org.
Thank you for your interest and support!
Yours in the Dharma,
Sakya Tenphel Ling and Siddhartha's Intent (Singapore)
亲爱的法友:  
本寺(新加坡释迦寺)与 悉达多本愿会(新加坡)将邀请宗萨钦哲仁波切于2022年9月26日在本寺给予开示。  
新加坡释迦寺会员登记购票时,请使用身份证上的名字已确认你的会员身份。每一位会员只限购买一张门票。重复或定购一张以上门票将会被拒绝。
会员
日期与时间
二零二二年九月二十六日,星期一   晚上七时(+8.00 格林威治时间,新加坡/吉隆坡时间)  
地点
本寺(新加坡释迦寺),五号巴西立四道  
语言
英语授课, 现场中文同步翻译  
 购票详情 
门票将在九月二十一日(星期三)晚上八时(+8.00 格林威治时间,新加坡/吉隆坡时间)至九月二十四日(星期六)午夜十二时(+8.00 格林威治时间,新加坡/吉隆坡时间)公开给予公众订购。售完即止。  
鉴于座位有限,在购票前请安排好你当天节目并确定会出席才订购票。  
门票不可转售或转让。  
没有购买门票者,将不允许进场。  
开示当晚现场将不会出售门票。  
出席规定
若无法出席,可通过线上直播聆听英语开示。  
出席活動者将不被強制性戴上口罩,但本会仍鼓勵大家戴上口罩,實行自我保護。  
进场前,请出示你的注射疫苗文件。  
票价 新币10元(个人票)  
取消及退票 本会不接受取消及退票 。门票不可转售或转让。  
出家僧尼 请前往teachings@sakyatenphelling.org 登记     
准时入场
大闸门将在下午六时开放。  
大闸门将在节目开始前20分钟关闭。  
请在节目开始前30分钟入场登记。  
并请在节目开始前15分钟到达会场安顿就座。    
座位分配
座位将先到先得。  
本中心普通会员与准会员将可优先在大殿内就座。  
一张门票只供一人进入就座。     
线上直播链接
直播与中文同步翻译可在新加坡佛学研究会(释迦寺)与 悉达多本愿会(新加坡)的Zoom,YouTube与 Facebook Live 观看。    
请前往本中心面书或网站查阅更新详情。  
法喜充满!  
新加坡释迦寺 与  悉达多本愿会(新加坡)