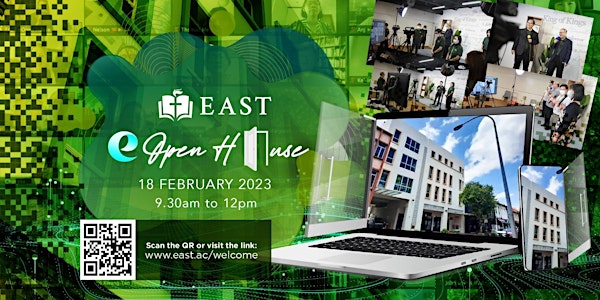 EAST eOpen House 2023
EAST eOpen House 2023 - Online Registration
About this event
2 hours 30 minutes

Mobile eTicket
Have you been considering seminary studies, but are unsure about what to expect?
EAST is a missional seminary which aims to develop Christ-like servant leaders for the Great Commission.
Come for the interactive EAST eOpen House 2023 to find out more!
You can personalise your online exploration by joining any of the 6 electives (study disciplines) in 20-minute chunks hosted by our faculty, or enter any of the general rooms to ask questions on student life, mentoring, admissions, immigration or academic matters. There's also an information wall to satisfy your fact-finding needs. Join us for the #EASTperience!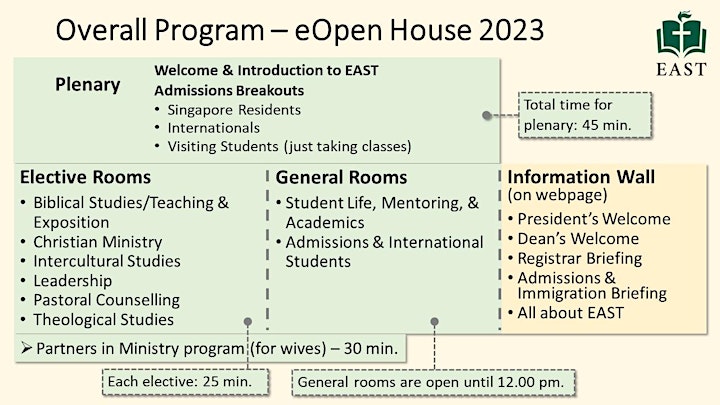 Join our welcoming plenary session, and meet our lecturers, current students and alumni who will share about the EAST learning experience.
Subsequent Elective rooms will allow you to explore the various disciplines to your heart's content with our lecturers and alumni. Join as many as you want as each discipline will have its own dedicated room and time.
At any time, enter the General rooms on Student Life, Mentoring, Academics, Admissions or International Students where our current students, alumni, and staff are around to help with your questions about life at EAST. International prospective students will find answers on immigration matters with our friendly and informative staff.
For wives of male ministers and EAST students, the Partners in Ministry program equips them to be more effective in supporting their husband in ministry. We encourage both husband and wife to join the 11.40 am briefing on the program.
After registration, our GO EAST Information Wall will be available in due course for you to access videos and information relevant to you as an eOpen House guest and a prospective student.
We look forward to seeing you at EAST eOpen House 2023!