Echelon 2013 Japan Satellite
Date and time
Thursday, April 25, 2013 · 11am - 5:30pm JST
Location
Gate City Ohsaki Level B1 1-11-1 Ohsaki, Shinagawa-ku, Tokyo 東京都品川区大崎1-11-1他 Tokyo, Tokyo Japan
Description
EvSatellites – The beginning of the journey for startups. It is the expressway for startups to reach out to a regional market.
Agenda
11.00am - 11.30am
Registration
11.30am - 11.40am
What to expect from Echelon 2013?
Mohan Belani, Co-founder and CEO - e27
11.40am - 11.50am
Opening by BIGLOBE
11.50am - 12.20pm
Startup and investment opportunities in Indonesia
Rama Mamuaya, Founder - Dailysocial.net
12.20pm - 1.00pm
What can Japanese startups learn from Southeast Asia - Opportunities and treds in the region
Rick Martin, Editor in Chief - SD Japan (Moderator)
Mohan Belani, Co-founder and CEO - e27
Rama Mamuaya, Founder - Dailysocial.net
Masaru Ikeda, Co-founder - Startup Dating
1.00pm - 2.00pm
LUNCH
2.00pm - 2.30pm
Being a global startup from the "start" and how we do it
Hidetaka Fukushima, International Business Development - Vuzz Inc.
2.30pm - 3.00pm
Open Network Labs
Hiro Maeda, Managing Partner - Open Network Labs
3.00pm - 3.30pm
Process and difficult points in starting and growing BizReach and how we overcame them
Swimmy Minami, Founder and CEO - BizReach, LUXA, RegionUP
3.30pm - 4.00pm
Landscape review and funding strategy: An Investor's Perspective
Nic Lim, Partner - 8capita
4.00pm - 4.20pm
BREAK
4.20pm - 5.20pm
Startup Pitches
BellaDati

CloudDock

Conyac for Business

designclue

million moments

Quick Language Learning

TopAdmit

Roam & Wander

Zimly

DecoAlbum
Judges
Mohan Belani, Co-founder and CEO – e27
Yasuhiko Yurimoto, President and CEO – Global Brain
BIGLOBE
Serkan Toto, Social and mobile game industry consultant
Hiro Maeda, Managing Partner – Open Network Labs

Speakers & Judges
Renowned for our ability to bring in top notch speakers and judges from around the world including US and Asia. You can be assured that we will deliver the most relevant trending Asia content. Thailand, these are your speakers and judges at this year's Satellite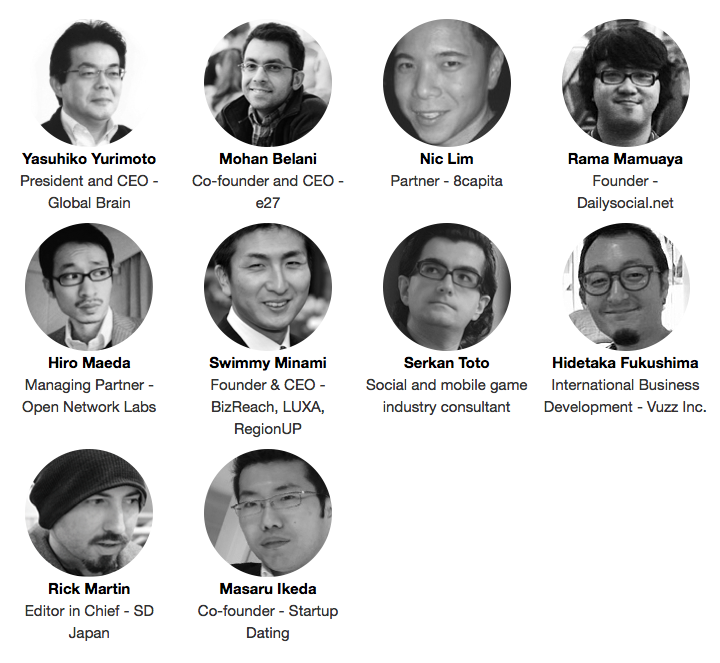 Premier Sponsor
Event Partner

About the organizer
e27 is the startup ecosystem's go-to platform for insights, connections, talent and funding opportunities. It is our mission to empower you with the tools to build and grow your company.
 Entrepreneurs, innovators, world-changers. This is where you start.
Get information that matters
Access an exhaustive range of content that impacts you as a stakeholder in the Southeast Asia tech ecosystem. Created, curated, and delivered in fit-for-purpose and easily digestible formats.
Build connections and open up new opportunities
From having visibility to a large network of investors to beginning a conversation with them, engage with over a thousand active investors in Southeast Asia and beyond. And it's not just investors. Search for the next great talent to add to your team or browse through events to feed your brain and network with your peers.
Gain visibility across the region
Share your story, announce your milestones, and even search for talent and events to join. Build your presence in the platform accessed by a large community of 2000+ investors and 3500+ companies.
Amp up your growth with e27 Pro
Access relevant tools, insights, and connections to boost your visibility and growth, at various stages of your company.
Tech news and ecosystem content: e27.co 
e27 Pro https://e27.co/membership
Get the daily newsletter https://e27.co/signup
Follow us on:
LinkedIn: e27 (Optimatic)
Instagram: @e27.co
Twitter: @e27co
Facebook: e27  facebook.com/e27
Contact us at contact@e27.co and engage@e27.co  to explore opportunities for media exposure and collaborations or just to say hi!