Description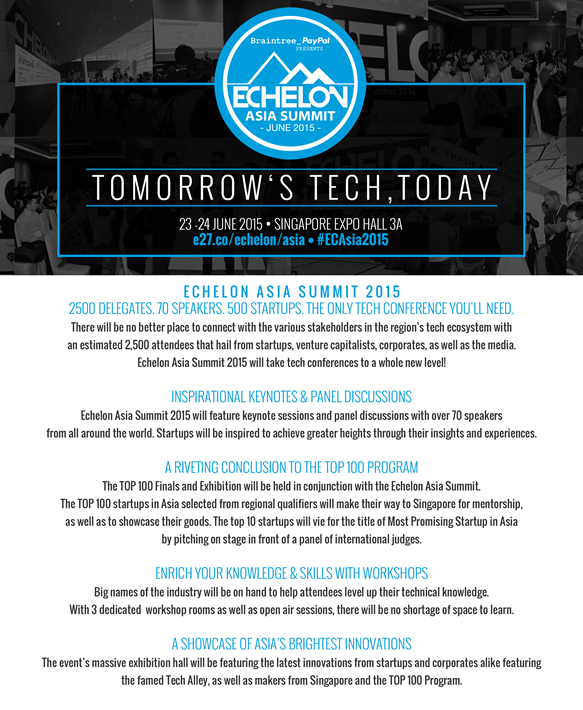 --
The Echelon Asia Summit 2015: Benefits of Attending
- Connections and exposure. Entrepreneurs will be connected to a global repertoire of technology innovators, entrepreneurs, investors, regulatory bodies, and c-suite executives who are creating the next wave of innovation.
- Excitement. Investors will be excited as the Top 100 startups across the Asia Pacific region are selected to exhibit, and the Top 10 startups to pitch from June 23 to June 24. In the words of Vinnie Lauria, Managing Partner of Golden Gate Ventures, "Echelon is hands-down, the number one event to see the best startups Asia has to offer".
- Power in knowledge. Participants at one of Asia's largest startup conference will be enlightened by the insights of industry experts during the conference and workshop sessions. Past speakers hail from AirBnB, HotelQuickly, 500 Startups, GREE Ventures, Twitter, Luxola, 9GAG, mig33, TechCrunch, Redmart, as well as gumi.inc.
--
The TOP100 Startups
Over 500 startups applied to the TOP100 programme, and 200 were shortlisted to pitch at the Regional Qualifiers across 14 cities and countries: Australia, Bangladesh, Hong Kong, India, Indonesia, Japan, Kazakhstan, Malaysia, the Philippines, Singapore, South Korea, Taiwan, Thailand, and Vietnam. Key investors and community leaders at these locations have judged the pitching startups.
In addition to the "Judges' Choice" and "Peoples' Choice" award winners at each location, scores and comments will be aggregated to determine the TOP100 Startups.
The TOP100 Startups will exhibit at the Echelon Asia Summit, and the TOP10 will pitch in front of international judges. Startups who have pitched at the Qualifiers have been contacted about their status, and should drop Jin Yao (jinyao@e27.sg) a message if they did not receive an email (as of May 7, 2015).
Organiser of Echelon Asia Summit 2015
e27 is your go-to platform for insights, connections, talents and funding opportunities, with a vision to empower entrepreneurs with the tools to build and grow their businesses across APAC.
Year on year, e27 refreshes our flagship conference and trademark early-stage startup programme - Echelon Asia Summit and TOP100 APAC - to engage the APAC market by taking our Roadshow to over 15 cities. This serves to facilitate the cross border engagement and growth of the most promising startups with the support of industry leaders (including governments, tech corporates and community leaders). 
Tech News e27.co 
ECHELON Conferences https://e27.co/echelon
Weekly Newsletter https://e27.co/signup
Twitter twitter.com/e27co
Facebook facebook.com/e27
Google+ bit.ly/e27_gp
LinkedIn https://www.linkedin.com/company/404308/  
Apart from our homegrown events Echelon Asia Summit and TOP100, e27 also organises multiple offline events for external clients across the region all year round, the most recent being Singapore Demo Day for Taiwan Accelerator and Thailand and Malaysia Roadshow for MOIBA (Korea).
Contact us at contact@e27.co and engage@e27.co  to explore opportunities for media exposure and collaborations or just to say hi!