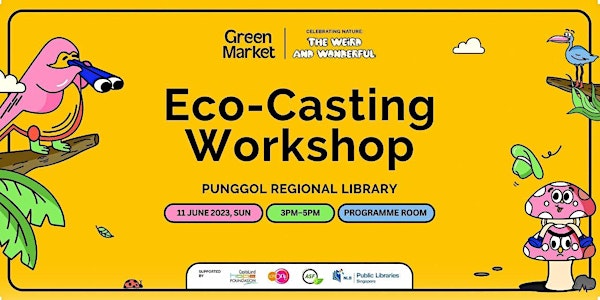 Eco-Casting Workshop | Green Market
Come make an eco-friendly fridge magnet today!
By GoLibrary | National Library Board, Singapore
Date and time
Sun, 11 Jun 2023 15:00 - 17:00 +08
Location
Punggol Regional Library - Programme Room (Level 5) 1 Punggol Drive #01-12 One Punggol Singapore, 828629 Singapore
About this event
About this Workshop
Make a fridge magnet using eco-friendly material Jesmonite and bring home your own creation.
*This workshop is suitable for tweens aged 10-14.
About the Instructor
Alice enjoys experimenting with different craft materials and bringing endless joy to friends, family and customers with her handmade products.
With over 10 years of experience working in museums' crafting workshops and facilitating outreach, she decided to start the Rainbow Artisan to spark more joy in people's lives. She is a registered MOE instructor.
Gina is a dedicated Eco-Wellness guide and enthusiastic walk-holic.
She is on a mission to help individuals live happier and healthier with the planet via Eco-Wellness and Eco-craft.
As a nature lover and wellness advocate with a background in social work, museum education, and sustainability, she took well-being into her own hands to find her own working solutions.
Her work and research turned into helping others do the same. Now, she gets to share that with the world, starting with you. 
About The Rainbow Artisan
Adding value and joy to your life with our carefully curated homemade products and workshops. 
Find out more about The Rainbow Artisan here: https://www.therainbowartisan.com/founders
About Green Market 
Green Market is an annual event that celebrates sustainable living and connects the community to green groups and initiatives they can support.
With the theme Celebrating Nature: The Weird & Wonderful, the latest edition of Green Market shines light on the incredible biodiversity we live amongst and calls us to cherish and protect our wondrous world.
Join us for an exciting line-up of digital and in-person activities at Choa Chua Kang Public Library (3 June) and Punggol Regional Library (10 – 11 June).
From the mighty mushroom and the magnificent Malayan tiger, to the wonderful wild plants and things secreted beneath the sea… bee there and get to know nature's turtle-ly awesome fun facts through talks, storytellings, board games as well as booths run by green businesses and environmental awareness groups.
The event is supported by CapitaLand Hope Foundation and Asia Sustainability Forum. 
Explore our collection of Green Market programmes here: bit.ly/nlbgreenmarket2023
About the organiser
The National Library Board (NLB) manages a network of 28 libraries, the National Library and the National Archives of Singapore. NLB promotes reading, learning and information literacy by providing a trusted, accessible and globally-connected library and information service through the National Library and a comprehensive network of libraries.