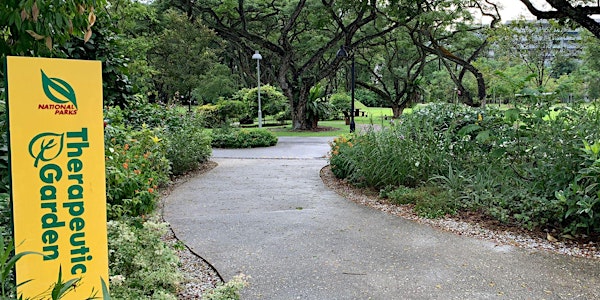 Eco-Wellness@Jurong Lake Gardens (Therapeutic Garden)
Holiday Special: Enhance your overall well-being using 6 steps to Eco-Wellness
When and where
Location
Jurong Lake Gardens Yuan Ching Road Singapore Singapore
About this event
Feeling stressed during the holiday season? Want to rest and relax in nature? Dive into Eco-Wellness with us at Jurong Lake Gardens: Therapeutic Garden.
What is Eco-Wellness? It is the enhancement of overall well-being for yourself and the planet using 6 simple steps: Be mindful, active, kind, grateful, connect and learn.
Studies have shown that a person's well-being can be improved by being in nature. For example, by connecting with nature, we can restore our attention to avoid fatigue. Immersing ourselves in nature also reduces stress.
There are many advantages being in a therapeutic garden. It is easy to access for the elderly and wheelchair users. The terrain is relatively flat for the comfort and safety of the visitors. There is adequate shade and shelter to provide relief from the sun. Studies have shown that the temperature of a shaded outdoor area are reduced compared to an unshaded outdoor area.
The presence and sound of a water body is calming, soothing and meditative which enhances and restores health and well-being. The garden provides a sensory experience with fragrant plants, plants with interesting texture, or with bright and attractive flowers. There maybe animals and insects sounds. The path is circular in a loop with plenty of seats for rest and relaxation.
We will have plenty of STOPS (Stop walking, Take a deep breath, Observe nature, Proceed with walking and Share with one another before ending the programme).
Useful Information:
Please note that this programme is non-refundable.
Email us @ therainbowartisan@gmail.com if you will like to give what you want or prefer alternative payment mode like paylah! or paynow.
Check in: 7.50am. Departure: 8am
Meetup point: Lakeside MRT station (outside Guardian)
Duration: approximately one and a half to two hours.
Level of difficulty: easy
What to bring: pencil and paper, wear comfortably, hat/cap, good walking/sport shoes, insect repellent, sun protection, water, snack, small towel, umbrella/rain coat.
Language: English, Mandarin, Singapore Sign Language
Please note that this is not a wildlife, heritage or nature's tour.
As this is an outdoor programme, we might have to postpone it if it rains heavily. We will contact you one hour before the programme to let you know.
Please let us know if you have any needs or concerns and do clear this programme with your doctor (if required). This programme is not intended to serve as medical or professional treatment and therapy.
Visit our micro Eco-Wellness website or email us @ therainbowartisan@gmail.com if you have any enquiry.
Please note the terms and conditions for this programme:
a) By registering for our programme, I consent to The Rainbow Artisan collecting, using or disclosing my data as provided here, now or in the future for the purpose of (i) administering the said programme, (ii) contacting me via email/phone to provide me with event updates or conduct surveys. (iii) customer service matters (iv) conducting data analytics and profiling to improve customer experience (v) marketing materials. Please email us if you would like to withdraw your consent.
b) I hereby understand, accept and acknowledge that by registering for this programme, The Rainbow Artisan retains the rights to use any and all photos taken during the event as deemed necessary. Please inform us prior to the event if you are not comfortable with having your photos taken.
c) All participants (adults/children/parents/caregivers/guardians) are responsible for your own health and safety and that of your charges (the children under you). I hereby understand, accept and acknowledge this condition and will not hold The Rainbow Artisan responsible for any mishap, accident, injury or death as well as loss or damage to personal property that may occur in the course of the event.
d) The Rainbow Artisan reserves the right to cancel bookings and the event/programme at our discretion and will inform the participants via email or sms.