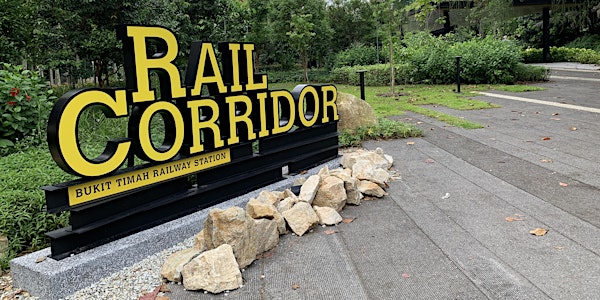 EcoWellness Walk and Talk@The Railway Corridor - Hindhede Nature Park
Learn the six steps of EcoWellness for the harmony of body, mind and spirit.
When and where
Location
Bukit Timah Railway Station Community Node Rail Corridor Singapore Singapore
About this event
The objective of this EcoWellness walk and talk is to introduce the concept of EcoWellness and why it is important in our daily life. By the end of the walk and talk, participants will learn and understand the six steps of EcoWellness and how to apply them in their life to enhance overall well-being for themselves and the planet.
Useful Information:
Rates: give what you can/want
Check in: 7.55am. Departure: 8am
Meetup point: King Albert Park Exit A
Duration: approximately two hours
Starting at Rail Corridor (Bukit Timah Railway Station) and ending at Hindhede Nature Park.
Level of difficulty: easy
What to bring: wear comfortably, hat/cap, good walking/sport shoes, insect repellent, sun protection, water, snack, small towel.
Language: English, Mandarin, Singapore Sign Language
As this is an outdoor programme, we might have to cancel if it rains heavily. We will contact you one hour before the programme to let you know if it is cancelled. If it rains heavily when the programme has already started, we will cancel for safety reasons.
Please let us know if you have any needs or concerns and do clear this walk with your doctor (if required).
Please write in to us if you would like to do the activity on another date/time/location.
Email us: therainbowartisan@gmail.com for any enquiry.
Please note the terms and conditions for this event:
a) By registering for our event, I consent to The Rainbow Artisan collecting, using or disclosing my data as provided here, now or in the future for the purpose of (i) administering the said event, (ii) contacting me via email/phone to provide me with event updates or conduct surveys. (iii) customer service matters (iv) conducting data analytics and profiling to improve customer experience (v) marketing materials. Please email us if you would like to withdraw your consent.
b) I hereby understand, accept and acknowledge that by registering for this event, The Rainbow Artisan retains the rights to use any and all photos taken during the event as deemed necessary.
c) All participants (adults/children/parents/caregivers/guardians) are responsible for your own health and safety and that of your charges (the children under you). I hereby understand, accept and acknowledge this condition and will not hold The Rainbow Artisan responsible for any mishap, accident, injury or death as well as loss or damage to personal property that may occur in the course of the event.