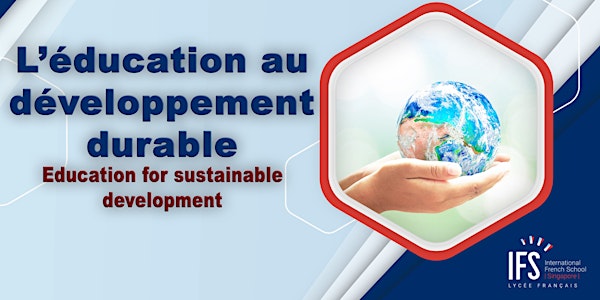 Education au développement durable (focus group parents)
Temps de discussion sur le projet d'établissement / Focus group on the school project.
Date and time
Thursday, October 13, 2022 · 7 - 8:30pm +08
Location
International French School (IFS) 2900 Ang Mo Kio avenue 3 Pour tous parents Salle J224, 569928 Singapore
About this event
DÉFINITION:
L'éducation au développement durable concerne "la compréhension des relations entre les questions environnementales, économiques, sociales et culturelles afin que les élèves perçoivent mieux:
(1) l'interdépendance des sociétés humaines et du système Terre,
(2) la nécessité de faire des choix informés et responsables et d'adopter des comportements qui tiennent compte de ces équilibres,
(3) l'importance d'une solidarité à l'échelle mondiale"
(Ministère de l'Éducation Nationale, 2021, page web).
In English
Education for sustainable development is about "understanding the relationships between environmental, economic, social and cultural issues so that students better perceive: (1) the interdependence of human societies and the Earth system, (2) the need to make informed and responsible choices and to adopt behaviours that take these balances into account, and (3) the importance of global solidarity" (French Ministry of National Education, 2021)
Ci-dessous, documents pour découvrir le sujet avant votre rencontre.
Below, documents to discover the topic before your meeting.