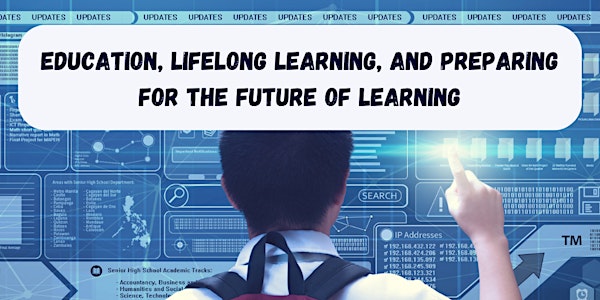 Education, Lifelong Learning, and Preparing for th
FASS researchers discuss their projects focusing on education, lifelong learning, and preparing for the future of learning in SG.
When and where
Location
Research Division Seminar Room (06-42) 5 Arts Link AS 7 Shaw Foundation Building Singapore, 117570 Singapore
About this event
About the Event
This event spotlights FASS academics' research and insights on education, lifelong learning, and the future of learning in the Singapore context. The panelists will speak about projects related to teaching and learning, youth and adult education in Singapore, discuss how what we learn and the way we learn is changing, and the ways in which educational policy could be affected. In-person registration for this event is done here at Eventbrite. Online registration can be done at Zoom: https://bit.ly/3Qc6k66
Programme
2:00 PM  Registration
2:30 PM Welcome Remarks by FASS Vice Dean of Research, Professor Elaine HO Lynn-Ee
2:35 PM Introduction of Panellists by Chair, Li Neng LEE (NUS Department of Psychology)
2:40 PM Presentation by Associate Professor Lile JIA (NUS Department of Psychology)
3:00 PM Presentation by Assistant Professor Steven C. PAN (NUS Department of Psychology)
3:20 PM Presentation by Associate Professor Rebecca Lurie STARR (NUS Department of English, Linguistics, and Theatre Studies)
3:40 PM Q & A, Moderated by Chair
4:10 PM Closing Remarks by FASS Assistant Dean of Research, Associate Professor Qiushi FENG
4:15 PM Refreshments & Networking with Participants
5:00 PM End of Event
Presentation Details
'Regulatory Focus and SSG Career Development Course Use: A Brief Online Intervention' by Associate Professor Lile JIA
The ability to self-regulate one's personal and professional life is crucial for success and well-being. The need for self-regulation skills is particularly critical in career development, as job requirements change and economies evolve. Regulatory focus theory (RFT) is a prominent theory of how people self-regulate in pursuing personal goals, which has been highly influential in the workplace but which has never been applied to career development specifically. The new collaboration between ALSET and SkillsFuture Singapore (SGG) provides a unique opportunity to test a regulatory focus intervention for enhancing engagement in career development among Singaporeans. We conducted a two-year randomized intervention study with a sample of 400 adult Singaporean workforce. Participants were randomly assigned to one of four intervention conditions: three conditions presenting varying information about the relevance of regulatory focus for career goal pursuit, and an "active control" condition so that the direct effect of their pre-existing regulatory focus can be determined. In the following 24 months, participants took part in three assessments (6th, 12th, 24th) that measured the outcome variables of the intervention, including usage of SGG resources, current career status and job satisfaction, and well-being-related variables (e.g., self-efficacy, resilience, and general health). Changes in participants' cognition, feelings, and communication styles were also recorded to understand the psychological process underlying the effect of chronic regulatory focus and the regulatory focus intervention. In this talk, we present some preliminary results that shed early light on the selective potency of the intervention on participants with differing regulatory focus. Implications and future directions are discussed.
'The Science of Effective Learning: Building a Toolbox for Successful Education and Training Across the Lifespan' by Assistant Professor Steven C. PAN
Today's learners have more options than ever before, including topics to choose, modes of instruction, how to study, and much more. Learning is increasingly occurring in less traditional settings, including outside the classroom, beyond the years that one traditionally spends in school, and with and without guided instruction. What methods of learning yield optimal outcomes across such diverse contexts? More specifically, what approaches are highly efficient and broadly effective at generating long-lasting, comprehensive, and transferrable learning? Research from the science of learning is revealing promising answers. In this brief talk, I will highlight new findings from my laboratory—the Learning Sciences Laboratory at NUS—into evidence-based learning techniques and pedagogical innovations. These findings are drawn from experimental studies conducted in laboratory, online, and classroom settings, as well as with undergraduate and older students. I will focus on research relating to a specific set of promising learning strategies—distributed and interleaved practice—and how those strategies can be applied to enhance learning in diverse contexts ranging from problem-solving skills in physics (Samani & Pan, 2020) to second language grammar learning (Pan, Rodrigues-Flores, et al., in preparation). In addition, I will discuss a recent systematic review of the literature on effective learning strategies (Carpenter, Pan, & Butler, 2022). That review summarises the evidence for the utility of several effective learning strategies across the human lifespan and reaches a promising conclusion: The most effective learning strategies have the capacity to enhance learning for learners as young as just a few years old to well past retirement age.
'What are Children Learning about English and Mandarin in Singapore?' by Associate Professor Rebecca Lurie STARR
Details to be confirmed.
About the Speakers
Lile JIA is an Associate Professor at the NUS Department of Psychology. A social psychologist, his primary research interests lie in goal pursuit and self-regulation. He founded the Situated Goal Pursuit (SPUR) lab, which examines how the various aspects of the goal pursuit process are dynamically shaped by the relevant context. His research can be organized into four distinct but interconnected themes: intrapersonal goal striving, interpersonal goal striving, goal pursuit and society, and social-cognitive processes. The four themes reflect his long-standing interest in basic research on social cognitive processes as well as his more recent commitment to conducting research with immediate social and translational impact. Together, his lab applies motivation science to such diverse topics as academic achievement, striving for personal goals, national identification, intergroup conflict, support for government, creativity, and psychologically wise interventions.
Selected Projects & Publications
• Extended Identity-Optimism-Support Model. DSO National Laboratories, Ministry of Defense, Singapore. (2022-2023).
• 'Broader Views of Intelligence: Rethinking Our Approach to Educational Inequality'. HSS Seed Fund. (2021-2023).
• Jia, L., Lim, C. H., Ismail, I., & Tan, Y. C. (2021). Stunted upward mobility in a learning environment reduces the academic benefits of growth mindsets. Proceedings of the National Academy of Sciences of the United States of America, 118(10), e2011832118.
Steven C. PAN is an Assistant Professor at the NUS Department of Psychology. He directs the Learning Sciences Laboratory, which investigates learning enhancement: training conditions that improve memory, develop skills, generate transfer, and attenuate forgetting. He researches conditions that improve the durability and flexibility of learning—that is, ways to help learners (a) master and retain knowledge and skills over long periods and (b) apply learning successfully in novel contexts. He employs a multi-faceted approach that includes laboratory and online experiments, classroom studies, surveys, and quantitative meta-analysis. Areas of focus include prequestioning (making guesses about information that one has yet to learn), retrieval practice (practicing recall of studied information), interleaving (mixing the study or practice of different concepts or skills), and educational technologies (e.g., online learning tools). Overall, this program of research is helping to build a "toolbox" of evidence-based learning techniques and is revealing insights into human learning and memory processes.
Selected Projects & Publications
• 'Investigating Evidence-Based Learning Techniques, Instructional Strategies, and Pedagogical Innovations.' Start-up Grant. (2021-2025).
• Zung, I., Imundo, M.N., & Pan, S.C. (2022). How do college students use digital flashcards during self-regulated learning? Memory 30(8):923-941.
• Carpenter, S.K., Pan, S.C., & Butler, A.C. (2021). The science of effective learning with spacing and retrieval practice. Nature Reviews Psychology 1(9):496-511.
Rebecca Lurie STARR is an Associate Professor at the NUS Department of English, Linguistics, and Theatre Studies. Her research interests include: Language variation and change in English, Mandarin, Cantonese, Japanese, Korean, and Irish Gaelic; Acquisition of variation and sociolinguistic knowledge among children in multilingual settings; Sociolinguistic variation and teacher speech; Sociophonetic construction of feminine styles; Language in the media.
Selected Projects & Publications
• Singapore Multilingual Corpus: a project documenting and investigating the speech of multilinguals in Singapore, including speakers of Singapore's many heritage languages, such as Hokkien, Cantonese, Teochew, Hainanese, Kristang, Baba Malay, and others.
• Voices of Children in Singapore: a project exploring the sociolinguistic development of Singaporean and 'expat' children growing up in Singapore.
• Starr, R. 'Production and evaluation of sociolinguistic variation in Mandarin Chinese among children in Singapore' In Studies in Language Variation. 28: 43-70. (2022).