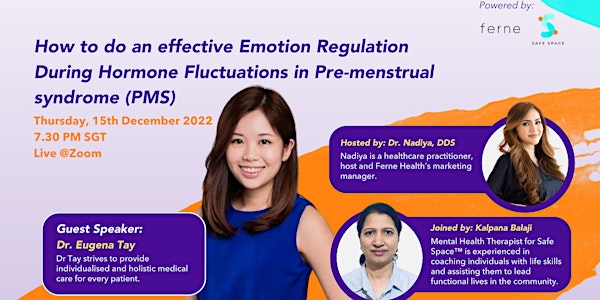 Effective Emotion Regulation During Hormone Fluctuations in PMS
Up to 90% of women experience premenstrual syndrome (PMS) during their reproductive years. Let's talk about how to do emotion regulation!
About this event
Up to 90% of women experience some degree of premenstrual syndrome (PMS) during their reproductive years. This condition includes somatic symptoms, such as fatigue, appetite changes, and low energy, and affective symptoms, such as irritability, depressed mood, anxiety, and impulsive behaviour. Physical signs and symptoms includes joint or muscle pain, headache, fatigue, weight gain related to fluid retention, abdominal bloating, breast tenderness, acne flare-ups, constipation or diarrhea.
The symptoms are not only psychological but it is also physical symptomps , so this webinar is a collaborative event brought to you by Ferne Health and Safe Space™ to give women some tips on how to relieve the physical and phsychological symptoms of PMS by experts. We have a doctor & a therapist with us on board!.
Agenda:
Discussion about psychological & physical symptomps
Discussion on how to relieve the psychological & physical symptoms of PMS
QnA
About the doctor: Dr Tay strives to provide individualised and holistic medical care for every patient. This includes a wide scope of health services such as general health screening, women's health, fertility screening, contraceptive counselling, preventive vaccinations, dermatology, family medicine and chronic disease management.
about mental health counsellor: A passionate bilingual social worker with a background in working with marginalised populations and creating an impact through empowerment and strength-based perspectives. Experienced in coaching individuals with life skills and assisting them to lead functional lives in the community. Skilled professional, a Master of Social Work with strong academic achievement 4.5 years of work experience with rich volunteering experience for half a decade. Motivated by being a catalyst in people's lives to create positive changes and meaningful lives
About the host: Nadiya is a healthcare practitioner,host and Ferne Health's marketing manager. She is passionate about supporting Ferne health by creating The highest quality women's health content and most importantly educating and breaking the stigma around women's health and sexual health.
Intro about Ferne Health: Ferne health is a platform to give a safe space for all women in Singapore & Indonesia. We believe every person deserves non-judgemental healthcare that respects our lifestyle, privacy, and well-being. if you feel a certain symptom around your period let's be safe and do a consultation with a doctor! Ferne Health helps you get the health consultation, screening and treatment you need from the comfort of your own home.
Intro about Safe Space™: Safe Space™ is the leading trusted B2B2C digital mental health ecosystem partner, serving over 90+ international clients across APAC, EMEA and ANZ and in 30 different languages. We do this by driving value & positive outcomes through social impact and innovation. We strengthen mental resilience by providing fast & affordable access to quality mental health therapy care (online and offline), preventive education and a tailored EAP program that is hyper-local and scalable globally. With our 94.3% Net Promoter score, our employee assistance program has a high 59% utilization rate compared to the global benchmark of 4.3%.