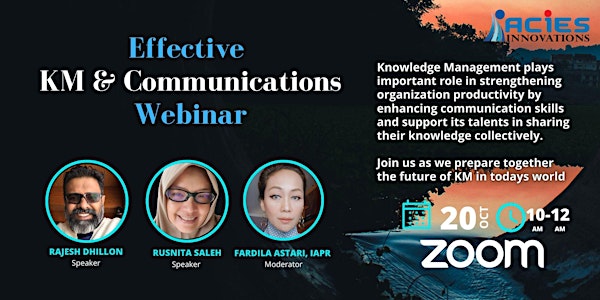 Effective KM & Communications Webinar (in Bahasa Indonesia & English)
Effective Knowledge management & communications. Webinar gratis dengan tips dan berbagi tantangan yang kita hadapi di kerja masa depan.
About this event
This Event will be conducted in
Bahasa Indonesia and English
Effective Knowledge Management and Communications Webinar
Knowledge Management (KM) sangat penting bagi semua profesional di beragam divisi, baik itu SDM, Komunikasi maupun Operasional. Hal ini karena KM mendorong individu dan organisasi menciptakan inovasi dan kreativitas baru, berkolaborasi, dan bahkan menerapkan pengetahuan dalam pekerjaan sehari-hari untuk mencapai target perusahaan dengan lebih baik.
Meski kedengarannya rumit, webinar ini akan menyoroti dasar-dasar dan praktik KM tentang bagaimana berbagi dan menularkan pengetahuan. Tujuannya tak lain melahirkan proses bisnis yang mampu menambah nilai dan keberlanjutan.
Dalam waktu yang pendek, kami akan mencoba memandu dan berbagi tentang:
1. Apa itu KM: Konsep dan proses dasar
2. Identifikasi pengetahuan kritis dalam sebuah organisasi
3. Metodologi menangkap pengetahuan dan pengalaman
4. Mekanisme dan strategi implementasi KM yang sukses
5. KM dan SDM: cara mengelola talenta
6. KM dan pengembangan Strategi Komunikasi
7. Menularkan pengetahuan: mengapa KM tetap penting di era paska Covid
Knowledge Management (KM) is essential for all HR and operations professionals enabling individuals, teams or even an organisation to collectively co-create, collaborate and apply knowledge in their daily work and for organisations to better achieve their desired workplace outcomes.
Knowledge management or KM, as its know is often made to sound complex and complicated. This session aims to highlight the basics of KM and how transferring and sharing knowledge can help uncover effective and efficient work processes and also add value to business sustainability.
The session will cover most of the following (time permitting)
What is KM? Basic concept and process
Identification of critical knowledge in an organisation
Methodologies to capture knowledge and experience
Mechanism and strategies for successful KM implementation
KM and HR, how to manage talent
Effective communications to enhance workplace knowledge
Transferring Knowledge: why it's the way to go in todays post covid environment ?
About the Team
Our Session Speakers
Rajesh Singh Dhillon is the co-founder and director at Acies Innovations, a Knowledge management consultancy that partners organisations in their journey to being future ready. He is also President of the Knowledge Management Society, Singapore and concurrently an Associate Faculty at the Nanyang Technological University teaching knowledge management strategy and information management at the Singapore University of Social Science. After retiring from the navy as a commanding officer, he has ventured into consultancy in the fields of strategy, and leadership focusing on the areas of leadership development, knowledge and performance management, organizational learning and staff development.
Rusnita Saleh has been working and applying knowledge management practices since 1998 when she implemented knowledge management concept in her learning institution development project in one of the state-owned companies in Indonesia. She has worked on multiple projects in the development sector including poverty eradication and other SDG projects, where she had the opportunity to apply KM concepts. She also speaks regularly in seminars and writes on different aspects of knowledge management. Currently, she is focusing on implementing knowledge management concepts in social development programs and monitoring and evaluation work.
Our Session Moderator
Fardila Astari is a former Group Business Director of Fortune PR and currently works as the Communications Director of Rajawali Foundation and Director at Rajawali Global Education. She specializes in Strategic Communications, Measurement and Evaluation of Communication, Social Marketing/Behaviour Change Communication (BCC), Marketing Communication Management and Public Relations. With over 15 years of experience in designing, developing, implementing and coordinating outreach programs to key organizations and conducting key audience research so as to measure the ongoing effectiveness of an organization's communication activities. her work mostly focused on conceptualizing and developing core strategic communications, professional education, tracking activities and development projects that may be used to generate publicity and create an information resource for use in outreach activities.Fardila's years of experience working in international consulting firms, international donors, and Indonesian government agencies will see her facilitate the session with a global overview.