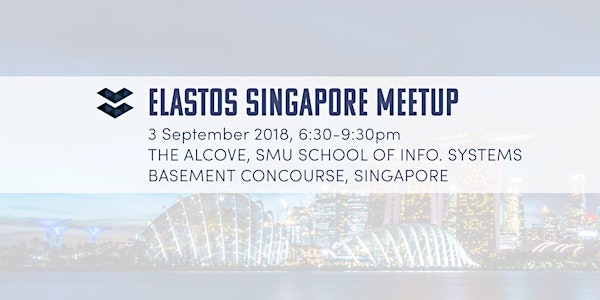 When and where
Location
The Alcove 80 Stamford Road #B1-62 SMU School of Information Systems, Basement Concourse Singapore, Singapore 178902 Singapore
Description
We are delighted to invite you to Elastos first official Singapore Meetup @ The Alcove (SMU).
This meetup is organised to welcome all Elastos blockchain developers and enthusiasts, to gather and discuss potential collaborative opportunities with the Elastos community. The meetup will also cover the latest updates of Elastos' developments and to educate the public of how Elastos is different from other infrastructure protocols.
Do come down early as we have prepard pizzas and beers for our Elastos community!
We are honoured to have the core members of the Elastos Team as our speakers:
Kevin Zhang - Head of Elastos Developer Commnuity


Clarence Liu - Elastos Lead Evangelist
Agenda:
1830 ~ 1900: Registration & Dinner
1900 ~ 2000: Presentation & QNA by Elastos Team
2000 ~ 2100: Networking
Presentation scope:

- What is Elastos and how does this blockchain powered smart web support large-scale Dapps
- Cyber Republic - Future of Elastos Community
Why join the meetup?

If you are an Elastos fan or just a blockchain enthusiast, this is the perfect opportunity for you to meet the Elastos team in person, listen and ask them questions, deepen your knowdledge about the project and find out how you can contribute to the Elastos Ecosystem.

If you are a blockchain developer or even a non-blockchain developer, this is the perfect opportunity for you to learn about the Elastos ecosystem, how you can put your developping skills to use to improve and built on Elastos while getting rewarded for doing what you love. Speak with the team members, ask them any (technical) question and join the Cyber Republic!
Join the Elastos Community:
Twitter: https://twitter.com/elastos_org
Telegram: https://t.me/elastosgroup (Global)
Reddit: https://www.reddit.com/r/Elastos/
Facebook: https://www.facebook.com/elastosorg/
For Singapore Community - https://t.me/elastosSG
About Elastos:
Elastos is the world's first Internet operating system focusing on re-decentralizing Internet with blockchain to secure identity. Utilizing the Internet as the base-layer infrastructure rather than as an application, the Elastos approach emphasizes that network communications should be separated from application computing, and prohibits apps from direct access to the network to prevent viruses and other malicious attacks such as DDoS.

In development for over 18 years, Elastos has engineered the world's first secure and decentralized platform, backed by a revolutionary open source operating system written in C++. Elastos is capable of providing unparalleled security for self-driving cars, AR/VR platforms, Internet of things devices, smartphones, smart routers and more. Additionally, decentralized applications run in a sandbox environment called Elastos Runtime which can be run from any mobile device. Elastos creates a virtual ecosystem where decentralized applications are protected from direct access to the internet while allowing for the scalability to manage billions of potential users and interactions.
RESOURCES:

• Github: https://github.com/elastos

• Whitepaper: https://www.elastos.org/static/file/elastos_whitepaper_0.2.pdf(https://www.elastos.org/static/file/elastos_whitepaper_0.2.pdf)

• Ecosystem Collaboration, Governance, & Reward Mechanism: https://medium.com/@elastos/ecosystem-collaboration-governance-reward-mechanism-690d1adf331b