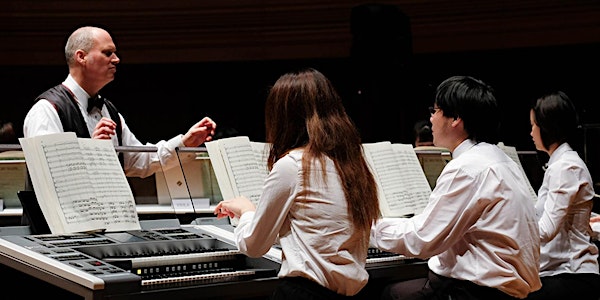 Electone Concert
Experience Beethoven's most monumental orchestral work through lens of the electone.
When and where
Location
Yong Siew Toh Conservatory of Music YST Concert Hall Singapore, Singapore 117376 Singapore
About this event
PROGRAMME
BEETHOVEN
Symphony No. 5 in C minor, Op. 67
I. Allegro con brio
II. Andante con moto
III. Scherzo: Allegro
IV. Allegro – Presto
KOH KAI JIE (M.Mus2), conductor
NG TZEE WENG (Yamaha Music Asia), electone registrations
SEAN GAN CHU CHAO (B.Mus3), violin 1
KUO LYU-YAN (B.Mus3), violin 2
JET STEPHEN CO CHONG (B.Mus3), viola
WANG HUANG HAO JIA (B.Mus3), violoncello, double bass, contrabasson (IV)
AMANDA LEE YUN YEE (B.Mus3), flutes, oboes
PUN PUNYASAVATSUT (B.Mus3), clarinets, bassoons
GREGORIUS RAFEL MIKAEL TAMADJI (B.Mus3), horns, trumpets, timpani (IV)
ANASTASIIA IVCHENKO (B.Mus3), timpani (I-III), trombones (IV)
ABOUT THIS EVENT
Experience Beethoven's most monumental orchestral work in new light, conducted by Koh Kai Jie and presented by YST Conservatory's stellar class of third-year pianists turned orchestral musicians – through lens of the electone.
TICKETING INFORMATION
To help keep our community safe, here are the measures that we will be adhering to:
• Only ticket holders who are fully vaccinated or exempted from Vaccination-Differentiated Safe Management Measures (VDS)* may be admitted.
• *Exempted from VDS: Individuals who have recovered from a COVID-19 infection and are within 180 days of their first positive test result, individuals who are medically ineligible for COVID-19 vaccination, and children aged 12 and below.
• All ticket holders must warrant that all vaccination and VDS information is correct when requested for disclosure.
• All ticket holders must consent to the collection, use and disclosure of personal data in relation to the ticket holders' vaccination and VDS data.
• Out of respect for other concertgoers, no children under 6 years of age will be allowed admission.
• Do bring along your photo identification, and mobile device with the updated TraceTogether (TT) app or token for SafeEntry check-in. We regret that patrons who do not have their photo ID, the app or token will be denied entry. Please visit the MOH website for details.
* Please refer to ystmusic.nus.edu.sg for the latest event updates.