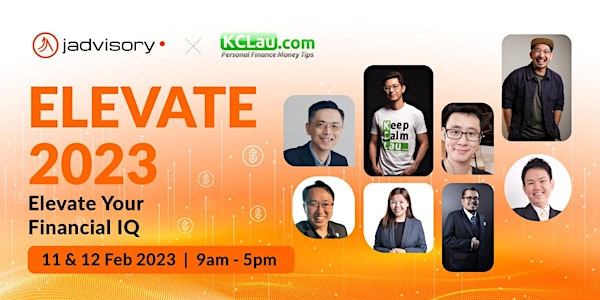 ELEVATE 2023 - Elevate Your Financial IQ
2-Day Online Summit - Learn from 6 of Malaysia's Biggest Names in Personal Finance So That You Can Work Your Money 2x Harder.
About this event
Would You Like To Elevate Your Financial IQ?
We are going through unprecedented times in a highly turbulent environment. Especially over the last 2 years, do you feel you have taken a 'roller coaster' ride experiencing 4 interest rate cuts in 2020 and 4 interest rate hikes, up to 2022?
Are you struggling to adapt and adjust in this high inflation environment in 2022 and wondering "How will I survive 2023?"
Have you ever imagine in 2023 you could
work your money harder without falling into Ponzi and scams?
Be smarter with money so that you can retire 5 - 10 years earlier?
use money freely without the stress of worrying when you are shopping or eating out?
make better money decisions without carrying the guilt and burden of your earlier decisions or indecisions?
You see the truth is that money wasn't taught in school while we were young. But it doesn't have to be the 'truth' you use to run your life.
ELEVATE 2023 - Elevate Your Financial IQ
That is why we have invited Malaysia's biggest names in Personal Finance with a combined 70+ years of experience, to come together to help you Elevate Your Financial IQ so that you could work your money 2x harder and retire 5 - 10 years earlier. Excited?
This is a 2-Day Online Event where you can learn from 6 different Personal Finance Experts (and counting) using their proven money tools, systems and strategies.
If you are looking to start 2023 with a bang and cruise through the year smoothly, you need to attend Malaysia's 1st ever 2-Day Personal Finance Summit - Elevate 2023.
What will you learn?
With the combined 70+ years of experience in 2 days, you will learn
Where you are financially and how hard your money is working for you
To work your money 2x harder using proven systems that work
To create additional income through a side hustle that works
How to free up your cash flow through proven methods that work
Effective & consistent investing strategies to grow your wealth
When is this happening?
Date: 11 & 12 February 2023
Time: 9:00am - 5:00pm (UTC+8)
Venue: Online Zoom Webinar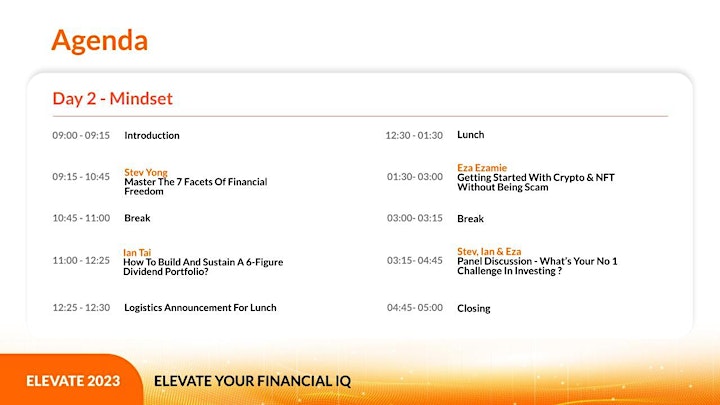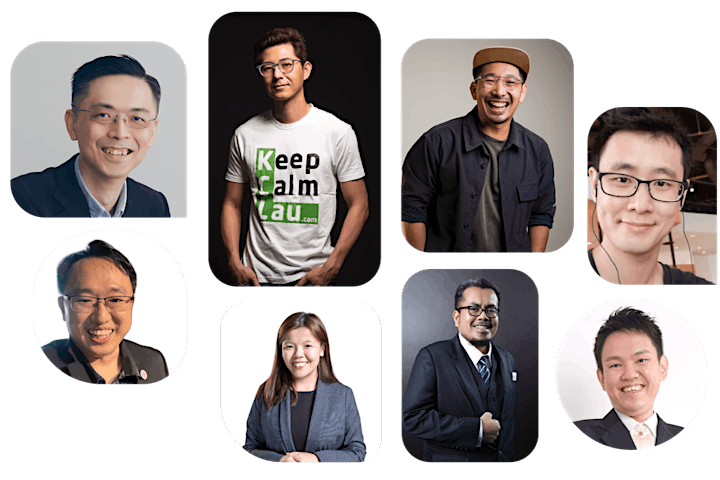 Learn From Malaysia's Biggest Names in Personal Finance
Join 6 of the Biggest Names in Personal Finance (& counting) in this 2-Days Online Summit where you can learn proven real-world methods they have been using with a combined 70+ years of experience.
KC Lau
Webinar Moderator & Speaker
KC is the founder of KCLau.com. KC has published 1396 articles, hosted 562 online seminars and is the author of 7 published books including Top Money Tips for Malaysians & Money Smart.
Ka Hoe
Webinar Moderator & Speaker
Ka Hoe is the Founder of J Advisory and Licensed Financial Planner. Over the last 3 years, Ka Hoe has helped more than 5,000+ Malaysians improve their financial well-being through webinars and external speaking engagements.
Eza Ezamie
Speaker
Eza is the CEO Of Smart Investor. He is the author of the best-seller 'Malaysia Melabur: 10 Benda Kita Kena Tahu' & 'Melabur Kripto: Panduan Lengkap Pelaburan Bitcoin & Kripto Di Malaysia', and is also the translator for the book 'Jalan Mudah Jadi Kaya', Amazon's best-seller, with more than 350,000 copies sold.
Stev Yong
Speaker
Founder of MyPF.my, an award-winning personal finance site that ranks among the TOP 5 in Malaysia. Stev is also a Licensed Financial Planner and a director at Wealth Vantage Advisory.
CF Lieu
Speaker
CF Lieu is one of the most prolific licensed financial advisors in Malaysia. He has conducted many training engagements with the likes of PNB, EPF, Maybank & Malaysia Medical Association. His best financial edutainment contents are available for free at CF Lieu YouTube & TikTok channel with over 47,000+ followers.
Ian Tai
Speaker
Ian is a Co-Founder of DividendVault.com, an online education platform that empowers retail investors to build and manage their own dividend portfolios. Ian is also the Content Producer for KCLau.com. To date, he has written 200+ Personal Finance Articles at KCLau.com
Penny Leong
Speaker
Penny has 10 years in the people-development industry and has conducted more than 500 sessions of training. She has trained more than 19,000 people in transformation and mindset breakthrough across government agencies, MNCs, GLC, Top 100 Listed Companies in Malaysia and many more.
Peter Yong
Speaker
Peter is the founder of Mr Money TV, the first financial channel in Malaysia that focuses on transforming lives through edutainment content. Through his creative storytelling process, he simplifies complex financial concepts into informative content that people can act upon, worked on multiple content marketing campaigns with different financial institutions internationally and locally such as BSN, PNB, Prudential, etc, in improving the quality of life among Malaysians with financial literacy.
Why Are We Doing This?
Right now, many Malaysians are suffering because they cannot retire. Only 3% of Malaysians can retire according to the EPF 2022 report
You see, the number 1 reason Malaysians can't retire is the lack of Financial Education being taught early in school. Malaysians are not equipped to make wise money decisions and end up being unable to save and plunge deeper into debt.
This situation became so chronic that the government and institutions came together to form the Financial Education Network and develop the Malaysia National Strategy for Financial Literacy Plan 2019 -2023
Being obsessed with sharing real-world proven money models and frameworks to help improve financial lives, Ka Hoe and KC came together to co-create this 1st ever Personal Finance Summit - Elevate 2023
We want to do our little part in bringing some of the most notable Personal Finance Experts in Malaysia (and counting) coming together to help Malaysians improve their lives and support the Malaysia National Strategy for Financial Literacy 2019 - 2023.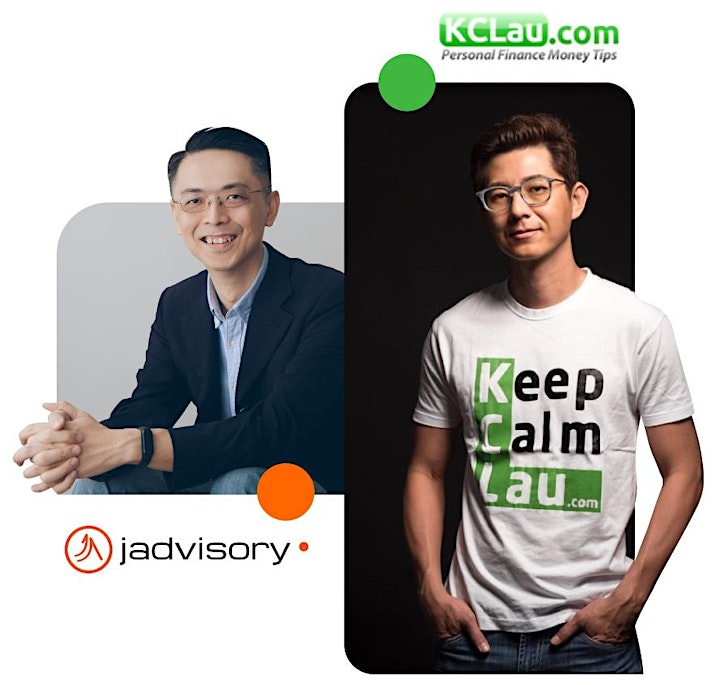 Who Is This For?
If you are a Malaysian that feels
"If only I can be smarter with money. If only I can make better money decisions, then I don't have to work so hard, slog those long hours and miss those quality times with my loved ones"
"If only I can teach my loved ones to be more responsible and not make the wrong money decisions, then I don't have to carry this burden for them.
"If only they teach money in school"
then you need to Elevate Your Financial IQ, Malaysia's 1st ever 2-Day Personal Finance Summit.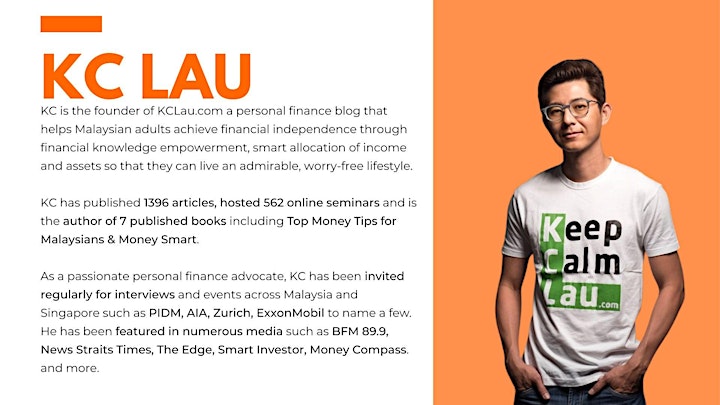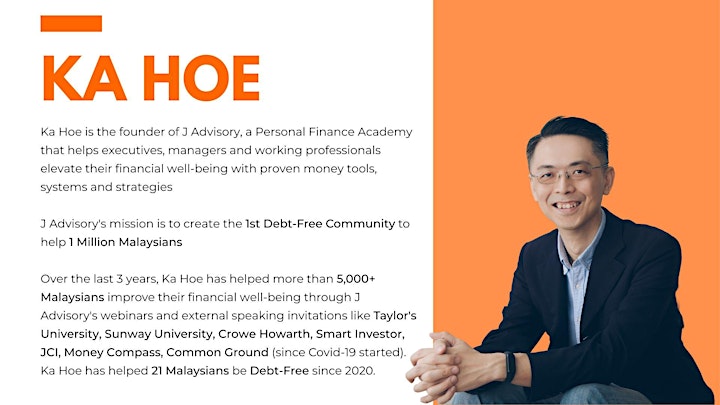 Who we have worked with?
Partners We Have Work With Before