Sales Have Ended
Ticket sales have ended
FREE Silicon Valley Tech Investor MasterClass Ticket Sales Ended
Sales Have Ended
Ticket sales have ended
FREE Silicon Valley Tech Investor MasterClass Ticket Sales Ended
About this Event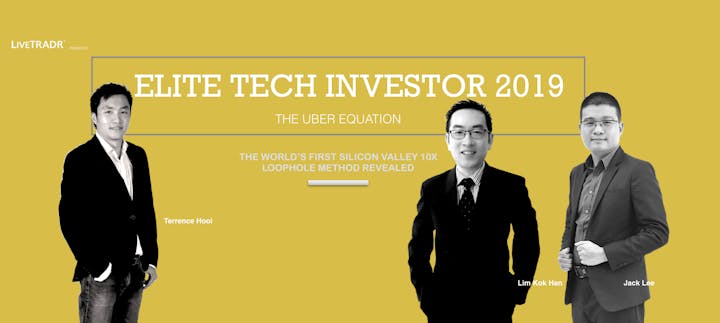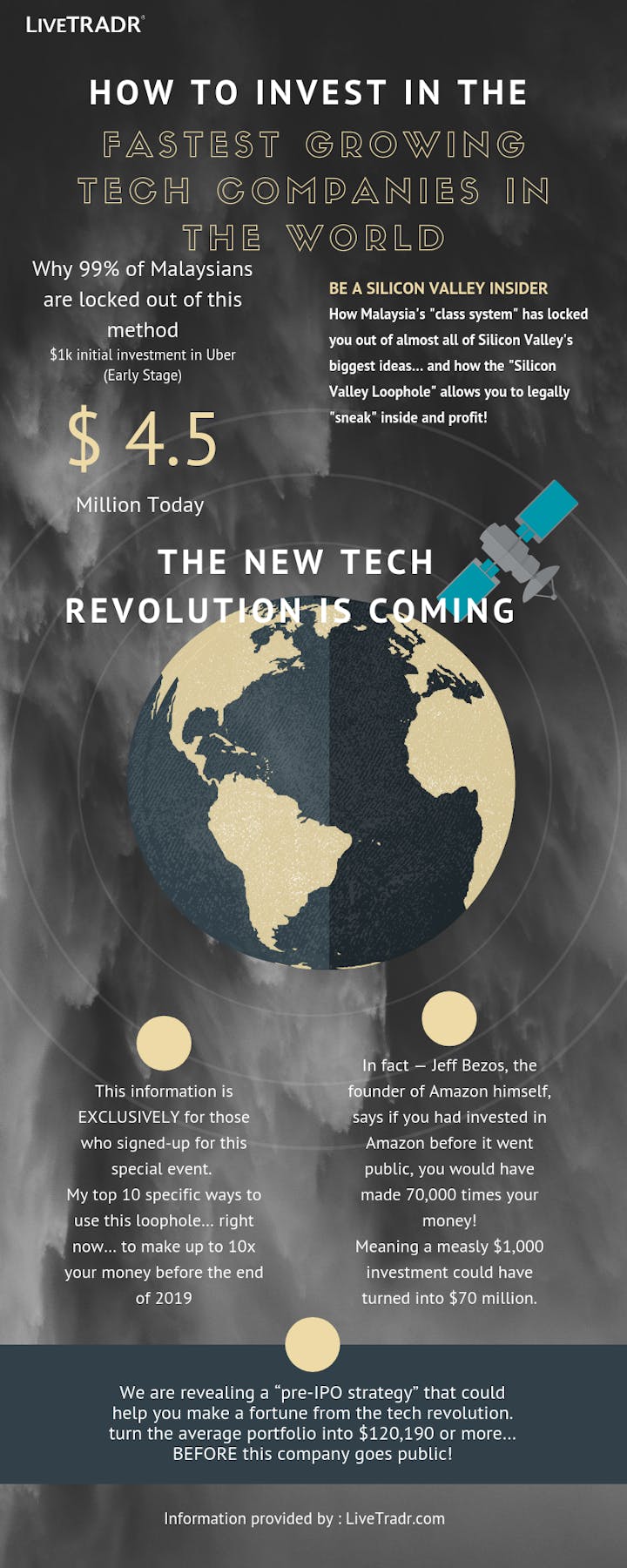 The New Tech Revolution is Coming
99.9% of Malaysians have been locked out of the fastest-growing company in the world. But now a famous venture capitalist is revealing a "pre-IPO strategy" that could help you make a fortune from the tech revolution. turn the average portfolio into $120,190 or more… BEFORE this company goes public!
And Time magazine called it "the world's fastest-growing investment strategies" and "the defining technology succeed story of this era."
It's growing faster than Google…
It's growing three times FASTER than Facebook.
It's growing even faster than Amazon.
And we know these companies all made a lot of people overnight millionaires.
In fact — Jeff Bezos, the founder of Amazon himself, says if you had invested in Amazon before it went public, you would have made 70,000 times your money!
Meaning a measly $1,000 investment could have turned into $70 million.
In 2008, the world's four top companies in market capitalization were Exxon, Walmart, China Petroleum, and China Industrial and Commercial Bank. Ten years later, Apple, Amazon, Google, and Microsoft were in the top spots – a tremendous upset. How did the landscape change so drastically in just one decade? In an information age, economies can change as fast as minds can change
In 2023, will the top four companies change again? Will they be Google-inspired? meaning they reflect the Google business model? Or will the new leaders come from what we call the tech convergence: companies like Tesla, Nvidia or Uber?
Why 99% of Malaysians are locked out of this method

How Malaysia's "class system" has locked you out of almost all of Silicon Valley's biggest ideas… and how the "Silicon Valley Loophole" allows you to legally "sneak" inside and profit!
My Top 1% Four-Step Formula works even when market crashed

​​​​​​​The true story of how this simple strategy turned a $2,000 investment into an income stream worth an average of $80,000 a month…​​​​​​​
This information is EXCLUSIVELY for those who signed-up for this special event.

My top 10 specific ways to use this loophole… right now… to make up to 10x your money before the end of 2019​​​​​​​
I'm personally pulling up actual point to figure you can see how to make at least 1,000% returns (that's 10 times your money in the workshop in the next 12 months.

Why 95% of All Traders are failing. Why Investors who use the Silicon Valley Model are 15x more likely to success than investors (like you) that invest their own money.
That's Why Silicon Valley's Smartest Venture Capitalists Are All Over Three Companies we will be sharing in this MasterClass
How To Invest in the Fastest Growing Companies
Top Tech Play in 2019 in the $15 trillion self driving car tech, AI robotics and many more to help you ge in on the ground floor of such an unbelievable opportunity
Riding Out the Trade War with Futuristic Tech: President Trump's trade war with China has resulted in a sustained demand surge in these few companies we will be revealing…
Session 2
Trading Strategies & Techniques

1. Learn to execute trading ideas using famous trading strategies based on common Technical Indicators

2. How to measure the performance of trading strategies based on Technical Indicators

3. Learn to find the optimised settings for common Technical Indicators

4. Sample Trading Systems in MS Excel with 1-year license worth RM688 will be provided for FREE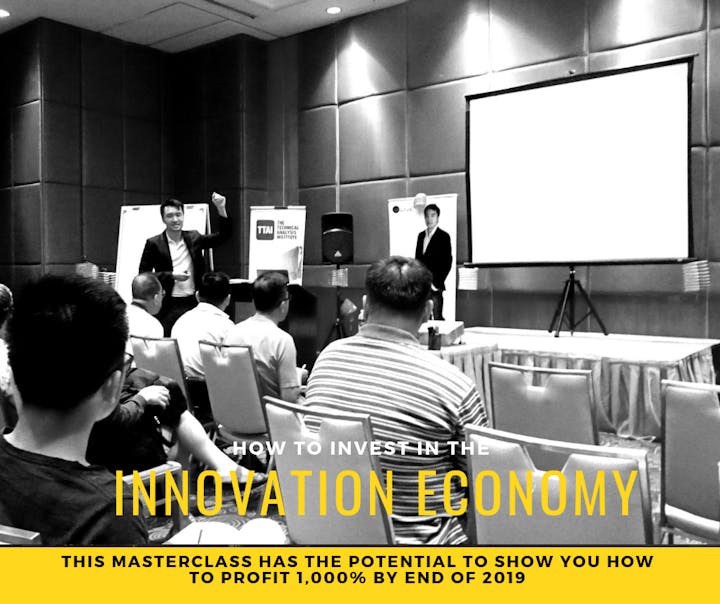 If you're like me, you're looking ahead to 2020 with excitement and possibly even a little anxiety…
The last few months in 2019, we've seen the financial markets go from record highs to sharp declines…
That's why we've organized this event to show you exactly what Terrence is seeing ahead in the rest of 2019 …
Including very specific predictions Terrence has agreed to make for the first time, right here on this 2 hours MasterClass.
Right now, Terrence's team is seeing an opportunity he wants to share with you.
All eyes are on Trump and Xi, waiting to see what will happen next in their tit- for-tat trade war. This month, we'll take a closer look at the trade war — and a unique way that we're poised to profit.
The smartest Silicon Valley venture capitalists in the world see the potential here…
But without these connections, everyday Malaysians like you may never have a chance to invest in a startup… that could dominate a secretive tech revolution… with the potential of being bigger than Amazon, Facebook, or even Google.
The Elite Tech Investor speakers are going to reveal some breakthrough research June 15th LIVE …
You Need to Act Fast… Because Silicon Valley Insiders Are Getting Wealthy With Each Passing Day, and we only have 30 Limited Seats.