"Embracing the Volatility to Come - A Final Quarter Outlook on Equity Markets"

Monday, November 9, 2015 from 7:00 PM to 9:00 PM (Singapore Standard Time Singapore Time)
Event Details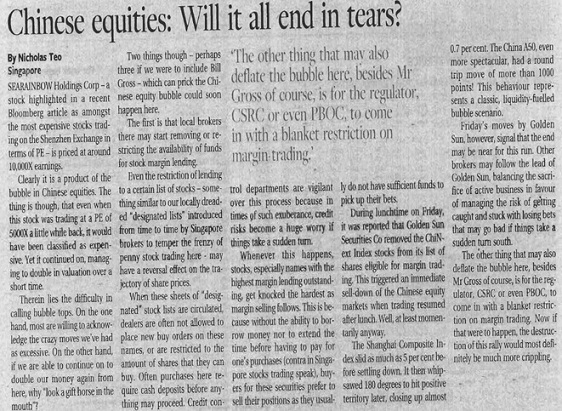 Business Times 7th June 2015
09 Nov 2015 (Mon) - 17 Phillip Street, #08-00 Grand Building, S (048695)
Time: 7pm - 9pm  
Watch Nicholas on Channel NewsAsia video: http://bit.ly/1Lx1HO0
 Just when "it's beginning to feel a lot like Christmas"- are we about to walk into a Bull's trap??
With only one last Fed meeting left for this year, will a strong November "non-farm payroll report" reinforce the Fed's commitment to move in 2015? Or will we see the opposite- thus possibly buying us more time to this rally?
Stock markets had respectable returns during the November and December months of 2014. Back then, the HK-Shanghai stock connect offered traders huge opportunities into a year-end rally as key institutions adopted a risk-on positioning in their portfolios. This time round will the European Central Bank's pledges for further monetary stimulus bring forth a similar buying momentum for stock markets into the year's end? A Christmas Rally perhaps?
"C'mon Mrs Yellen, when will you be joining in the party!!!" Or will you proof to be the main party pooper, turning off the taps to this latest market rally???
With 3Q corporate earnings season about to end, how have "your holdings'" faired in their respective reporting? Have they managed to generate good top line growth? Or have they simply "engineered" their bottom line into a seemingly acceptable report?
Come join us for a comprehensive evening of market insights (worth $288) where Nicholas will run you through the opportunities, and the threats that traders should be alerted to and aware of as we embrace the volatility expected this final quarter of the year.
Further Nicholas will share with you, skills and tactics that Top Traders use to stay on Top, bringing them the consistency of performance that most retail traders can only aspire to achieve!
Nicholas will cover the following:
Mrs Yellen has made her intentions known about the first fed lift off in almost 10 years, what will the "stories in play" look like in this last quarter of 2015?

From touching an intraday low of 2740 on the 29th of September, the STI has rebounded to an intraday high of 3104 on the 26th of October. That's a 13% rebound in barely a month! Question- Where do we go from here! How will we fair into Christmas?
The Psychology of the trade: What are the Five Fatal Flaws that sink many traders?
Introducing 'The Art of Trading' – finally, a trading program that teaches you how Top Traders think, and importantly, the skills and tactics they bring to their "A" game! 
Will beaten names like Noble and Keppel Corp offer investors a good entry prices hear?

Local banks have reported mixed earnings. Have these details been priced into their stock prices yet?
Do not hesitate! Commit to this date with Nicholas Teo as he breaks it all down for you!
Trainer Profile: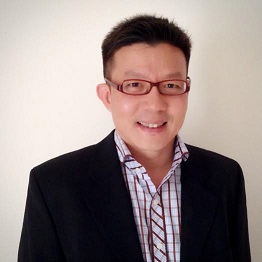 Nicholas Teo is a full time trader, trading coach and mentor. He teaches the Art of Trading. His extensive professional background stretches more than 28 years of front line experience with the world's top investment banks. This 'in the firing-line' exposure saw him transcend across no less than four economic and market crises.
This has given him the edge to identify key market trends and opportunities and to participate in the markets as a proprietary trader with skin at the game.  
He believes strongly that trading is an Art supported only by the science we know from the disciplines of FA and TA.
Top traders do well because they follow a process, one which begins with the trading plan. They then seek out to develop trading tactics that they deploy well, above the normal research often substantiated in their overall strategy. That is the Art of Trading that Nicholas covers in his program.
Nicholas has worked on the Institutional Sales and Trading desks of global investment banks, including Dresdner Bank, Banco Santander, Peregrine Securities, Lehman Brothers, Standard Chartered Securities and CIMB. He was based with these banks in the leading financial centres of London, Hong Kong, Canada and Singapore.
His market comments and insights are well covered by local and international media like The Straits Times, Business Times, Bloomberg, CNBC, Wall Street Journal, BBC, CNA , NOW TV and radio 938.  He has also spoken and participated extensively in key trading and investment seminars across Singapore.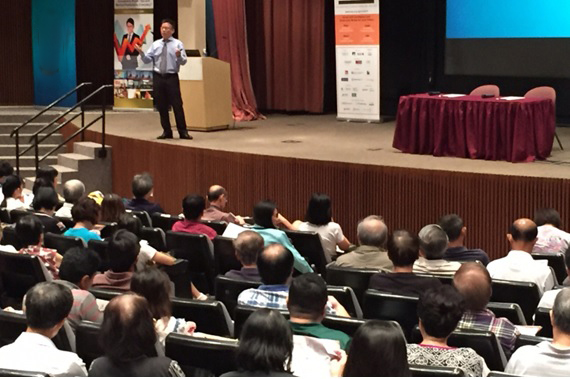 IMPORTANT NOTES FOR SEMINARS
Please note that under the Singapore Personal Data Protection Act (PDPA) 2012, CyberQuote Pte Ltd respect the privacy of all our customers and visitors, and are committed to safeguarding the personal information you provided to us.
For the event registrations, you will be requested to provide your personal particulars, which include but are not limited to the following:
  a)      Full Name
  b)      Contact details, including telephone number/s and/ or email addresses
Please note that CyberQuote Pte Ltd will send out "Email Confirmation" and Short Message Service (SMS) Reminder to all registrants for all CyberQuote Pte Ltd events.
Should you wish to withdraw your consent from receiving events information, please contact us at CQCourse@cyberquote.com.sg.  All personal data held by CyberQuote Pte Ltd will be kept confidential, will not use and disclose to third parties.
When & Where

CyberQuote Pte Ltd
17 Phillip Street, Grand Building #08-00
Singapore, 048695
Singapore

Monday, November 9, 2015 from 7:00 PM to 9:00 PM (Singapore Standard Time Singapore Time)
Add to my calendar
Organizer
CyberQuote Pte Ltd
With more than 16 years' track record in the financial industry, CyberQuote ("CQ") has built a reputable name among financial players as a quality training institution. CQ specialises in financial and trading education for both professionals and novices, delivering knowledge through theory and practical teaching by experienced practitioners.
Through leading edge financial seminars and courses, CyberQuote is able to maximise your success and meet your immediate investment and trading needs.