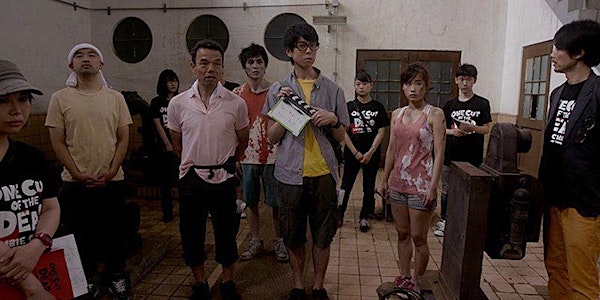 EMCC | [FILM SCREENING] One Cut of the Dead (NC16)
What kind of chaos can arise from a film crew under pressure to shoot a live zombie film in one long take (no cuts permitted)?
When and where
Location
The Projector 6001 Beach Road ##05-00 Singapore, 199589 Singapore
About this event
Mortal panic sets in on the set of a low-budget zombie film, which has been overrun by summoned zombies. How dedicated, exactly, are its cast and crew to making this film?
Which is scarier – zombies, or the deadlines of live television?
This low-budget absurdist comedy with a twist, written and directed by filmmaker Shinichiro Ueda, has been lauded for providing a "fresh take on the zombie flick" (The New York Times).
Advisory: NC16 (Some Coarse Language)
Disclaimer: Some scenes contain large amounts of blood, which may be uncomfortable for some viewers.
----
Show Information
This screening is open to NUS students and staff only. Random checks of student/staff passes will be done at registration to verify your identity.
Doors will open at 7.15PM at The Projector Blue Room, and the film screening will start promptly at 7:30PM. Seats are assigned on a first-come-first-served basis.
----
Short Film Screening: Prophecy (PG)
A short film by NUS Architecture students Liang Weiyi and Xu Xinyu, Prophecy (PG), will be screened before the main film screening of One Cut of The Dead.
Prophecy is set in the future where climate change, technology, and social inequality converge in the People's Park Complex (Singapore) and beyond. During the Chinese New Year, the protagonist, Hayward, who's a dweller of People's Park, encounters several strange phenomena that trigger his curiosity and motivation to uncover the truths behind them.
His search eventually leads him to discover a group of selected individuals who have the power to determine the fate of the commoners. He understands that social tragedy does not arise from the subjective will. This leads us to ponder: should we choose the interests of the individual or the group? Even so, can life really be measured and weighed in numbers?
----
This screening of One Cut of the Dead is part of ExxonMobil Campus Concerts (EMCC), presented by NUS Centre For the Arts.