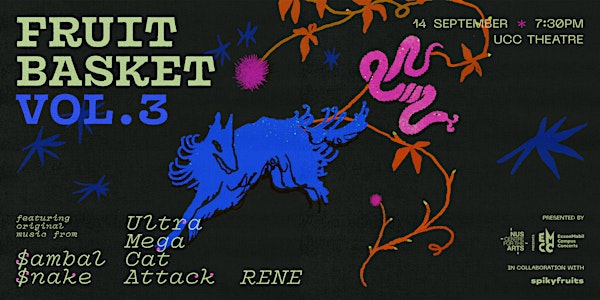 EMCC | Fruit Basket Vol. 3
Take your pick from the sweet basket of local alt-rock, indie-pop-rock and rap sounds from Ultra Mega Cat Attack, RENE, and Sambal Snake.
When and where
Location
NUS University Cultural Centre 50 Kent Ridge Crescent Singapore, 119279 Singapore
About this event
Celebrate the upcoming recess week by treating yourself to a diverse selection of local sounds at FRUIT BASKET VOL. 3!
About the Artists
Sambal Snake is an independent rapper and songwriter based in sunny Singapore. A joker at heart, he aims to bring an element of levity through his music.
In April 2021, Sambal dropped his debut single, Elephant, to rave critical reviews, with many entertained by its music video, a humorous parody of 1990 gangster movies set against a powerful boom bap track.
For fans of: Yung Raja, Tyler the Creator, Mary Sue
Formed in 2019 with a mutual love for cats and rock and roll is alt-rock sextet ULTRA MEGA CAT ATTACK. With booming drums, thumping bass lines, all-out guitar riffage, fuzzy layered synths, and fiery, raunchy vocals, the band comprises percussionist Boey Yinghao (Soulfudo), keys/synth player Cassandra Tang, guitarist Daniel Chan (Efficient Public Transport), vocalist Debbi Koh (Test The Divide), guitarist Keith Sootho (Keith VVolf, The Cultures), and Keith's cat "Puppy" (no former projects). The band's debut album is slated for release mid-2022.
For fans of: Rage Against The Machine, My Chemical Romance, and Bring Me The Horizon, Foo Fighters
RENE is an independent artist from Singapore. Meaningful and relatable lyrics, rich vocals, and catchy guitar lines are what create her signature sound, and her music is greatly influenced by a mix of artists such as Phoebe Bridgers, McFly, and beabadoobee. Her song-writing reflects themes such as societal commentary, self-reflection, and personal relationships.
Respect, growth, and integrity are the most important values to her as an artist. Her strong determination to perfect her musical craft and better the environment around her are what inspire her to create music.
For fans of: Phoebe Bridgers, McFly, beabadoobee, Avril Lavigne, Olivia Rodrigo
----
About the Label
Spiky Fruits is a Singapore-based independent record label with a focus on growing our artists beyond our borders. We've compiled a playlist of the best songs from our roster for you to explore .
Sister label of Where Are The Fruits, an artist-run label that has a singular aim - to reap the fruits of our artists' musical labour.
Established in 2017 as digital streaming services became more and more mainstream in Singapore
A coherent support system that involves distribution, licensing, management, and a broad range of artist services
Indies at heart, the label supports musicians who want to achieve success in their own terms
Discord Community - https://discord.gg/Zksuwv54nz
Fruit Basket Vol. 3 is presented by NUS Centre For the Arts, as part of ExxonMobil Campus Concert (EMCC): Unbound and Unbridled.