Emerald Auction 2021 Live Finale on Zoom - Sunday 21 November 8:15pm-9:00pm
LIVE Virtual Finale to the Online Emerald Auction.
About this event
LIVE Virtual Finale to our Online Emerald Auction 2021
8.15pm on Sunday 21 November, 2021
A fun 45-min celebration and close of our Emerald Auction, with ...
Irish Dancing by Irish Inspirational Dance
Irish traditional music by James Chan and the Alterboys
Special appearance by Down Syndrome Association's Dance Group
Message from H.E. Ambassador Patrick Bourne and our Beneficiaries for 2022
... and finishing with the exciting last bids of the Emerald Auction at 9pm!
Chance to WIN a One-Night Suite Staycation at the 5-Star Barracks Hotel Sentosa !
Register for Virtual Finale on this Eventbrite Page and get a ticket to attend
Attend the LIVE Virtual Finale on Zoom using the access details that will be sent to you. The event will start at 8.15pm Sunday 21 November 2021.
The first 100 people to register for our Virtual Finale will be entered into our Lucky Draw!
Note that the winner must be in attendance at the event at the time of the draw. If you are not there to accept it, the prize will go to someone else!
The Online Emerald Auction 2021
There is still time for your Christmas shopping at our Emerald Auction as you bid for fabulous prizes while raising funds for our designated Beneficiaries and Projects for 2022. Lots of fantastic items and wonderful experiences on offer for you, your family and friends.
Staycations / Dining / Food & Drink / Art / Experiences / Lifestyle & Sports / Jewellery
Don't miss out on your chance to own a rare and exclusive sculpture by the late Brother Joseph McNally - we're so excited to feature two of his unique bronze sculptures by the "Celtic Abstract" and "Abstract Face".
☘️The Emerald Auction ☘️ is open for bids until 9pm on Sunday 21st November).
Help us support our designated charities in 2022, at a time when they need it most.
CLICK HERE to donate or bid at The Emerald Auction!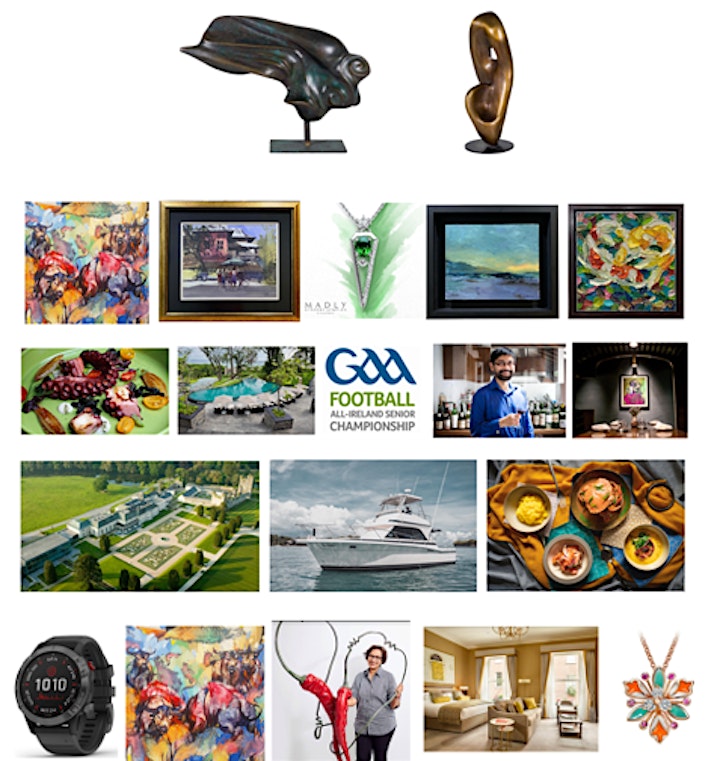 Lots of fabulous items on offer, including ...
Staycations & Getaways:
This year has required us all to stay at home, so why not plan a staycation (or short getaway) in Ireland or Singapore at one (or more 😉) Castlemartyr Resort, Sheen Falls Lodge, Cliff House, Trinty Townhouse, Capella Singapore, Intercontinental Singapore, Goodwood Park and others.
Dining:
What better way to celebrate with your loved ones coming up to the holiday season than with wonderful food. Whether it is the MICHELIN Star ⭐️ restaurant you've always wanted to try but couldn't get the reservation for, or over a Sunday Roast Dinner, good food and great company are always the special memories we hold onto - and we've got you covered in the Emerald Auction. Indulge in fine dining at 3⭐️ Zen, 1⭐️ Basque Kitchen, Burnt Ends, Cure, Nouri,; Gattopardo, Min Jiang and many more.
Art:
The piece that just completes that collection of yours, the piece that defines the personality you are looking for, the piece that you just instantly fall in love with - from sculptures, fine art and pictures maybe we have just the piece you have been waiting for.
Jewellery & Fashion
We all deserve a little luxury. When was the last time you treated yourself to a gorgeous new piece of jewellery? Or a tailored suit or new handbag? Remember, window shopping is free, and you never know when that must-have piece is just around the corner....
There are some wonderful pieces in this year's auction from Madly Gems, Caratell, Dominique's Jewels, Marilyn Tan Jewellery, Stones that Rock, Ivy Masterpiece, Justmen's, Desti Saint and more.
Experiences
Unique experiences for you or gift to others - Wine Masterclass with Singapore's only Wine Masterclass; 1/2 yacht excursion; Behind the Scenes and afternoon tea with renowned artist Kumari; pilot a Boeing 737; chose to be the hero - or villain - in Irish author Susanne O'Leary' s next novel, and more.
Food & Drink / Sports & Lifestyle
For the connoisseurs and foodies, there are vintage and fine wines, luxury food hampers and more. Garmin watch, fitness package and GAA offerings for fitness and sports enthusiasts
Any many more .....
If you wish to view the artworks , jewellery or any of our auction items, please contact Pamela by What's App on 97811815 to make an appointment.
CLICK HERE to donate or bid at The Emerald Auction!
Beneficiaries and Projects in 2022
By making a donation to our Emerald Campaign 2022, you are helping to make a real difference in people's lives!
Empowering persons with Down Syndrome and intellectual disability with skills to be self-reliant and enhance their employability
Second chances and new opportunities for young men at Hope House who are trying to turn their lives around
Access to the social, emotional, non-verbal and verbal benefits - and fun! - of making music for young people with special needs at Rainbow Centre
A safe harbour at SCWO Star Shelter for women and children who have suffered abuse at home
Supporting and empowering students with special needs in their own schools with SPD
You can also make a cash donation at our giving.sg page
Thanks for your kind support!

The Ireland Funds Singapore
The Ireland Funds Singapore is a registered charity in Singapore and Institution of Public Character (IPC) dedicated to facilitating and helping to fund projects that will further develop and deepen the Singapore Ireland relationship and deliver long-term benefits to the people of Singapore from their long-established relationship with Ireland. The scope of these projects and development sectors include community relations, education, the arts, culture, and sport.
To find out more about The Ireland Funds Singapore visit our website here
Eligible donations to The Ireland Funds Singapore will qualify for 250% tax deduction* for Singapore taxpayers.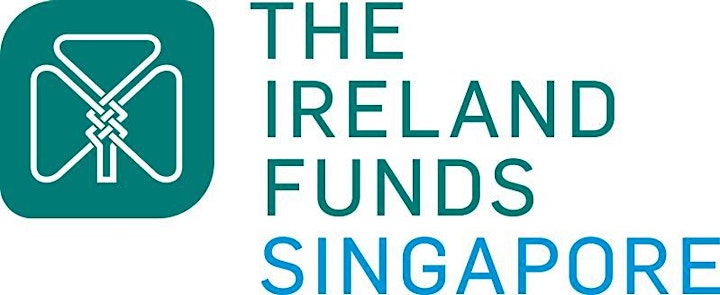 Organizer of Emerald Auction 2021 Live Finale on Zoom - Sunday 21 November 8:15pm-9:00pm