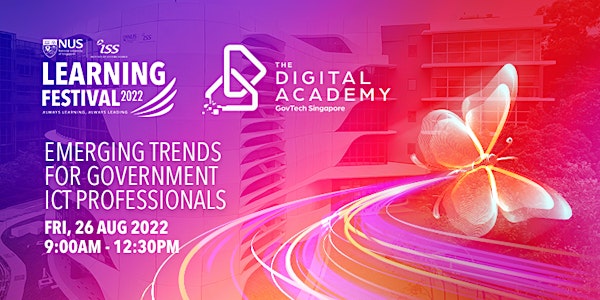 Emerging Trends for Government ICT Professionals
Join us in a half day line-up of webinars, featuring invited partners and guest speakers as they address key trends affecting public service
About this event
Join us in a half day line-up of curated and engaging webinars, featuring invited partners and guest speakers as they address three key trends affecting public service ICT&SS (Info-Communications Technologies and Smart Systems) professionals in the move towards Singapore's Smart Nation initiative.
The sessions themed 'Emerging Trends for Government ICT professionals' will cover topics like Agile, Scrum, the Government Commercial Cloud (GCC) and more.
Get set for a thought-provoking and insightful morning, culminating in a panel discussion with industry tech giants, in this event supported by GovTech Digital Academy (DA), a 'Practitioner-for-Practitioner' academy set up to groom public officers to accelerate the public sector's digital transformation.
Please refer to our microsite for the full programme.
NUS-ISS is proud to partner GovTech as the Operations Partner of DA since its inception in 2021.