Event Information
Refund policy
Contact the organiser to request a refund.
Eventbrite's fee is nonrefundable.
In this workshop participants learn the tools and techniques for reading the energy of people!
About this event
Energy Awareness Workshop Level 2 - Subtle Energy in the Body
Learn the tools and techniques for reading the energy of people! participants will do this by way of games and exercises to boost and balance their own energy before we begin to understand the energy from outside of us. How do we see the difference?
This workshop covers:
Our innate senses and systems for energy awareness and subtle information
The "language" of the information we get: Colour, texture, intensity, spin, effect, etc.
The language of elements and archetypes
Grounding our senses and discerning input from output
Energy tools and different techniques for use
The current technology around subtle energy fields and healing
Expect to move and play with art materials, pendulums, and dowsing rods, as well as learn the limits and cautions for their use. Participants can purchase the dowsing tools at the end of the class (optional and non-obligatory).
This workshop is meant as the follow-up to Level 1; Attendance to Level 1 is recommended to understand the principles of subtle energy and how we work with it. It is facilitated by Janet Chui, who once worked a year in an alternative health clinic and continues as an editor and writer covering different topics including wellness and technology.
Janet has studied under various spiritual teachers from East and West. She started in Tibetan Buddhism before seeking other instructors as her supernatural experiences took her down unusual paths. Her background in Journalism proved useful in researching spiritual traditions and documenting her journey; her training in Counselling Psychology has helped her in the grounding principles of her meditation classes, Tarot, and Astrology services. Her oracle deck featuring her art and writing will be coming out in 2021 from Beyond Words Publishing, the award-winning publishers of The Secret and Masaru Emoto's Hidden Messages in Water.
Our Facilitator: Janet Chui
Janet is the artist and creator behind the Self-Love Oracle, a 44-card deck and book set for healing and self-empowerment that features her fantasy, spiritual, and mythological paintings. Drawing since childhood and holding a B.A. in Journalism, Janet is currently studying Counselling Psychology while offering readings in Tarot and astrology. After her experiences with motherhood, divorce, Tibetan Buddhism, healing, and the supernatural, she encourages others to heal through radical self-acceptance and creative expression. She has studied Reiki, Biogeometry, Light Language healing, Alpha Alignment, and under Drunvalo Melchizedek's program, Awakening the Illuminated Heart. Her web site is at www.janetchui.com.
Our Studio
Our Wellness Studio is a place for better mental peace and personal wellbeing. Our dedicated team is on a mission to bring inner peace and balance to you through regular and customised sessions and workshops.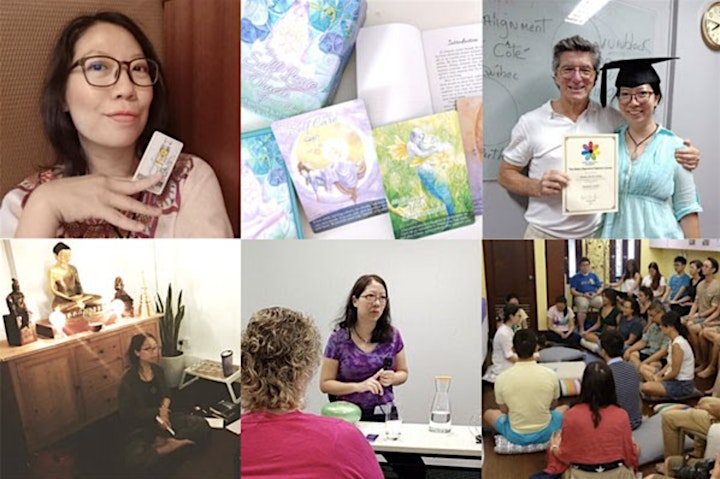 Date and time
Location
The Wellness Studio by The Singing Bowl Gallery
160 Robinson Road
#04-12
Singapore, 068914
Singapore
Refund policy
Contact the organiser to request a refund.
Eventbrite's fee is nonrefundable.