Know what and how to make your team more participative, involve and contented.
About this event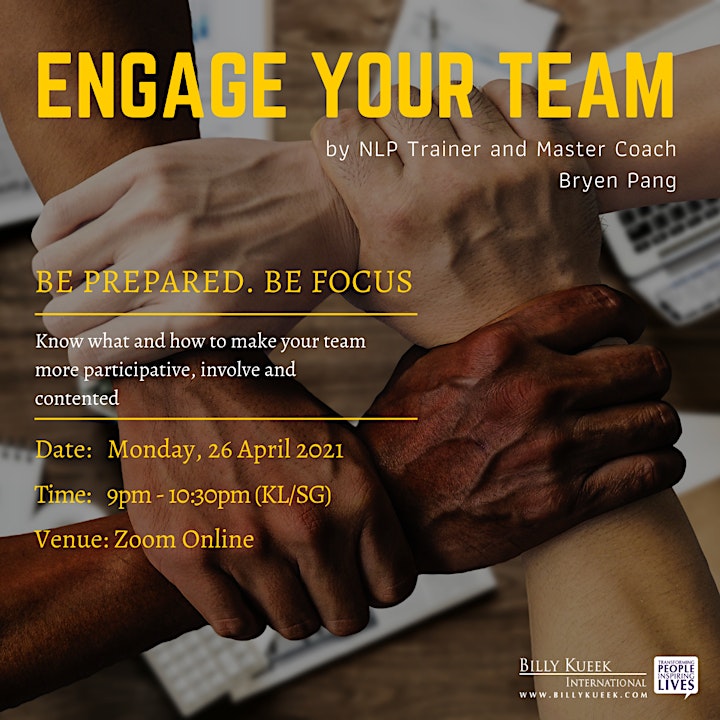 Having spent many years organizing events and team building for companies around Malaysia, Bryen had the opportunity to witness how teams brainstorm ideas and come together to execute successful events.
It seemed flawless as the events started with the wow effect, progressed well according to plan and ended with applause. Yet, it would appear that these events and team building weren't "complete", something(s) was missing.
What were the missing links that would enable them to achieve more, with better results. How could they bridge the links to accomplish a common goal instead on focussing on each individual's KPIs and personal goals.
In his search to overcome the bottleneck and challenges the teams faced, Bryen was introduced to a set of techniques and skills. which helped create the changes and outcomes he was looking for, both for himself and also for his clients.
Join NLP Trainer Bryen Pang, as he shares the factors that could jeopardise team synergy and the keys to bridge the gap between links.
Some of the factors include:
• No sense of belongings
• Silo Mindset
• Lack of effective communication among team members
• Focusing problems
Date and Time: Monday, Apr 26, 2021, 09:00 PM (KL/SG)
Join Zoom Meeting
https://zoom.us/j/92181228519
Meeting ID: 921 8122 8519
Passcode: Regiseter For Passcode