From MASTERCLASS: Leadership & Management Series
About this Event
"Top talent is scarce and in high demand. Even the giants fail to hold onto hires for long
— the median tenure of an employee at Apple is two years, while at Google and Amazon, it's around half that.
In this moment of uncertainty, more than ever, it is incumbent upon companies to demonstrate a culture of valuing employees and taking the steps required to retain quality staff."
Don't let your best talents go. RETAIN them, and KEEP them HIGHLY MOTIVATED by signing up in this event.
Course Outline:
Definition of Terms: "Talent", "Engagement", "Retention"
Why Employee Retention Makes A Lot of Business Sense
5 Employee Retention Metrics You Can Consider
3 TO-DOs of Leaders to Retain Employees
Assessing Retention Risks: 4 Types of Employees at Risk of Leaving
15 Behaviors: Spotting "Flight Risk" Employees
10 Events in the Employee Lifecycle: Spotting "Flight Risk" Employees
5 Things That Leaders Do That Make People Quit
Creating Your Retention & Engagement Plan: Principles, Activities & Techniques
Dealing with Tough Issues Related to Employee Retention/ Engagement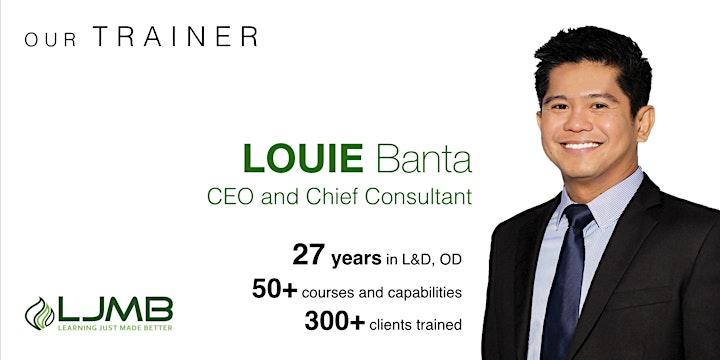 Here's what our previous participants are saying:
"From start to finish, the session was very engaging!"
"The session was very interactive! The ideas and experiences shared by fellow leaders were very relatable."
"The retention risk matrix and response to resigning talents were very helpful!"
"Love every session with Louie!"
Get your tickets now.