Worship with us in-person on Sunday morning!
About this Event
Join us as we move towards a hybrid of in-person and online gathering.
Children's Ministry and Cradle Roll will remain closed for the time being. Parents with children are encouraged to join our online service from home.
As we implement safety measures in adherence to government guidelines, our in-person services will be different from before. If you're planning to join us in church, kindly take note of these changes. You can follow the directional signs provided onsite or simply approach one of our friendly ushers if you require assistance.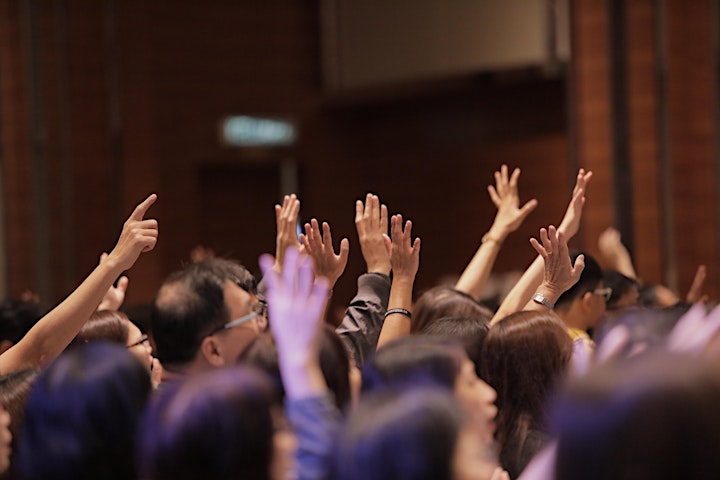 Our New In-Person Experience
Service will be held at Victory Chapel (Level 1). Entry to the service is strictly via eTicket only.
As singing is still not allowed for in-person service, worship will be live streamed on screen. Sermon will be preached in-person.
Each individual can book up to 5 eTickets.
Congregants will sit in clusters of 5 in two separate zones (Blue & Yellow) within Victory Chapel.
Congregants are to sit on their respective seat number as shown on their eTicket. Changing of seats is not permitted.
There will be a dedicated check-in point and entry into Victory Chapel for each zone (Blue & Yellow). You will be given a sticker with the colour of your zone – kindly put it on at all times.
Our basement carparks will be open for those who are driving. However, the back gate leading to Downtown East will be closed.
If you're driving, proceed to Level 1 via the stairs or slope by foot to check-in at the station dedicated to your seating zone (Blue or Yellow). As drivers will not have access to the lifts, kindly alight passengers with mobility difficulties at our Drop Off Point before parking your vehicle.
Useful Information
Your safety is our priority. Take note of these safety measures we have put in place: rlc.sg/svcsafety