Description
Innovation today is much more about perception and engagement with customers. It is about building relationships. So how do you innovate? How did GoPro innovate in the billion dollar camcorder business? Today, startups are able to innovate and disrupt even the biggest of industries.
Join Professor de l'Etraz as he discusses corporate innovation today and gives you a glimpse of the sort of innovation culture training that big companies are increasingly embarking on in order to stay ahead.
Meeting Agenda
6:00 pm- Registration
6:30 pm- Welcome Speech by DBS & BANSEA
6:40 pm- Enterprise Innovation - Staying Alive By Staying Ahead by Prof Paris
7:40 pm- Networking Session
ABOUT THE SPEAKER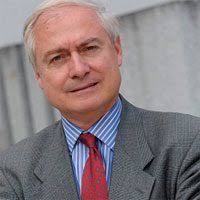 Professor Paris de l'Etraz
Chairman, Applied Innovation Institute
Professor Paris de l'Etraz is the Chairman of the Applied Innovation Institute, a non-profit organisation founded in 2009 with roots in Silicon Valley. The Aii brings together global leaders in industries, governments, and academic organizations to help each transform to address competition, disruption, and innovation through education, consulting, and partnerships.
Institutions such as Applied Materials, Coca Cola, Nissan, Tencent, Yahoo, and Zain trust Aii to drive innovation across functional and geographical boundaries. The Aii focuses on Big Data, Oil & Gas, Smart Cities, and Logistics & Transportation. New areas of research include Alternative Food and Cybersecurity. With faculty from the top universities around the world, the Aii has been at the forefront of horizon scanning and technology disruption.
Paris is concurrently the Professor of Entrepreneurship at IE Business School, which has been consistently ranked number 1 worldwide by Financial Times. His breakthrough research is on the development of an innovative mindset that combines emotional intelligence and comfort zone from the perspective of the individual. With more than 30 years of experience in computer science, investment banking and venture capital at financial institutions such as UBS Bank and ABN AMRO, Paris focuses on digital marketing, sports management, video games, and renewable energy as an investor and entrepreneur.