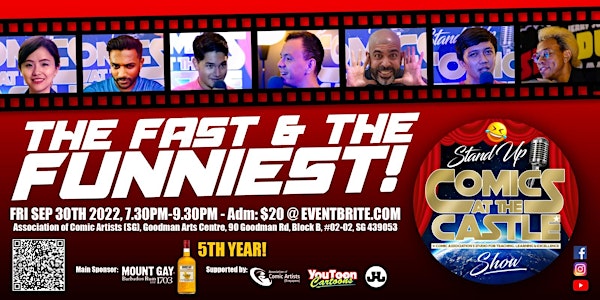 Episode 41: Stand Up Comics At The CASTLE Show!
Now in the 5th year, The Stand Up Comics at The CASTLE (CATC) Show continues with its amazing Fast & The Funniest format!
When and where
Location
Association of Comic Artists (Singapore) (ACAS) @ The CASTLE Goodman Arts Centre, 90 Goodman Road Block B, #02-02 Singapore, Singapore 439053 Singapore
About this event
NEW FACES SPECIAL!
Hosted by 'Ram', CATC co-founder and recent champion of the inaugural Comedy Masala Comedy Contest of 2022, presents a show that features a cadre of brand new talent! The perfect setting for opener and fan favourite, Artur Akhmetzyanov – SG's Russian mega jester! Also featuring first closer 'cheeky' John Day, and headlined by the one-&-only 'Maid In Indonesia' Tirta Nahari!
Sponsored by Barbados Mount Gay Rum - Don't miss it!
Date: Fri 30 Sep 2022
Doors Open: 7.30pm
Showtime: 8.00pm-9.30pm
Location: 'The CASTLE', Association of Comic Artists (SG), Goodman Arts Centre, 90 Goodman Rd, Block B, #02-02, Singapore 439053
Admission: $20.00 per Individual (Audience M18++)
Headlined By: Tirta Nahari
Singapore's premier Indonesian stand up!
1st Opening By: Artur Akhmetzyanov
Singapore's only stand up Russian!
1st Closing By: John Day
Singapore's premier Eurasian stand up!
2nd Opening By: Shafi Kader
yet another Singapore Indian standup!
Also Featuring THE FAST & THE FUNNIEST!
Hosted by: Ram, Singapore's Comedy Masala Champion 2022 stand up!
Presented by: Jerry 'Judge' Hinds, Singapore's only stand-up Brutha!
Showing:
Giorgy Gunawan
Ankit Bhardwaj
Anirvin Narayan
Vic Pannir
Joe Hann
Hope Liu
Jon Halim
Vicky Franz
Note: The CASTLE is a fully carpeted venue and outdoor footwear is not permitted. So it is advised to wear easily removable comfortable footwear. Outside food and drink are not allowed.
"Laugh Much You Will!" =)