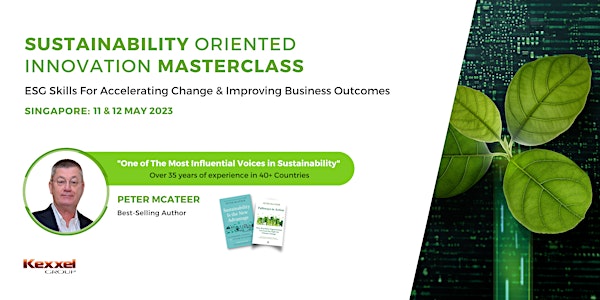 ESG: SUSTAINABILITY ORIENTED INNOVATION MASTERCLASS
Workshop on sustainable business and ESG principles. Learn through exercises. Ideal for individuals in ESG, Sustainability and Strategy.
Date and time
May 11 · 9am - May 12 · 5pm +08
Location
TBC Singapore Singapore, 1 Singapore
About this event
1 day 8 hours

Mobile eTicket
SUSTAINABILITY ORIENTED INNOVATION MASTERCLASS
ESG Skills For Accelerating Change & Improving Business Outcomes
Join us for an eye-opening workshop with the globally renowned thought leader, Peter McAteer! With over 40 countries of experience under his belt, Peter has served as the former Managing Director of Harvard Business Publishing (publisher of Harvard Business Review) and the former Director of the United Nations Development Program. As a sought-after speaker and expert in sustainable business, Peter has been featured in top publications such as the Harvard Business Review, European Business Forum, and Reuters Business Insights. Don't miss this chance to learn from the best and discover how your organization can drive positive change through ESG practices with Peter's expert guidance.
See pricing and speaker's profile HERE.
Hear From What Others Say About Peter's Sessions & Books
"Speakers throughout the three days have been very knowledgeable and have given very insightful perspectives from varying industries. The workshop especially has been very impactful and has inspired me to share a lot of my learnings with my colleagues and loved ones." Maryam Zainol, Sustainability Communications Officer, Petronas
"The book is really good. It's interesting. It's practical. His comments about smaller businesses are spot on. Well done!" Thomas A. Stewart, former Managing Editor, Harvard Business Review
"Thoroughly enjoyed Peter's session, very informative and makes me think hard about the changes I can make in my organisation." Goh Seok Mei, Business Applications Specialist, Microsoft
"Peter McAteer has written an extraordinary book. Every business school should be teaching at least one course based on this book." Prof. Lawrence Susskind, Prof. of Urban & Environmental Planning in Massachusetts Institute of Technology (MIT), Co-founder of the Program on Negotiation at Harvard Law School
"The event was an eye opener. The main strength of the event was the subject matter experts especially Peter." Sere Mohammad, GM Corporate Governance, Risk Management & Integrity, Media Prima
See more reviews HERE.
Programme Unique Features
Participants are required to complete a pre-assessment questionnaire that will influence the decisions about content, pacing, materials, grouping, and specific learning activities.
This will be further complemented with surveys, exercises, real time data across multiple industries and peer-to-peer assessments. These will enable effective learning outcomes as well trigger the ability to look at different perspectives.
Why You Should Attend
Learn valuable ESG skills for accelerating change and improving business outcomes. A practical 2-day workshop that focuses on the key skills needed to scale sustainable innovations and to accelerate sustainable business transformation. The teaching modules are based on custom research and fieldwork of Peter McAteer and published works. It will feature plenty of action learning and discussion with active involvement from participants.
Who Should Attend
Individuals, key contributors, and leaders who want to understand ESG key principles of innovation and how they can be applied to sustainable business transformation. Key target audiences include:
ESG & Sustainability
Corporate Strategy
Governance, Risk & Compliance
Public Affairs & Communications
People & Culture
Investor Relations
Climate & Quality Assurance
Economics & Market Analysis
Key Learning Points
This two-day programme will cover key foundational topics that will involve discussions on methods towards building a resilient and futureproof sustainable business.
This two-day programme connects innovation strategies of enduring value to newer challenges of sustainable business transformation and breakthrough ideas linked to newer sustainable business models.
Enhance your understanding of the history of sustainability and climate change.
Explore new business opportunities that are part of international and regional sustainability challenges.
Deepen your understanding of innovation strategies of enduring value.
Understand the core principles of sustainability-oriented innovation and how they can accelerate improvements in sustainable business outcomes.
Learn the four phases of sustainable transformation that you can adapt to your organisation's innovation strategy.
Explore new business models and how each one can unlock innovation potential.
Discover a model for aligning innovation outcomes with organisational design so you can unlock the power of organisational innovation.
Learn how individual sustainability champions can have a bigger impact and the power that unreasonable people can bring to your organisation.
Expand your perspectives by learning from professional peers.
Download the full agenda HERE.
More info is available here:
https://kexxel.com/event/sustainability-oriented-innovation-masterclass/details
About the organizer
Pioneering corporate events in live and virtual spaces, we provide knowledge sharing platforms for global professionals to meet, learn and network. We deliver top-flight learning opportunities via corporate training and business conferences.