Let's chat about career in esports for you parents and gamers out there!
About this event
In our Parents Webinar: Understanding Games, Gamers and Game Addiction last month, the topic of career in esports and gaming was brought up. In response to this, we thought a session bringing together SGEA (Singapore Esports Association) and SCOGA (Singapore Cybersports & Online Gaming Association) to help both parents and youths understand this new and emerging industry that has garnered quite a bit of attention and interest.
We are so pleased to have Mr Ng Chong Geng, President of SGEA, Philbert Santhanaraj, Board Member of SGEA and Nicholas Aaron Khoo, Chairperson of SCOGA bringing together macro and ground perspective of the future of esports for our youths. In addition to these esports experts, we also have Jael Chng from My Working Title, to help us understand these opportunities through the lens of a career catalyst.
Find out more about the global and local landscape of the esports and gaming industry and its career opportunities. While the esports industry is experiencing high growth, becoming a billion-dollar industry in 2019, it is pertinent that we examine the mindset and skillset required for youths to carve out a career and future in this space.
The session will be moderated by Pauline Phoon, founder of SOOS OIO LLP and COMEBACK PTE LTD.
Join us in the comfort of your home, both parents and youths for an informational, inspiring yet practical session.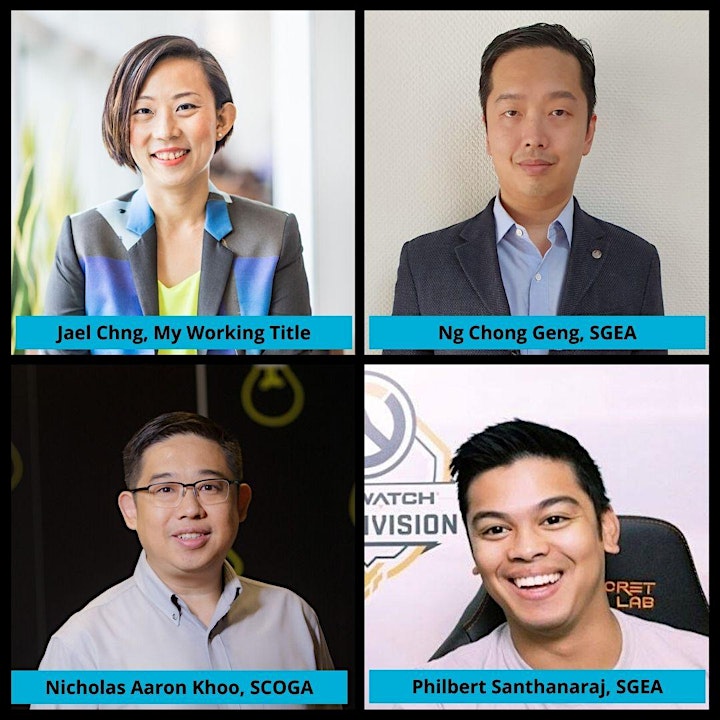 Jael Chng
Co-Founder & Chief Problem Solver of My Working Title
Jael is the co-founder and Chief Problem Solver of My Working Title, a Career Design movement + start up that inspires and empowers people to actively design their careers. Since the 2017 launch, their career discovery model, tools and programmes are used in 19 countries and have impacted diverse groups of people. Their clients include LinkedIn, Grab, Shopee, GIC, Aviva, NUS and WSG. She was also featured on Channel 5's current affairs programme ​'Talking Point' for her perspective on preparing for the future of work.
Jael is a creative-analytic that fuses design thinking + communications + people development to create solutions. She has experience in marketing communications and management consulting with clients such as P&G, HP and Singapore Government Technology Agency. She had lectured in Ngee Ann Polytechnic and launched a youth entrepreneurship programme in Halogen Foundation Singapore. She advocates for youth talent development in her volunteer work. She also enjoys a good gelato.
Ng Chong Geng
President of SGEA
Ng Chong Geng founded the Singapore Esports Association (SGEA) in 2018 along with other like-minded colleagues from the industry. Under his leadership, the SGEA worked closely with their regional partners that resulted in esports being recognised as a medal sport in the SEA Games in just two years. 
In 2019, Chong became a founding member of the Global Esports Federation, a convening body for the different stakeholders in esports. He is also steeped in the fields of technology innovation and development, having worked on extended reality (XR) technology, software development, video games and education. 
Today, Chong works towards collaboration between the various stakeholders to meet the challenges in the world of esports in order to strengthen the foundation for sustainable growth of the esports ecosystem.
Nicholas Aaron Khoo
Chairperson of SCOGA
Mr. Nicholas Khoo is Chairperson of Singapore's Cybersports and Online Gaming Association (SCOGA) and serving his third term as Council Member of the National Youth Council. Besides having millions of Singaporeans attending its events in person, SCOGA's most recent endeavour was setting up a National Esports Academy to develop and support youth aspirations in esports with more than 1000 students to date.
Mr. Khoo also chaired the national Splash Awards committee working closely with the Ministry of Education to encourage students to use tech to bring Singaporeans closer together, improve cyber wellness, and use technology to reimagine education and work in the next 50 years.
Other past appointments include Internet and Media Advisory Committee Member, Vision 2030 Gen Z Sub Committee Member, and Outward Bound Singapore Leadership & Service Award Selection Committee Chairperson.
Mr. Khoo has been honoured as both a Friend of MCCY and a Friend of MSF.
Philbert Santhanaraj
Board Member of SGEA
Phil is a Project & Events Specialist, formerly from ESL & MET Events. Notable works under his belt include bringing the ESL One IP to SEA (ESL One Manila & ESL One Genting), the Blizzard Hearthstone SEA Majors Series, the ASUS ROG Masters & Singtel's inaugural regional PVP Esports IP. He was a former professional FPS gamer & is still an esports shoutcaster with over 12 years of experience.
NOTE: If you are unable to make it after you have registered, we will be very grateful if you can cancel your registration so that the slot can be made available to others. In our last Parents Webinar, we had 65% of registrants logging in with a waitlist. So the remaining 35% of the slots could have been given to those in the waitlist. Do appreciate your small act of kindness in consideration for others. THANK YOU SO MUCH!